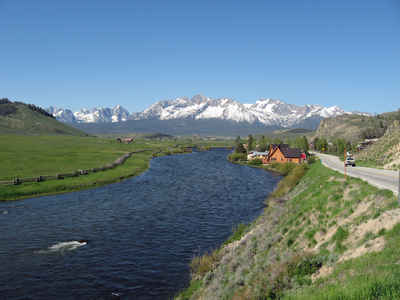 Idaho Counties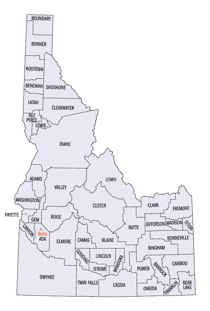 Click Image to Enlarge
Idaho Counties
There are forty-four Counties in Idaho. When Idaho became a territory in March, 1863, there were four Counties in existence: Boise, Idaho, Nez Perce and Shoshone. By the time Idaho became a state, there were 15 counties. The rest of the 44 Counties came into existence during the 30 years after Idaho became a state. Two of the former counties disappeared during this time. Alturas, which was created in 1864, was later divided into the many counties now found in central Idaho. Logan County was only in existence for six years, from 1889 to 1895. It was combined with Alturas to form Blaine County and Lincoln County, which was formed just two weeks after Logan lost its identity.
Idaho Counties: History and Information
Find a brief history of Idaho Counties
The State of Idaho is a state in the Pacific Northwest region of the United States of America. The state's largest city and capital is Boise. Residents are called "Idahoans." Idaho was admitted to the Union on 3 July 1890 as the 43rd state.
Humans may have been present in the Idaho area as long as 14,500 years ago. Excavations at Wilson Butte Cave near Twin Falls in 1959 revealed evidence of human activity, including arrowheads, that rank among the oldest dated artifacts in North America. Native American tribes predominant in the area included the Nez Perce in the north and the Northern and Western Shoshone in the south.
Idaho, as part of the Oregon Country, was claimed by both the United States and Great Britain until the United States gained undisputed jurisdiction in 1846. Between then and the creation of the Idaho Territory in 1863, parts of the present-day state were included in the Oregon, Washington, and Dakota Territories. The new territory included most of present-day Idaho, Montana, and Wyoming. The first organized communities, within the present borders of Idaho, were established in 1860.
When the Idaho Territory was created in March 1863, there were five original counties: Shoshone, Nez Perce, Idaho, Boise, and Missoula. Kootenai, Owyhee, and Oneida were created by 1865, Ada was created in 1866, and when the territory reached Idaho's present day dimensions in 1868, Lemhi was formed. By 1880, 13 counties were created. Ten years later, when Idaho became a state, 18 counties were created. In 1893, Fremont and Bannock counties were created. By 1900, Idaho had 21 counties. Ten years later, only two new counties were created. Between 1910 and 1920, 21 new counties were created, bringing the number of counties to 44, where it remains today.
After some tribulation as a territory, including the chaotic transfer of the territorial capital from Lewiston to Boise, disenfranchisement of the large Mormon minority and a federal attempt to split the territory between Washington Territory and the state of Nevada, Idaho achieved statehood in 1890. The economy of the state, which had been primarily supported by metal mining, shifted towards agriculture and tourism.

Defunct Idaho counties
Alturas County: A huge south-central Idaho county formed in 1864. Abolished in 1895.
Lah-Toh County: North Idaho county formed in 1864. Abolished in 1867.
Logan County: Formed by an 1889 partition of Alturas County. Abolished in 1895.
County
2000
Population
Square
Miles
County Seat
Created
Ada County
300,904
1,055
Boise
1864
Adams County
3,476
1,365
Council
1911
Bannock County
75,565
1,113
Pocatello
1893
Bear Lake County
6,411
971
Paris
1893
Benewah County
9,171
776
Saint Maries
1915
Bingham County
41,735
2,095
Blackfoot
1885
Blaine County
18,991
2,645
Hailey
1895
Boise County
6,670
1,902
Idaho City
1907
Bonner County
36,835
1,738
Sandpoint
1907
Bonneville County
82,522
1,869
Idaho Falls
1911
Boundary County
9,871
1,269
Bonners Ferry
1915
Butte County
2,899
2,233
Arco
1917
Camas County
991
1,075
Fairfield
1917
Canyon County
131,441
590
Caldwell
1892
Caribou County
7,304
1,766
Soda Springs
1919
Cassia County
21,416
2,567
Burley
1879
Clark County
1,022
1,765
Dubois
1919
Clearwater County
8,930
2,462
Orofino
1911
Custer County
4,342
4,926
Challis
1881
Elmore County
29,130
3,078
Mountain Home
1889
Franklin County
11,329
666
Preston
1913
Fremont County
11,819
1,867
Saint Anthony
1893
Gem County
15,181
563
Emmett
1915
Gooding County
14,155
731
Gooding
1913
Idaho County
15,511
8,485
Grangeville
1864
Jefferson County
19,155
1,095
Rigby
1913
Jerome County
18,342
600
Jerome
1919
Kootenai County
108,685
1,245
Coeur d Alene
1864
Latah County
34,935
1,077
Moscow
1888
Lemhi County
7,806
4,564
Salmon
1869
Lewis County
3,747
479
Nezperce
1911
Lincoln County
4,044
1,206
Shoshone
1895
Madison County
27,467
472
Rexburg
1913
Minidoka County
20,174
760
Rupert
1913
Nez Perce County
37,410
849
Lewiston
1864
Oneida County
4,125
1,200
Malad City
1864
Owyhee County
10,644
7,678
Murphy
1863
Payette County
20,578
408
Payette
1917
Power County
7,538
1,406
American Falls
1913
Shoshone County
13,771
2,634
Wallace
1864
Teton County
5,999
450
Driggs
1915
Twin Falls County
64,284
1,925
Twin Falls
1907
Valley County
7,651
3,678
Cascade
1917
Washington County
9,977
1,456
Weiser
1879
---