North Carolina Famous People
Famous Americans: History and Biographies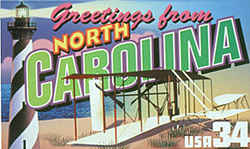 Links to histories and biographies of the famous people of North Carolina. Many famous people of North Carolina have made significant contributions to the history of our nation and the state of North Carolina. These famous Americans, famous entertainers, famous players, famous scientist, famous singers, famous statesmen, famous women, heroes, great explorers, and others North Carolina famous Americans have all made North Carolina their home. This list includes North Carolina historical figures, celebrities and those individuals of North Carolina who have influenced the lives of others.
Luke Appling (1907 - 1991) Born Lucius Benjamin Appling. An American shortstop in Major League Baseball who played his entire career for the Chicago White Sox (1930-1950). Born in High Point, NC
Caleb Bradham (1867 - 1934) Pharmacist from New Bern, North Carolina, created the first Pepsi-Cola for dyspepsia, or indigestion. In 1902 Bradham began bottling the soft drink in the back room of his drugstore.
Braxton Bragg (1817 - 1876) A career United States Army officer, and then a General in the Confederate States Army, and a principal commander in the Western Theater of the American Civil War. Born in Warrenton, NC
David Brinkley (1920 - 2003) An American newscaster for NBC and ABC in a career spanning from 1943 to 1997. Born in Wilmington, NC
John Coltrane (1926-1967) - Tenor and soprano saxophonist, bandleader, and composer; Born in Hamlet.
Elizabeth Hanford Dole (1936 - ) Secretary of Transportation (1983 - 87) and Labor (1989 - 90) and president of the American Red Cross (1990 - ); born in Salisbury.
Dale Earnhardt (1951-2001) dropped out of school in ninth grade to pursue a career in auto racing. Known for his aggressive driving style, and dubbed "The Intimidator," Earnhardt dominated the sport through the 1980's and early 1990's. In addition to his seven Winston Cups, he won three IROC championships, was twice named American Driver of the Year, and five times named the National Motorsports Press Association Driver of the Year. Dale Earnhardt was killed in the final lap of the 2001 Daytona 500 on February 18, 200l, at the age of 49.
Donna Fargo (born Yvonne Vaughan, November 10, 1945, Mount Airy, North Carolina) is an American country singer-songwriter, who is best known for a series of Top 10 country hits in the 1970s. These include "The Happiest Girl In the Whole USA" and "Funny Face," which both became crossover pop hits in 1972. Fargo has won major awards since her debut in the late 1960s, including one Grammy Award, five awards from the Academy of Country Music and one award from the Country Music Association. Fargo had been singing since her early years, but never thought about singing professionally. Fargo attended High Point College, then headed west to study at the University of Southern California. After getting her degree, she became a teacher at Northview High School in Covina, California, eventually progressing to head of the English Department. She soon started to appear around Los Angeles, California while teaching. She went to Phoenix in 1966, adopted the name Donna Fargo, and recorded her first single.
Ava Gardner (1922 - 1990) Became a Hollywood star and acted in more than 20 films by the age of 28; born in Smithfield.
Andy Griffith (1926 - ) Actor made famous in television shows such as The Andy Griffith Show and Matlock; born in Mt. Airy.
Pleasant Hanes (1845-1925) Founder of the Hanes Corporation; born in Winston-Salem.
John Wesley Hanes (February 3, 1850 - September 22, 1903)
Andrew Jackson (1767 - 1845) Seventh President of the United States, was born in the Waxsaws area on the border of North and South Carolina.
Andrew Johnson (1808 - 1875) Started his career as a tailor's apprentice in Raleigh, North Carolina and rose to lead in the reuniting of the nation as the seventeenth President of the United States.
Michael Jordan (born February 17, 1963), also known by his initials, MJ, is an American former professional basketball player, entrepreneur, and majority owner and chairman of the Charlotte Bobcats. His biography on the National Basketball Association (NBA) website states, "By acclamation, Michael Jordan is the greatest basketball player of all time." Jordan was one of the most effectively marketed athletes of his generation and was considered instrumental in popularizing the NBA around the world in the 1980s and 1990s.
Herman Lay (1909 - 1982) Owner of the company Frito-Lay, Inc.; born in Charlotte.
Sugar Ray Leonard (1956 - ) Olympic boxing champion; born in Wilmington.
Arnold Palmer (1929 - ) Recognized as the player whose aggressive play and winning personality raised golf to national attention, honed his skills on the championship golf team of Wake Forest University.
James K. Polk (1795 - 1849) Eleventh President of the United States; born in Mecklenburg County.
William Sydney Porter (1862 - 1910) Writer who used the pen name O. Henry; raised in Greensboro.
Hiram Rhoades Revels (1822 - 1901) Hiram Revels began his life in Fayetteville, North Carolina in 1822. Born a free man of African American and Indian descent, he became the first African American member of Congress.
Revels studied at the Quaker school in Liberty, Indiana and attended Knox College in Ohio. He became an ordained minister of the African Methodist Church and traveled extensively to African American congregations in Ohio, Indiana, Illinois, Tennessee, Kentucky, Missouri, and Kansas. Revels settled in Baltimore in 1845 where he became principal of a school for African Americans as well as pastor of a local church.
During the Civil War, Revels assisted in organizing black volunteers for service in the Union Army and then joined federal forces himself. He was stationed in Mississippi as chaplain to a black regiment. After the war, Revels was appointed alderman by the military governor and was later elected to the state senate. His goal as senator was to restore political rights to former confederates. In 1870, he became the first African American elected to the United States Senate. Senator Revels supported desegregation in education and on the railroads. After his term in the Senate ended, Revels became president of Alcorn Agricultural and Mechanical College in Mississippi.
---
More Famous People of North Carolina
Find more more North Carolina famous people below. You may not even realize many of these famous people were born in North Carolina or notable associated with North Carolina, including actors, actresses, explorers, historical figures, inventors, musicians, novelists, professional athletes, important politicians, singers, sport stars and more.
Robert C. Byrd, politician North Wilkesboro
Howard Cosell sportscaster, Winston-Salem
James B. Duke industrialist, Durham
Roberta Flack singer, Black Mountain
Richard Gatling inventor, Hertford County
Billy Graham evangelist, Charlotte
Kathryn Grayson singer, actress, Winston-Salem
Jesse Helms politician, Monroe
O. Henry writer, Greensboro
Charles Kuralt TV journalist, Wilmington
Dolley Payne Madison first lady, Guliford County
Ronni Milsap country music singer, Robinsville
Thelonious Monk pianist, Rocky Mount
Edward R. Murrow commentator, Greensboro
Floyd Patterson boxer, Waco
Richard Petty auto racer, Level Cross
Soupy Sales comedian, Wake Forest
Earl Scruggs bluegrass musician, Flint Hill
Randy Travis musician, Charlotte
John Scott Trotter orchestra leader,

Marshville

Thomas Clayton Wolfe author, Asheville