North Carolina State Folk Dance
Clogging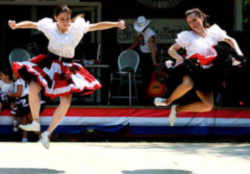 Adopted in 2005.
The General Assembly of 2005 adopted Clogging as the official folk dance, and Shagging as the official popular dance. (Session Laws, 2005, c. 218)
While several states have an official dance, North Carolina is among the few with two official state dances. Both dances were chosen for the entertainment value that they bring to "participants and spectators in the State."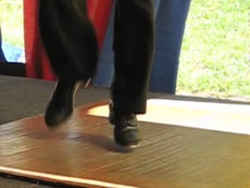 Clogging, derived from the Gaelic word meaning "time," developed during the colonial period in the Southern Appalachian Mountains. The dance draws upon European, African-American and Native American folk dance traditions. Clogging was also selected because its "distinct, dignified and beautiful footwork"can be performed in groups, by couples, or alone. In the 1920s the dance's popularity increased and became a permanent fixture in Appalachian heritage when Bascar Lumar Lunsford, host of the Mountain Dance and Folk Festival in Asheville, added a team clogging competition to the Festival. Today, North Carolina is home to numerous clogging companies and clogging festivals including the Carolina Clogging Company and the Hickory Hoedown Clogging Festival.
North Carolina Law
The law designating clogging as the official North Carolina state folk dance is found in the North Carolina General Statutes, Chapter 145 Section 145-24.
Chapter 145: State Symbols and Other Official Adoptions.
§ 145-24. Official State dances.

(a) Clogging is adopted as the official folk dance of North Carolina.

(b) Shagging is adopted as the official popular dance of North Carolina. (2005-218, s. 1.)
---
State Dances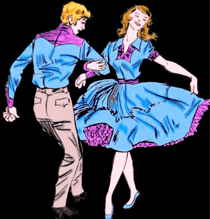 At least there are currently 31 states that have designated square dancing as their State Folk Dance.