North Carolina State Colors
Red and Blue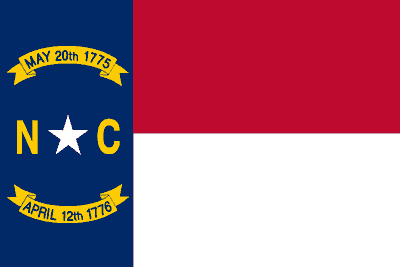 Adopted in 1945
The General Assembly of 1945 declared Red and Blue of shades appearing in the North Carolina State Flag and the American Flag as the official State Colors. (Session Laws, 1945, c. 878). No specific meanings have been attached to the colors.
No specific meanings were attached to the colors in the legislation, but traditionally colors do have specific meanings in heraldic devices such as seals, coats of arms, and flags. Although the National flag also had no meaning specified to the colors, the Great Seal of the United States does:
Red - a symbol of hardiness and valour
White - signifies purity and innocence
Blue - signifies vigilance, perseverance & justice (also the color of the Chief )
North Carolina HB 820 - 1945
NC Session Laws, 1945, c. 878: H. B. 820 CHAPTER 878

AN ACT TO ADOPT OFFICIAL STATE COLORS FOR THE STATE OF NORTH CAROLINA.

WHEREAS, North Carolina is one of only a few states that has not adopted official state colors; and

WHEREAS, there is widespread sentiment among the school children of the State and its citizens generally looking to the adoption of suitable and appropriate colors as official colors for the State: Now, therefore,

The General Assembly of North Carolina do enact:

Section 1. That red and blue, of shades as adopted and ap­pearing in the North Carolina State flag and the American flag, shall be, and hereby are, declared to be the official State colors for the State of North Carolina.

Sec. 2. That the use of such official State colors on ribbons attached to State documents with the Great Seal and/or seals of State Departments is permissive and discretionary but not directoratory.

Sec. 3. That all laws and clauses of laws in conflict with this Act are hereby repealed.

Sec. 4. That this Act shall be in full force and effect from and after its ratification.

Ratified this the 19th day of March, 1945.
---