South Carolina Famous People
Famous Americans: History and Biographies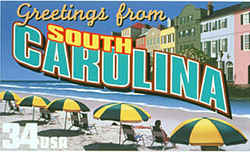 Links to histories and biographies of the famous people of South Carolina. Many famous people of South Carolina have made significant contributions to the history of our nation and the state of South Carolina. These famous Americans, famous entertainers, famous players, famous scientist, famous singers, famous statesmen, famous women, heroes, great explorers, and others South Carolina famous Americans have all made South Carolina their home. This list includes South Carolina historical figures, celebrities and those individuals of South Carolina who have influenced the lives of others.
---
More Famous People of South Carolina
Find more more South Carolina famous people below. You may not even realize many of these famous people were born in South Carolina or notable associated with South Carolina, including actors, actresses, explorers, historical figures, inventors, musicians, novelists, professional athletes, important politicians, singers, sport stars and more.
Whispering Bill Anderson songwriter, Columbia
Bernard Baruch statesman, Camden
James Godfather Brown singer, Barnwell
Joseph H. Burckhalter inventor, Columbia
John C. Calhoun statesman, Calhoun Mills
DuBose Heyward poet, playwright, author, Charleston
Charlayne Hunter-Gault journalist, Due West
Eartha Kitt singer, North
Robert Evander McNair governor, Cades
Ronald McNair astronaut, Lake City
John Rutledge jurist, Charleston
Strom Thurmond politician, Edgefield
Charles Hard Townes physicist, Greenville
William Westmoreland army chief of staff, Spartanburg