South Carolina State Motto
"Animis Opibusque Parati" and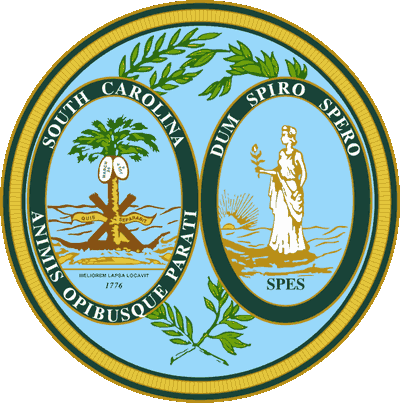 "Dum Spiro Spero"
(Prepared in mind and resources)
(While I breathe, I hope)
Adopted in 1776.
Language: Latin
South Carolina is credited with two mottoes: (1) Animis Opibusque Parati, meaning Ready in soul and resource, found in Virgil's Aeneid, Book II, Line 799, and
(2) Dum Spiro, Spero, signifying While I breathe, I hope, which was the motto of the Irish Viscounts Dillion. The latter refers to the figure of Hope on the State seal.
Two more Latin mottoes appear on the State seal: (1) Quis separabit?, meaning Who shall separate us?, and (2) Meliorem Lapsa Locavit, which freely translated signifies, He has planted a better than the fallen. Adopted in 1776.
---
On March 26, 1776, the Provincial Congress of South Carolina set up an independent government, electing John Rutledge, President. On April 2, 1776, the President and Privy Council were authorized by Resolution of the General Assembly "to design and cause to be made a Great Seal of South Carolina."
The principal designers were William Henry Drayton and Arthur Middleton.

President Rutledge used the Seal for the first time on May 22, 1777. The current seal is made up of two elliptical areas, linked by branches of the palmetto tree. The left oval is the palmetto tree with a fallen oak at the base. The right oval is the goddess Spes (Hope) walking on the beach at dawn over discarded weapons.

The State's two mottos surround the two ovals. On the left is "Animis Opibusque Parati", meaning Prepared in Mind and Resources. On the right, "Dum Spiro Spero", meaning While I Breathe I Hope.
Left side of Seal:
The palmetto tree springs from a fallen oak tree, which represents the British ships that South Carolina patriots defeated at Sullivan's Island in 1776. The shields on the palmetto trunk give the dates of the Declaration of Independence (4 July 1776) and the date that South Carolina adopted its first state constitution (26 March 1776). The motto on the banner means "who shall separate?" The words under the tree trunk translate to "Having fallen it has set up a better." ANIMIS OPIBUSQUE PARATI means "Prepared in mind and resources."
Right side of Seal:
The woman represents hope overcoming danger, and the laurel branch in her hand symbolizes the victory at Sullivan's Island. SPES means hope. DUM SPIRO SPERO means "While I breathe, I hope".
DUM SPIRO SPERO and ANIMIS OPIBUSQUE PARATI are the state mottoes.

South Carolina Law
This April 2, 1776 resolution describes the Kentucky seal. The motto is specified within this description.
South Carolina's Great Seal was authorized by resolution of the General Assembly on April 2, 1776.