South Carolina State Botanical Garden
Botanical Garden of Clemson University

Adopted on October 10, 1992
The South Carolina Botanical Garden was proudly designated the State Botanical Garden on October 10, 1992 by Governor Carroll Campbell.
Since then, the SCBG has grown from its roots in 1958 as a plant conservation and land reclamation project to a diverse 295-acre garden of nature trails, pathways, ponds, niche gardens, and award winning collections is sure to inspire you whether your visit is for an hour or an entire day.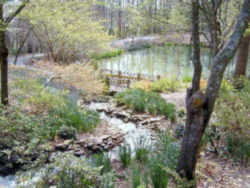 Streams, woodlands, well manicured gardens, trial gardens, a geology museum, and a warm visitor center awaits you in starting your journey in nature discovery. Their mission is to serve as an interdisciplinary resource center focusing on teaching, research and outreach that advances awareness of botanical, cultural and natural resources.

What began in 1958 as a camellia preserve on a small parcel of land adjacent to John C. Calhoun's 19th-Century Fort Hill estate has since grown to 295 acres of cultivated landscapes and natural woodlands. Designated the State's botanical garden in 1992, the Garden is at the intersection of Highway 76 and Pearman Boulevard at Clemson University. Visitors are welcome free of charge, every day, dawn to dusk.

The South Carolina Botanical Garden offers monthly First Friday Nature Walks for adults as well as a variety of cultural and educational programs for children and families throughout the year. The Nature-based Sculpture Collection has gained international recognition. Year-round programs for adults focus on sustainable gardening and natural history. Spring and Fall Plant Sales feature unusual landscape plants for Southeastern gardens with knowledgeable staff and volunteers on hand to help with plant selection.

The Garden is accessible by paths and trails, many of which are hard surfaced. History buffs will enjoy the Hanover House (ca. 1716) and the Hunt Family Cabin (ca. 1826). Art connoisseurs will want to experience the Garden's collection of site-specific, nature-based sculptures and the art galleries in the Fran Hanson Discovery Center. Other points of interest include the many demonstration gardens, such as the Camellia Garden, Wildlife Habitat Garden, Xeriscape Garden and Hosta Garden; the 70-acre Schoenike Arboretum; the Heritage Gardens, and nature trails.

Also within the Garden, the Bob Campbell Geology Museum is open Wednesday through Sunday and is home to an extensive collection of gems, minerals and fossils of the region. The Geology Museum boasts an elaborate fluorescent mineral display room and has the only saber-toothed cat exhibit in the Southeast.
South Carolina Law
The law designating the Botanical Garden of Clemson University as the official South Carolina state botanical garden is found in the South Carolina Code of Laws, Title 1, Chapter 1, Article 9, Section 1-1-675.
Title 1 - Administration of the Government
CHAPTER 1. GENERAL PROVISIONS
ARTICLE 9. STATE EMBLEMS, PLEDGE TO STATE FLAG, OFFICIAL OBSERVANCES
SECTION 1-1-675.

SECTION 1-1-675. State Botanical Garden.

The Botanical Garden of Clemson University is designated the State Botanical Garden.

HISTORY: 1992 Act No. 288, Section 1.
---