Utah Famous People
Famous Americans: History and Biographies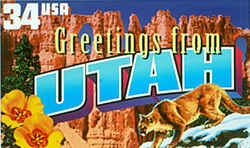 Links to histories and biographies of the famous people of Utah. Many famous people of Utah have made significant contributions to the history of our nation and the state of Utah. These famous Americans, famous entertainers, famous players, famous scientist, famous singers, famous statesmen, famous women, heroes, great explorers, and others Utah famous Americans have all made Utah their home. This list includes Utah historical figures, celebrities and those individuals of Utah who have influenced the lives of others.
---
More Famous People of Utah
Find more more Utah famous people below. You may not even realize many of these famous people were born in Utah or notable associated with Utah, including actors, actresses, explorers, historical figures, inventors, musicians, novelists, professional athletes, important politicians, singers, sport stars and more.
Maude Adams actress, Salt Lake City
Frank Borzage film director, producer, Salt Lake City
Barney Clark heart patient, Provo
Laraine Day (October 13, 1920 - November 10, 2007) was an American actress and a former Metro-Goldwyn-Mayer contract star. Not to be confused with Lorraine Day.
Bernard De Voto writer, Ogden
Avard Fairbanks sculptor, Provo
Anthony Geary actor, Coalville
John Gilbert actor, Logan
Howard A. Jarvis social reformer, Magna
David M. Kennedy government official, Randolph
David McKay religious leader, Huntsville
Peter Skene Ogden fur trader, trapper
Merlin Olsen football player, Logan
Ivy Baker Priest US treasurer, Kimberley
Lee Greene Richards painter, Salt Lake City
Richard Richards GOP chairman, Ogden
Roseanne Barr actress, Salt Lake City
Virginia Sorensen author, Provo
Mack Swain actor, Salt Lake City
Everett Thorpe painter
Robert Walker actor, Salt Lake City
Marie Windsor actress, Marysville
James Woods actor, Vernal
Loretta Young actress, Salt Lake City