Utah State Cooking Pot
Dutch Oven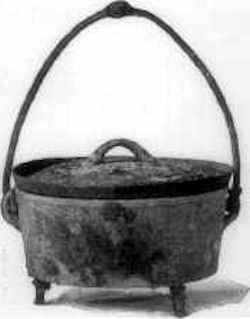 Adopted in 1997
In 1997, the Utah State Legislature approved H.B. 203, designating the Dutch Oven as the State Cooking Pot (Utah Code).
The following information was generously sent to the Utah State Library by the International Dutch Oven Society located in Logan, Utah. Utah is not only the headquarters of the Society but the site of World Championship Dutch Oven Cookoff which is a major event of the Festival of the American West.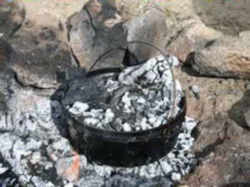 A Dutch oven is a thick-walled (usually cast iron but also ceramic and clay) cooking pot with a tight-fitting lid. Dutch ovens have been used as cooking vessels for hundreds of years. They are called casserole dishes in English speaking countries other than the United States ("casserole" means "pot" in French), and cocottes in French. They are similar to both the Japanese tetsunabe and the Sač, a traditional Balkan cast-iron oven, and are related to the South African Potjie and the Australian Bedourie oven.
When the early pioneers came to Utah they used a number of things such as lumbering prairie schooners, teams of massive oxen, mossy wooden water barrels, and heavy dresses which almost dragged on the ground. For most of us, such common pioneer artifacts are difficult to relate to or use in our lives today. However, there is one very popular pioneer indispensable which thousands of Utah families are using in their everyday activities. It not only looks the same but is still made basically the same way--the tried and true Dutch oven.

Explorers like Jim Bridger and Peter Skene Ogden used the kettle versions on the trail but appreciated the standard three-legged, flat top with a rim version together with its "lite" breads, tasty fruit cobblers and delicious stews when they wintered in. Mountain men who rendezvoused in Cache Valley in the 1820's used them and Osborne Russell in his Journal of a Trapper writes about how much they appreciated having some greasy, grizzly bear meat to cook because the cast-iron pots needed re-seasoning after boiling roots for meals the previous eleven days.

Pioneer trains gearing up near Independence, Missouri were given a list of essentials with the Dutch oven at the top of the list, the people-powered handcart companies chose to include the heavy pots for their long pull to Utah and the miners digging in the canyons around Bingham, Price and Cedar City counted the black pots almost as essential as their picks.

It's been asked why Dutch ovens are used by more Utah families than other states and perhaps it's because for Utahans, families have a special significance and particularly their pioneer forbearers. It's a unique and generational bonding experience for families to gather around a campfire after a meal from the same kind of Dutch ovens and tell the stories about and history of their pioneer ancestors.
Utah House Bill No. 203
UTAH H.B. 203
STATE COOKING POT
1997 GENERAL SESSION
STATE OF UTAH

Sponsor: Craig W. Buttars

AN ACT RELATING TO STATE AFFAIRS IN GENERAL; DESIGNATING A STATE COOKING POT.
This act affects sections of Utah Code Annotated 1953 as follows:
ENACTS:
63-13-7.6, Utah Code Annotated 1953
Be it enacted by the Legislature of the state of Utah:
Section 1. Section 63-13-7.6 is enacted to read:
63-13-7.6. State cooking pot.
The dutch oven is selected and designated to be the state cooking pot of Utah.
Utah Law
The law designating the Dutch oven as the official Utah state cooking pot is found in the Utah Statutes, Title 63, Chapter 13, Section 63-13-5.5 (6).
TITLE 63. State Affairs in General.
CHAPTER 13. Miscellaneous Provisions.
SECTION 63-13-5.5. State Symbols.

63-13-5.5. State symbols.
(1) Utah's state animal is the elk.
(2) Utah's state bird is the sea gull.
(3) Utah's state centennial astronomical symbol is the Beehive Cluster located in the constellation of Cancer the Crab.
(4) Utah's state centennial star is Dubhe, one of the seven bright stars composing the Big Dipper in the constellation Ursa Major.
(5) Utah's state centennial tartan, which honors the first Scots known to have been in Utah and those Utahns of Scottish heritage, shall have a pattern or repeating-half-sett of white-2, blue-6, red-6, blue-4, red-6, green-18, red-6, and white-4 to represent the tartan worn anciently by the Logan and Skene clans, with the addition of a white stripe.
(6) Utah's state cooking pot is the dutch oven.
(7) Utah's state emblem is the beehive.
(8) Utah's state fish is the Bonneville cutthroat trout.
(9) Utah's state flower is the sego lily.
(10) Utah's state folk dance is the square dance, the folk dance that is called, cued, or prompted to the dancers and includes squares, rounds, clogging, contra, line, and heritage dances.
(11) Utah's state fossil is the Allosaurus.
(12) Utah's state fruit is the cherry.
(13) Utah's state vegetable is the Spanish sweet onion.
(14) Utah's historic state vegetable is the sugar beet.
(15) Utah's state gem is topaz, as is prominently found in the Thomas Mountain Range in Juab County, Utah.
(16) Utah's state grass is Indian rice grass.
(17) Utah's state hymn is "Utah We Love Thee" by Evan Stephens.
(18) Utah's state insect is the honeybee.
(19) Utah's state mineral is copper.
(20) Utah's state motto is "Industry."
(21) Utah's state railroad museum is Ogden Union Station.
(22) Utah's state rock is coal.
(23) Utah's state song is "Utah This is the Place" by Sam and Gary Francis.
(24) Utah's state tree is the blue spruce.
---