Utah State Vegetable
Spanish Sweet Onion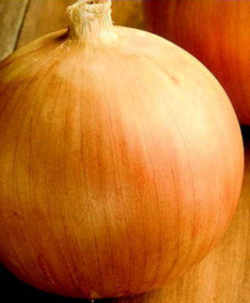 Adopted on May 6, 2002.
The Spanish Sweet Onion was named the state vegetable in the 2002 General Session of the Utah State Legislature, S.B. 136. A large-yielding heirloom variety that produces large sweet onions - sometimes weighing in excess of a pound each.
Senator Bill Wright, R-Elberta, a dairy farmer, sponsored the measure and students from Lone Peak Elementary School were the driving force behind this bill.
The sugar beet is the Utah State Historic Vegetable.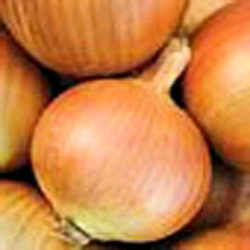 Onion farms can be found in Davis, Weber and Box Elder counties, taking up about 2,500 acres. Onions are a $9 million business in Utah and these counties grow about 100 million pounds of onions each year. Utah State University´s Agriculture Experiment Station in Logan has an "onion specialist" who studies the vegetable and believes it may help prevent cancer, heart attacks and strokes (it naturally thins the blood) as well as being tasty and only 65 calories per cup!

There was stiff competition at the Capitol from the Realms of Inquiry School students, supported by Rep. Jackie Biskupski, who backed the sugar beet as Utah´s vegetable. A compromise was reached; plans to designate one or the other was merged into a single bill and the sugar beet was declared the historical state vegetable and the onion the contemporary state vegetable.

The onion (in general, not necessarily the Spanish Sweet onion) is believed to have originated in Asia, though it is likely that onions may have been growing wild on every continent. Dating back to 3500 BC, onions were one of the few foods that did not spoil during the winter months. Our ancestors must have recognized the vegetable's durability and began growing onions for food. Learn more about the history of the onion.

Why do we cry when we cut into an onion?
It's simply a reaction of enzymes in the onion when they become exposed to the air. Heating the onion increases the enzyme activity. Chilling onions before chopping or slicing them helps reduce the tendency to tear-up because it slows down the reaction of the enzymes.
Yellow Sweet Spanish Onion (Yellow Jumbo)
Size: 8 to 16 oz
Matures: 110 days
Plant spacing: 6 inches apart
Plant size: 3-inch bulbs, up to 2-foot tops
Large, globe-shaped yellow onion with a crisp, firm white flesh that keeps well. A long day onion, it develops late in the season in the North. In the South it makes scallions, or fresh green onions, when planted as a fall onion. Needs 13 hours or more of day length for best development. Make sure the thick, heavy neck dries well, and it will store for several months in a cool, dry place. Tolerant to pink root.
Roasted Utah Onion and Rosemary Focaccia
From Chef Scott Blackerby at Bambara Restaurant in downtown Salt Lake City

2 cups tepid water
2 packets dry yeast
1 tablespoon sugar
1/4 cup extra-virgin olive oil, plus additional for cooking and greasing pans
5 1/2 cups flour
1 tablespoon sea salt, divided
2 Spanish sweet onions
2 tablespoons balsamic vinegar
1 tablespoon fresh rosemary
2 tablespoons brown sugar
In a mixing bowl, add water and dissolve yeast, sugar and 1/4 cup olive oil. Let site for 5 minutes. Turn mixer on low with bread hook attachment and add 2/3 of the flour. Mix until well incorporated. Add the remaining flour and 1 teaspoon of the salt, mix on medium speed for 10 minutes. Dough should not stick to the bowl. Cover with plastic wrap and let double. Punch dough down and place on wooden board. Divide dough into eight equal portions and mash down to make eight flat circles. Place each piece of dough on a sheet pan that has been liberally brushed with olive oil and sprinkel with a little cornmeal, if desired. Cover the pans with plastic wrap and let the dough double in size again.
While the dough is proofing, make the roasted onion topping by placing the onions in a mixing bowl, toss liberally with additional olive oil, balsamic vinegar and rosemary. Heat oven to 400 degrees. Spread the onions evenly on sheet pan and place in a pre-heated oven for 20-30 minutes. Onions should caramelize somewhat. Remove from oven and let cool to room temperature.
When the dough has doubled, use your fingertips and punch each piece of dough down to almost the bottom. Brush each piece with a little olive oil and spread the onion mixture over the top evenly, all the way to the edges. Sprinkle the brown sugar and remaining salt on top. Bake in the 400 degree oven for 18-24 minutes or until edges are golden brown. Remove from pan and let sit 5 minutes before serving. Can be made several hours in advance. Makes 8 servings.
Utah Law
The law designating the Spanish sweet onion as the official Utah state vegetable is found in the Utah Statutes, Title 63, Chapter 13, Section 63-13-5.5 (13).
TITLE 63. State Affairs in General.
CHAPTER 13. Miscellaneous Provisions.
SECTION 63-13-5.5. State Symbols.

63-13-5.5. State symbols.
(1) Utah's state animal is the elk.
(2) Utah's state bird is the sea gull.
(3) Utah's state centennial astronomical symbol is the Beehive Cluster located in the constellation of Cancer the Crab.
(4) Utah's state centennial star is Dubhe, one of the seven bright stars composing the Big Dipper in the constellation Ursa Major.
(5) Utah's state centennial tartan, which honors the first Scots known to have been in Utah and those Utahns of Scottish heritage, shall have a pattern or repeating-half-sett of white-2, blue-6, red-6, blue-4, red-6, green-18, red-6, and white-4 to represent the tartan worn anciently by the Logan and Skene clans, with the addition of a white stripe.
(6) Utah's state cooking pot is the dutch oven.
(7) Utah's state emblem is the beehive.
(8) Utah's state fish is the Bonneville cutthroat trout.
(9) Utah's state flower is the sego lily.
(10) Utah's state folk dance is the square dance, the folk dance that is called, cued, or prompted to the dancers and includes squares, rounds, clogging, contra, line, and heritage dances.
(11) Utah's state fossil is the Allosaurus.
(12) Utah's state fruit is the cherry.
(13) Utah's state vegetable is the Spanish sweet onion.
(14) Utah's historic state vegetable is the sugar beet.
(15) Utah's state gem is topaz, as is prominently found in the Thomas Mountain Range in Juab County, Utah.
(16) Utah's state grass is Indian rice grass.
(17) Utah's state hymn is "Utah We Love Thee" by Evan Stephens.
(18) Utah's state insect is the honeybee.
(19) Utah's state mineral is copper.
(20) Utah's state motto is "Industry."
(21) Utah's state railroad museum is Ogden Union Station.
(22) Utah's state rock is coal.
(23) Utah's state song is "Utah This is the Place" by Sam and Gary Francis.
(24) Utah's state tree is the blue spruce.
---