Vermont Famous People
Famous Americans: History and Biographies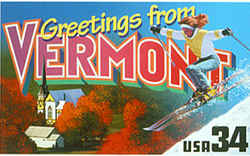 Links to histories and biographies of the famous people of Vermont. Many famous people of Vermont have made significant contributions to the history of our nation and the state of Vermont. These famous Americans, famous entertainers, famous players, famous scientist, famous singers, famous statesmen, famous women, heroes, great explorers, and others Vermont famous Americans have all made Vermont their home. This list includes Vermont historical figures, celebrities and those individuals of Vermont who have influenced the lives of others.
Chester A. Arthur (1829 - 1886) The 21st President of the United States (1881-1885); born in Fairfield.
Orson Bean (1928 - ) Actor; born in Burlington.
Ben Cohen (1951 - ) & Jerry Greenfield (1951 - ) Founders of Ben & Jerry's Homemade Ice-Cream; born in New York and moved to Vermont during the late 1970s.
Calvin Coolidge (1872 - 1933) The 30th President of the United States (1923-1929); born in Plymouth Notch.
Thomas Davenport (1802 - 1851) Inventor; He patented a device for "Improvements in propelling machinery by magnetism and electromagnetism" in 1837; born in Williamstown.
John Deere was born in Rutland, Vermont, and spent his boyhood and young adulthood in Middlebury. He apprenticed as a blacksmith, and in 1825, began his career. He soon developed a reputation for careful workmanship. In the 1830s, business conditions deteriorated, and John Deere migrated westward with other Vermonters. In 1836, he established a blacksmith's forge in Grand Detour, Illinois. He discovered that the cast-iron plows being used by farmers were inefficient in the rich soil of the Midwest, so he developed a steel plow that revolutionized farming for the settlers of the area. Within ten years, his company was producing 1,000 plows a year.
John Dewey (October 20, 1859 - June 1, 1952) John Dewey was an American philosopher, psychologist, and educational reformer whose ideas have been influential in education and social reform. Dewey was born in Burlington, Vermont, to a family of modest means. Dewey is one of the primary figures associated with philosophy of pragmatism and is considered one of the founders of functional psychology. A well-known public intellectual, he was also a major voice of progressive education and liberalism. Although Dewey is known best for his publications concerning education, he also wrote about many other topics, including epistemology, metaphysics, aesthetics, art, logic, social theory, and ethics. Known for his advocacy of democracy, Dewey considered two fundamental elements- schools and civil society- as being major topics needing attention and reconstruction to encourage experimental intelligence and plurality. Dewey asserted that complete democracy was to be obtained not just by extending voting rights but also by ensuring that there exists a fully formed public opinion, accomplished by effective communication among citizens, experts, and politicians, with the latter being accountable for the policies they adopt.
Stephen A. Douglas (1813 - 1861) Politician famous for his debates with Abraham Lincoln; born near Brandon.
Ralph E. Flanders (1880 - 1970) Senator; born in Barnet.
Elisha Graves Otis (1811 - 1861) Inventor of the elevator; born near Halifax.
Katherine Paterson (1932 - ) Children's author and Newberry Award winner for Jacob Have I Loved; moved to Barre in 1964.
Patty Sheehan (born October 27, 1956) is an American professional golfer. Sheehan was born in Middlebury, Vermont. She was rated one of the top junior snow skiers in the country as a 13-year-old. She attended Earl Wooster High School in Reno, Nevada. She became a member of the LPGA Tour in 1980 and won six major championships and 35 LPGA Tour events in all. She is a member of the World Golf Hall of Fame. Sheehan also hosts the Patty Sheehan & Friends, which is a tournament on the Legends Tour. Patty Sheehan & Friends helps aid women and children's charities all across Northern Nevada.
Rudy Vallee (1901 - 1986) Singer, band leaderl; born in Island Pond.
Henry Wells (1805 - 1878) Founder of Wells Fargo and Co.; born in Thetford.
Brigham Young (1801 - 1877) Colonizer, territorial governor, and President of The Church of Jesus Christ of Latter-day Saints; born in Whitingham.
---
More Famous People of Vermont
Find more more Vermont famous people below. You may not even realize many of these famous people were born in Vermont or notable associated with Vermont, including actors, actresses, explorers, historical figures, inventors, musicians, novelists, professional athletes, important politicians, singers, sport stars and more.
Sherman Adams governor, East Dover
James Fisk financial speculator, Bennington
Wilbur Fisk clergyman, educator
Horace A. Tabor silver king, Holland
Justin Morrill politician, Strafford
Richard Morris Hunt architect, Brattleboro
William Morris Hunt painter, Bratleboro
Moses Pendleton choreographer
Joseph Smith religious leader, Sharon
Ernest Thompson actor, writer