Vermont State Flavor
Maple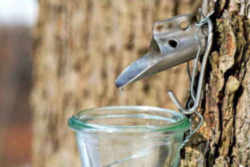 (Vermont Sugar Maple Tree)
Adopted on April 26, 1994
Maple, from the Vermont sugar maple tree, became the state flavor, when Governor Howard Dean signed House Bill No. 868 on April 26, 1994.
The law went into effect on July 1, 1994. Vermont is the only state that has passed an official State Flavor into law
The term "maple flavored" may only be used when 100 percent of the flavoring material is a pure maple product. If any artificial maple flavor is used, the label shall clearly and conspicuously state "artificial flavor."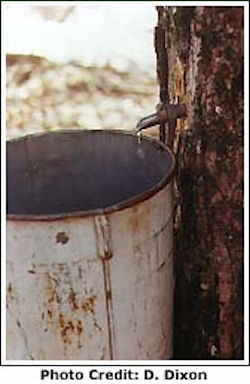 Vermont is the only state that has passed an official State Flavor into law. As the leading producer of maple syrup in the United States it is no wonder that maple was the flavor that was chosen. Though maple syrup comes to mind immediately when one thinks of maple flavor, maple flavor is found in many other foods from ice-cream to cheese to smoked turkey.
Vermont is naturally very protective of its official State Flavor and so has designated, by law, specific guidelines that must be followed when labeling maple flavored products.
There are four different kinds of maple trees native to northeastern United States, all of which produce spring sap flows, can be tapped and will produce maple syrup. The four trees are: Sugar Maple (or Hard Maple), Silver Maple (or soft maple), Red Maple (or Swamp Maple), and Ash Leafed Maple (or Box Elder).

The Sugar Maple is the main maple producing tree. The sap from the sugar maple contains about 3% sugar, while the saps from the others contain half to two thirds as much. Also, the syrup made from the other saps are darker and less flavorful.
Vermont produces roughly twice as much syrup as any other state - somewhere between 350,000-500,000 gallons each year. And all of it comes from small independent sugar makers using technology that hasn't changed all that much over the years. Yes, the bigger operations gather sap with plastic pipelines strung tree-to-tree instead of tin buckets. But the majority still use wood fired evaporators to boil down the sap. Some still use horsedrawn sleds to haul the sap out of the woods.
Maple syrup grades
In general, the lighter the color, the more delicate the flavor. The United States has some basic grading standards based on color and flavor.

US Grade AA Light Amber (Fancy). A light amber colored syrup with a mild flavor, usually made from the first brief flows of the season. Considered the highest grade.

US Grade A Medium Amber. Amber color and pronounced maple flavor. A good general usage syrup delicate enough to be used with subtle flavors but is generally used as a table syrup.

US Grade A Dark Amber. Deep color with a flavor likened to caramel. Some find it a bit too strong in flavor for general usage but it can be used like US Grade A Medium Amber.

Grade B. Very dark amber, less sweet with a robust, molasses-like flavor recommended primarily for baking.
Vermont State Legislature adopted a joint resolution, the "Vermont Maple Embargo," criticizing unfair practices of the Canadian maple industry.
Vermont Joint Resolution No. R-95
NO. R-165. JOINT RESOLUTION RELATING TO VERMONT MAPLE EMBARGO.
(J.R.S. 94)

Offered by: Senator Ready of Addison County, Senator Bahre of Addison County, Senator Howrigan of Franklin County, Hudson of Franklin County, Illuzzi of Essex-Orleans County and Metcalf of Essex-Orleans County.

Whereas, the economic viability of the Vermont maple industry is threatened by unfair practices of the Canadian maple industry, which include:

release to the U.S. market by Canadian producers during the 1994 maple production season of Canadian maple syrup which was produced prior to the 1994 season, thereby undercutting current sales of Vermont maple production from the 1994 season, and

use by Canadian producers of the pesticide paraformaldehyde in an alleged 50 to 90 percent of their maple production, which can extend the maple production season by up to 20 percent, but which is legally banned in both Canada and the U.S., and

Whereas, the 1994 maple season for both Canada and Vermont has been exceptionally productive, thereby adding to an abundant supply of maple syrup on the U.S. market, and

Whereas, the exchange rate between the U.S. dollar and the Canadian dollar is such that the price of Canadian maple syrup sold in the U.S. is one-quarter to one-third cheaper than for Vermont maple syrup, and

Whereas, the price received by Vermont producers for their maple syrup has in the last six months declined by approximately 25 percent as a result of the above conditions, and

Whereas, during the 1994 production season in Vermont, the cost of producing maple syrup has exceeded its sales price by approximately 15 percent, and

Whereas, current demand for maple logs for export from the state, and current prices offered for such logs, are at an all time high, which situation offers owners of Vermont maple orchards one means of receiving a short-term financial gain, but with disastrous long-term consequences for the Vermont maple industry, now therefore be it

Resolved by the Senate and House of Representatives:

That the General Assembly proposes that the President and United States Congress consider these serious problems and take immediate action consistent with the terms of the U.S. trade agreement with Canada concerning the importation to the U.S. of Canadian maple syrup and other maple products, with the objective being to bring about fair and reasonable prices in the U.S. market for maple syrup and other maple products from Vermont and other U.S. maple producing states, and be it further

Resolved: That the Secretary of State be directed to forward a copy of this resolution to U.S. Senator Patrick Leahy, U.S. Senator James Jeffords and U.S. Representative Bernard Sanders.

House and Senate Agreement: 05/24/1994

Act No: R165


Vermont Law
The law designating the milk as the official Vermont state beverage is found in the Vermont Statutes, Title 1 Chapter 11, Section 510.
§ 510. State flavor
The state flavor shall be maple from the Vermont sugar maple tree. (Added 1993, No. 139 (Adj. Sess.), § 1.)

From the Vermont Department of Agriculture and the Vermont Revised Statutes, 1999
(d) The term "maple flavored" may only be used when 100 percent of the flavoring material is a pure maple product. If any artificial maple flavor is used, the label shall clearly and conspicuously state "artificial flavor."
(Added 1981, No. 235 (Adj. Sess.), § 1; amended 1985,No. 241 (Adj. Sess.), § 2.)


---