Vermont 50 State Quarter
50 State Quarter of Vermont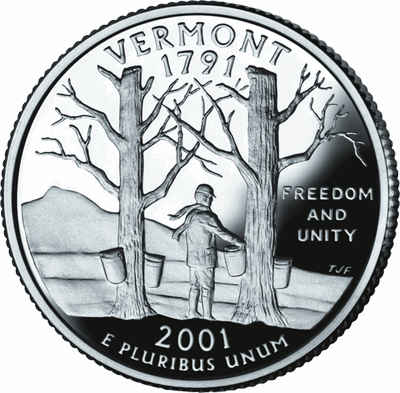 Designed by T. James Ferrell
Released August 6, 2001
Vermont is a state in the New England part of northeastern US known for its natural landscape, which is 75% forest. The Green Mountains run north-south the length of the state. Vermont became the first state added to the Union following the 13 colonies on March 1, 1791. Until statehood, had been a region claimed by both New York and New Hampshire.
Mintage: 882,804,000
The Vermont quarter, is the 4th quarter in the 2001 series. The 50 State Quarter of Vermont was released on August 6, 2001, featuring a Vermonter tending his sap buckets among the maple trees with Camel's Hump Mountain in the background. The production of maple syrup and other maple products is a thriving tradition that signals the arrival of spring in Vermont. In the early history of the country, maple sugar was the principal sweetener in North America. Although it has been largely replaced by cane and corn sugars, the maple sugar trade remains a vital part of the Vermont economy. Inscription: Freedom and Unity.
The Vermont quarter, the 4th quarter in the 2001 series, features Camel's Hump Mountain with an image of maple trees with sap buckets in the forefront.
The design honors the "Green Mountain State," the first state admitted to the Union after the original 13 colonies. Vermont is most famous for its skiing and the production of maple sugar and syrup. Until the 1800s when cane sugar was introduced, Americans relied on Vermont's maple sugar for much of its sugar supply. Also featured on the quarter is Camel's Hump Mountain in the northern half of Vermont's Green Mountains. Camel's Hump is easily recognized by its unique double-humped profile and is one of the highest peaks in Vermont.
Governor Howard Dean began the design process for the Vermont quarter in 1999, by appointing the Vermont Arts Council as the agency responsible for soliciting concepts from residents throughout the state. The Council proposed five concepts, each of which included Camel's Hump. Opinions were solicited by the Governor's office through an informal radio survey, and the final design was selected by Governor Dean and submitted to the Secretary of the Treasury for final endorsement.
Source: United States Mint's 50 State Quarters Program
---
50 State Quarters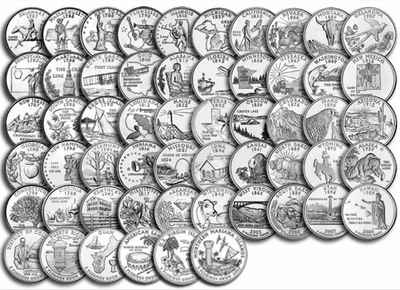 The 50 State Quarters program (Pub.L. 105-124, 111 Stat. 2534, enacted December 1, 1997) was the release of a series of circulating commemorative coins by the United States Mint. From 1999 through 2008, it featured each of the 50 U.S. states on unique designs for the reverse of the quarter.