West Virginia State Flower
Rhododendron (Big Laurel)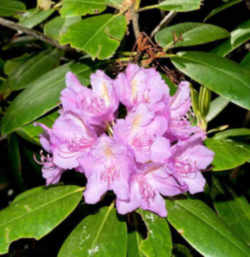 (Rhododendron Maximum)
Adopted on January 23, 1903.
The Rhododendron (Big Laurel), Rhododendron Maximum, is the state flower of West Virginia. With the recommendation of the Governor, the Legislature adopted House Joint Resolution 19 on January 29, 1903, following a vote by pupils of the public schools. It is a shrub of the heath family and may be recognized by its large dark evergreen leaves and delicate pale pink or white bloom, mottled with either red or yellow flecks.
Rhododendron maximum - its common names include great rhododendron, great laurel, rosebay rhododendron, American rhododendron and big rhododendron - is a species of Rhododendron native to the Appalachians of eastern North America, from Nova Scotia south to northern Alabama.
West Virginia:
swamp forests - red spruce/great laurel/bristly dewberry (Rubus hispidus)/sphagnum (Sphagnum affine) plant community
eastern hemlock/great laurel/bog goldenrod-cinnamon fern (Solidago uliginosa-Osmunda cinnamomea)/mixed sphagnum (Sphagnum spp.) plant community
eastern hemlock-yellow birch/great laurel/mixed herbs/mixed sphagnum plant community
R. maximum is an evergreen shrub growing to 4 m (13 ft), rarely 10 m (33 ft), tall. The leaves are 9-19 cm (3-8 in) long and 2-4 cm (0.75-1.5 in) broad. The flowers are 2.5-3 cm (1 in) diameter, white, pink or pale purple, often with small greenish-yellow spots. The fruit is a dry capsule 15-20 mm (.60-.79 in) long, containing numerous small seeds. The leaves can be poisonous. Leaves are sclerophyllous, simple, alternate, and oblong (10 to 30 cm long, 5 to 8 cm wide). It retains its waxy, deep-green leaves for up to 8 years, but once shed are slow to decompose. It produces large, showy, white to purple flowers each June.
Characteristics of the Rhododendron (Big Laurel)
Leaf: The Rhododendron leaf is an evergreen, alternate, simple, pinnately veined, 4 to 10 inches long, elliptical, with entire margins. Leaves are dark green and shiny above, whitish with rust colored hair, with rolled edges that curl in winter.

Flower: The Rhododendron flower is showy, large, pale pink or white with a corolla of five rounded petals. Flower stems are sticky. Blooms from June to July.

Fruit: Many tiny seeds borne in a long stemmed, red-brown capsule (1/2 inch long) of the Rhododendron split along five lines when mature in October.

Twig: Stout, whitish green in color, covered with reddish-brown hair. Vegetative buds are small, appearing enclosed in small leaves. Flower buds of the Rhododendron are egg-shaped, enclosed in rusty, pubescent scales.

Bark: The bark is thin, light brown and smooth when young, and will be broken into thin scales on older stems.

Form: A large shrub or small tree with several twisted stems that may form an impassable thicket. Height: 5-40'.

Habitat: The Rhododendron can be found in wet woods and swamps, and favor acidic soils..

Range: Found in the Eastern and Midwestern United States, Native, but often cultivated.
The use of common names may leads to confusion with two other members of the heath family.
Kalmia latifolia is a smaller shrub that has many common names but is often called mountain laurel or ivy. Kalmia latifolia has smaller leaves (3/4 to 1 inch across) than great laurel and small, candy-striped white or pinkish flowers. It blooms in rocky woods during May to July, and at 5 to 15 feet, is smaller in stature than the great laurel.
Another relative that is also sometimes called mountain laurel is the Catawba rhododendron (Rhododendron catawbiense). Its darker pink or purple flowers are more common in southern WV. One thing that all three "mountain laurels" of the heath family have in common is their beautiful evergreen foliage and their toxicity to humans or livestock if eaten.

Acts of the Legislature of West Virginia
Acts of the Legislature of West Virginia at its Twenty-Sixth Regular Session commencing January 14, 1903. (Charleston: The Tribune Printing Company, 1903)
(H. J. R. No. 19)
JOINT RESOLUTION NO. 8
[Adopted January 23, 1903.]

Relating to a State flower.

Whereas, Many of our sister states have adopted some floral emblem; and

Whereas, Our present chief executive, the governor of the State, and his immediate predecessor, have each recommended the big laurel, or rhododendron, and the pupils of the public schools of the State, under direction of the state superintendent, have voted for this flower; therefore, be it

Resolved by the Legislature of West Virginia:

That said rhododendron, or big laurel, be and it is hereby designated as the official State flower, to be used as such at all proper times and places.
The Code of West Virginia
The big laurel was approved by joint resolution and is not recorded in the Code of West Virginia

Taxonomic Hierarchy: Rhododendron or Big Laurel
Kingdom: Plantae - Plants
Subkingdom: Tracheobionta - Vascular plants
Superdivision: Spermatophyta - Seed plants
Division: Magnoliophyta - Flowering plants
Class: Magnoliopsida - Dicotyledons
Subclass: Dilleniidae -
Order: Ericales -
Family: Ericaceae - Heath family
Genus: Rhododendron L. - Rhododendron
Species: Rhododendron Maximum macrophyllum D.; Don ex G. Don - Pacific rhododendron
---
State Flowers
State Floral Emblems