Wisconsin State Coat of Arms
Coat of Arms
Finalized in 1881
The history of the seal is inextricably entwined with that of the coat of arms. An official seal was created in 1836, when Wisconsin became a territory, and was revised in 1839. When Wisconsin achieved statehood in 1848, a new seal was prepared. This seal was changed in 1851 at the instigation of Governor Nelson Dewey and slightly modified to its current design in 1881 when Dewey's seal wore out and had to be recast. Chapter 280, Laws of 1881, provided the first precise statutory description of the great seal and coat of arms in what ultimately became Sections 1.07 and 14.45 of the statutes.
The Coat of Arms contains symbols that represent the diversity, wealth and abundance of resources in Wisconsin.
Wisconsin's state flag includes the Coat of Arms which represents many of our valued natural resources and the contributions of early pioneers to the state's development.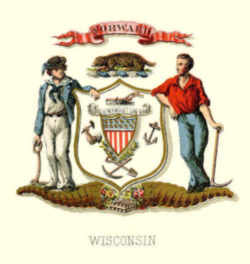 Seal and coat of arms. Article XIII, Section 4, of the Wisconsin Constitution requires the legislature to provide a "great seal"to be used by the secretary of state to authenticate all of the governor's official acts except laws. The seal consists of the coat of arms, described below, with the words "Great Seal of the State of Wisconsin"centered above and a curved line of 13 stars, representing the 13 original United States, centered below, surrounded by an ornamental border. A modified "lesser seal"serves as the seal of the secretary of state.
The coat of arms is an integral part of the state seal and also appears on the state flag. It contains a sailor with a coil of rope and a "yeoman"(usually considered a miner) with a pick, who jointly represent labor on water and land. These two figures support a quartered shield with symbols for agriculture (plow), mining (pick and shovel), manufacturing (arm and hammer), and navigation (anchor). Centered on the shield is a small U.S. coat of arms and the U.S. motto, "E pluribus unum"("one out of many"), referring to the union of U.S. states, to symbolize Wisconsin's loyalty to the Union. At the base, a cornucopia, or horn of plenty, stands for prosperity and abundance, while a pyramid of 13 lead ingots represents mineral wealth and the 13 original United States. Centered over the shield is a badger, the state animal, and the state motto "Forward" appears on a banner above the badger.
The flag law was amended in 1979 to include the name of the state and the date of statehood.
Wisconsin Law
2011-12 Wisconsin Statutes & Annotations Updated through 2013 Wisconsin Act 380
Chapter 1 Sovereignty and Jurisdiction of the State

1.07 State coat of arms. The coat of arms of the state of Wisconsin is declared to be as follows:
ARMS.- Or, quartered, the quarters bearing respectively a plow, a crossed shovel and pick, an arm and held hammer, and an anchor, all proper; the base of shield resting upon a horn of plenty and pyramid of pig lead, all proper; over all, on fesse point, the arms and motto of the United States, namely: Arms, palewise of 13 pieces argent and gules; a chief azure; motto (on garter surrounding inescutcheon), "E pluribus unum". CREST.- A badger, passant, proper. SUPPORTERS.- Dexter, a sailor holding a coil of rope, proper; sinister, a yeoman resting on a pick, proper. MOTTO.- Over crest, "Forward". History: 1975 c. 41. NOTE:
---