California State Gold Rush Ghost Town
Bodie, California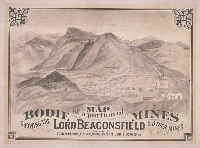 Location:
50 miles south of Lake Tahoe near Bridgeport near the Nevada border
Adopted in 2002
Bodie was designated as the official California State Gold Rush ghost town in 2002. In 1962 it was named a National Historic Site and a California State Historic Park. It once housed a population of 10,000, but now it is preserved in a state of arrested decay. What was left of the town's buildings and contents remains as they did after the last resident departed. Bodie is located northeast of Yosemite about 13 miles off of Highway 395 on Bodie Road and 7 miles south of Bridgeport.
The exact source of the town's name remains unknown today. It may have been named for gold miner W. S. Body also known as William S. or Waterman S. Body or his name may have been Wakeman S. Bodey. The name Bodie was given to the camp that was near the site where he discovered gold in 1859. It was not until 1877 when gold was discovered in quantity and the population increased that Bodie grew in size from 3,000 up to 10,000 by 1880. The mining boom ended in the early 1880's and by 1888 about $18,000,000 worth of gold had been mined, but only 3 mines were left from the 40 to 50 that had existed during the boom years.
California Law
The law designating Bodie as the official California state gold rush ghost town is found in the California Government Code, specifically Title 1, Division 2, Chapter 2, Section 429.7.
CALIFORNIA GOVERNMENT CODE
TITLE 1. GENERAL
DIVISION 2. STATE SEAL, FLAG, AND EMBLEMS
CHAPTER 2. STATE FLAG AND EMBLEMS
SECTION 420-429.8

429.7. Bodie is the official state gold rush ghost town.
---