California State Almanac: Facts and Figures
Quick Facts, Figures, and Overview of the Stateof California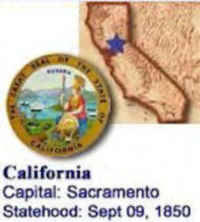 Nicknamed "the Golden State", California is one of the Pacific Coast states of the US. It is bordered by Oregon to the north, by Nevada and Arizona to the west, and by Mexico to the south. The capital of California is Sacramento, and its largest city is Los Angeles. California is the third largest state by area in the country. California's name comes from a mythical Spanish island ruled by a queen called Califia that was featured in a Spanish romance ("Las Sergas de Esplandian"). From a book, Las Sergas de Esplandian, by Garci Rodriguez de Montalvo , c. 1500. (the Spanish explorers originally thought that California was an island)
Leading industries include agriculture, manufacturing (transportation equipment, machinery, and electronic equipment,) biotechnology, aerospace-defense, and tourism. Principal natural resources include timber, petroleum, cement, and natural gas. California industrial activity has expanded rapidly in the 20th century along with an expanding population. It has the largest economy of any US state, and was the leading producer by value of both agricultural and manufactured goods.
Official Name
California
Capital
Sacramento
Nicknames
The Golden State (Official, 1968) ...and more
Motto
Eureka (I have found it)
Location
Region
38.54623 N, 121.42660 W
Pacific States
Southwestern
Constitution Ratified
1879
Statehood
September 09, 1850
31st state
Population
37,253,956 (2010)
217.16 sq. mi.
1st
Largest City
(by population)
10 largest cities (2010):Los Angeles, 3,792,621; San Diego, 1,307,402; San Jose, 945,942; San Francisco, 805,235; Fresno, 510,365; Sacramento, 489,488; Long Beach, 462,257; Oakland, 409,300; Bakersfield, 347,483; Anaheim, 336,265
Bordering States
North: Oregon
East: Nevada and Arizona (Colorado River forms the Southern portion of its Eastern border)
South: Mexican state of Baja California
West: Pacific Ocean.
Coastline: 840 mi.
Major Industry
agriculture (many, many products), oil, mining, electronics, movie making/entertainment, and tourism
Major Rivers
Sacramento River, Colorado River, San Joaquin River
California Counties
58 Counties in California
Largest County
(by population)
Los Angeles County
9,818,605 (2010)
4,060 sq. mi.
Largest County
(by area)
San Bernardino County
20,164 sq. mi.
National forests
18
State parks and beaches
278 (1.5 million ac.)
Presidential Birthplace
Richard Milhous Nixon was born in Yorba Linda on January 9, 1913 (he was the 37th US President, serving from 1969 to 1974).
Electoral Votes
55 (as of the 2004 Presidential Election)
US Congress
2 Senators; 52 Representatives (53 Representatives as of the 2002 election)
Time Zone
Pacific Standard Time
Zip Codes
NANPA
State Quick Facts
Census Bureau Quick Facts
---
California Climate and Weather

California's climate is often compared to that of the Mediterranean, due to warm, dry summers, and mild, wet winters. On the coast, average yearly temperatures range between the low 40s°F (4.4°C) and in the high 70s°F (21.1°C) and 80s°F (26.7°C). Farther inland, summers are hot and dry, and at higher altitudes the weather is more typical of a four-seasons cycle with cold, snowy winters. The contrast is clear in two of the state's largest cities, where you'll find very different weather patterns. San Francisco is famous for its fog - especially in the summer, and Los Angeles is known for its consistently sunny, desert-like, coastal climate.
Highest Temperature
134 degrees
Jul. 10, 1913 - Greenland Ranch
Lowest Temperature
-45 degrees
Jan. 20, 1937 Boca-
Avg. Temp:
High - Low
92.2 degrees
14.3 degrees

California Points of Interest

From Eureka to San Diego, California's large and small coastal cities are not to be missed (especially Monterey, San Francisco and Santa Barbara); Colorado River; Big Sur region; Lake Tahoe; Redwood National Park; the Wine Country (Napa area); Santa Catalina Island; Hollywood; the Golden Gate Bridge; San Simeon State Park; Point Reyes National Seashore; and Yosemite National Park. Death Valley, in the southeast, is 282 ft. below sea level, the lowest point in the nation. Mt. Whitney (14,491 ft.) is the highest point in the contiguous 48 states. Lassen Peak is one of two active US volcanoes outside of Alaska and Hawaii; its last eruptions were recorded in 1917.

California Highest, Lowest, and Mean Elevations (Feet)

Mean Elevation: 2,900 feet
Highest Point Mt. Whitney: 14,494 feet

Mount Whitney, is in the Sierra Nevada range of mountains, and is in California, it reaches a height of 4417m (14,494 ft). It is the highest summit in the 48 American joined states. The peak is reachable via an 11-mile hiking trail. Wilderness permits are required year-round and overnight camping is subject to a quota between late May and mid-October. (It is the 17th highest in America, the other 16 all being in Alaska)

Lowest Point
Death Valley
-282 Feet Below Sea Level

California Land Area (Square Miles)

Geographic Center
In Madera County, 38 mi. E of Madera
Longitude: 120°4.9'W
Latitude: 36°57.9'N
Total Area
163,695.57 sq. mi.
3rd
Land Area
155,959.34 sq. mi.
95.28%
Water Area
7,736.23 sq. mi.
4.72%
Forested Land Area
38.6 %
Dimensions
(Length - Width)
770 miles - 250 miles
County Information and County History
Alameda, Alpine, Amador, Butte, Calaveras, Colusa, Contra Costa, Del Norte, El Dorado, Fresno, Glenn, Humboldt, Imperial, Inyo, Kern, Kings, Lake, Lassen, Los Angeles, Madera, Marin, Mariposa, Mendocino, Merced, Modoc, Mono, Monterey, Napa, Nevada, Orange, Placer, Plumas, Riverside, Sacramento, San Benito, San Bernardino, San Diego, San Francisco, San Joaquin, San Luis Obispo, San Mateo, Santa Barbara, Santa Clara, Santa Cruz, Shasta, Sierra, Siskiyou, Solano, Sonoma, Stanislaus, Sutter, Tehama, Trinity, Tulare, Tuolumne, Ventura, Yolo, Yuba
Almanac Online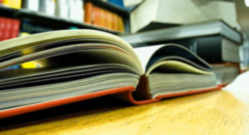 Information on people & places that make US a great place to live, visit, or study.