New York State Almanac: Facts and Figures
Quick Facts, Figures, and Overview of the State of New York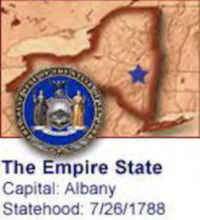 New York is one of the Middle Atlantic states of the US. New York is bordered by New Jersey and Pennsylvania to the south and by Connecticut, Massachusetts, and Vermont to the east. The state has a maritime border with Rhode Island east of Long Island, as well as an international border with the Canadian provinces of Ontario to the west and north, and Quebec to the north. New York was named by the British to honor the the Duke of York and Albany, the brother of England's King Charles II, when New Amsterdam was taken from the Dutch in 1664.
New York has long been a leader in the political, cultural, and economic life of the US Despite economic difficulties in the 1970s and '80s, mainly in New York City and other urban areas, the state still ranks among the US leaders in such important sectors as manufacturing, commerce, foreign trade, communications, and finance. The great metropolis of New York City is the nerve center of the nation. It is a leader in manufacturing, foreign trade, commerce and banking, book and magazine publishing, and theatrical production. A leading seaport, its John F. Kennedy International Airport is one of the busiest airports in the world. New York is also home to the New York Stock Exchange, the largest in the world. The printing and publishing industry is the city's largest manufacturing employer, with the apparel industry second. New York farms produce cattle and calves, corn and poultry, and vegetables and fruits. The state is a leading wine producer.
Official Name
New York
Capital
Albany
Nicknames
Empire State ...and more
Motto
Exelsior (Ever upward)
Location
Region
42.66575 N, 073.79901 W
Middle Atlantic
Northeastern
Appalachia
Constitution Ratified
1777
Statehood
July 26, 1788
11th state
Population
19,254,630 (2010)
401.84 sq. mi.
3rd
Largest City
(by population)
10 largest cities (2005 est.):New York, 8,143,197; Buffalo, 279,745; Rochester, 211,091; Yonkers, 196,425; Syracuse, 141,683; Albany, 93,523; New Rochelle, 72,967; Mount Vernon, 67,924; Schenectady, 61,280; Utica, 59,336
Bordering States
North: Canadian provinces of Ontario and Quebec
East: Vermont, Massachusetts, and Connecticut
South East: Atlantic Ocean
South: New Jersey and Pennsylvania
West: Pennsylvania and Ontario (Several boundaries are formed by bodies of water, including Lake Ontario and the Saint Lawrence River, in the North; Lake Champlain and the Poultney River, in the North East; the Hudson and Delaware rivers, in the South East; and Lake Erie and the Niagara River, in the West)
Coastline: 127 mi.
Major Industry
finance, communications, international trade, publishing, fashion, communications, farming (fruit and dairy), tourism
Major Rivers
Hudson River, Mohawk River, Genesee River
New York Counties
58 Counties in New York
Largest County
(by population)
Kings County
2,486,235 (2005)
309 sq. mi.
Brooklyn has had the same boundaries as Kings County, which is the most populous county in New York and the second-most densely populated county in the United States, after New York County
Largest County
(by area)
St. Lawrence County
2,686 sq. mi.
State forest preserves
Adirondacks, 2,500,000 ac.; Catskills, 250,000 ac.
State parks
176
Largest County
(by area)
St. Lawrence County
Presidential Birthplaces

Martin Van Buren was born in Kinderhook on December 5, 1782 (he was the 8th US President, serving from 1837 to 1841).

Millard Fillmore was born in Locke Township (now Summerhill) on January 7, 1800 (he was the 13th US President, serving from 1850 to 1853).

Theodore Roosevelt was born in New York City on October 27, 1858 (he was the 26th US President, serving from 1901 to 1909).

Franklin Delano Roosevelt was born in Hyde Park on January 30, 1882 (he was the 32th US President, serving from 1933 to 1945).

Electoral Votes
31 (as of the 2004 Presidential Election)
US Congress
2 Senators; 29 Representatives
Time Zone
Eastern Standard Time
Zip Codes
NANPA
State Quick Facts
Census Bureau Quick Facts
---
New York Climate and Weather

The summer are pleasantly warm-to-hot temperatures in the Catskill, Adirondack or Finger Lakes areas of New York. Temperatures in the upper 70's F/25 C to mid 80s F/29 C are common in all but the higher elevations. Nights are cool in the interior Upstate: Lows can dip to 40 F/4 C, so take along something warm.

Fall has New York City loosing its high temperatures and stifling humidity. Comfortable temperatures of 60-72 F/15-22 C predominate.

Winter snowfall can be very heavy in the snow belt along Lakes Erie and Ontario (one Location
Region reports an annual average of 225 in/572 cm). The Adirondacks receive less, but there's always plenty of snow for skiing and snowmobiling. The state as a whole averages more than 40 in/102 cm per year. Temperatures can be bitter in winter, but are generally in the low teens to mid 20s F/-12 to -4 C.

Spring near Lake Ontario and Lake Erie can be cool and cloudy, but average state temperatures are in the 30s-60s F/1-20 C in April and May.

Highest Temperature
108 degrees
July 22, 1926 - Troy
Lowest Temperature
-52 degrees
February 18, 1979 - Old Forge
Avg. Temp:
High - Low
85.3 degrees - 11.9 degrees

New York Points of Interest

New York State offers a plethora of things to see and do, including the Adirondacks and Catskill Mountains, the pristine Finger Lakes region, the Hudson River Valley, Niagara Falls, Long Island beaches and resorts, the Thousand Islands (St. Lawrence River/Seaway region), historical Saratoga, and of course, New York City.

New York Highest, Lowest, and Mean Elevations (Feet)

Mean Elevation: 1,000 feet

Highest Point: Mt. Marcy: 5,344 feet

The highest point in New York, situated in New York's Adirondack Park, a rugged 335,000-acre High Peaks Wilderness, the largest wild area in the East.

Lowest Point:
Atlantic Ocean
Sea level

New York Land Area (Square Miles)

Geographic Center
In Madison County, 12 mi. S of Oneida and 26 mi. SW of Utica
Longitude: 76°1.0'W
Latitude: 42°57.9'N
Total Area
54,556.00 sq. mi
27th
Land Area
47,213.79 sq. mi
86.55%
Water Area
7,342.22 sq. mi
13.45%
Forested Land Area
61.5%
Dimensions
(Length - Width)
330 miles - 283 miles
County Information and County History
Albany, Allegany, Broome, Cattaraugus, Cayuga, Chautauqua, Chemung, Chenango, Clinton, Columbia, Cortland, Delaware, Dutchess, Erie, Essex, Franklin, Fulton, Genesee, Greene, Hamilton, Herkimer, Jefferson, Lewis, Livingston, Madison, Monroe, Montgomery, Nassau, New York City, Niagara, Oneida, Onondaga, Ontario, Orange, Orleans, Oswego, Otsego, Putnam, Rensselaer, Rockland, Saratoga, Schenectady, Schoharie, Schuyler, Seneca, St. Lawrence, Steuben, Suffolk, Sullivan, Tioga, Tompkins, Ulster, Warren, Washington, Wayne, Westchester, Wyoming, Yates
Almanac Online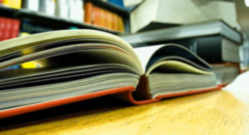 Information on people & places that make US a great place to live, visit, or study.