Wyoming State Coin
Sacajawea Golden Dollar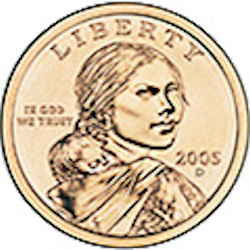 Sacajawea golden dollar coin
Adopted on March 2, 2004
The Sacajawea golden dollar coin is the state coin of Wyoming, adopted in 2004.
Sacagawea was the Shoshone Indian who assisted the historic Lewis and Clark expedition. Between 1804-1806, while still a teenager, she guided the adventurers from the Northern Great Plains to the Pacific Ocean and back. Her husband, Toussaint Charbonneau, and their son who was born during the trip, Jean Baptiste, also accompanied the group.
History of Sacagawea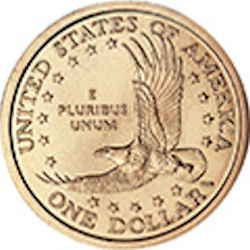 The history of Sacagawea's life is shrouded in mystery and myth. Much of what we know has been passed down through oral history by the Hidatsa, Shoshone and Comanche Indian tribes. Not a great deal is known about her as a young woman and even less is known about her later life. But what we do know is remarkable.

At about the age of 11, Sacagawea was captured by a Hidatsa raiding party and taken from her Shoshone tribe. She was later sold into slavery with the Missouri River Mandans. They then sold her (or gave her away in a bet) to Toussaint Charbonneau, a French-Canadian fur trader, who made her his wife.
Hired by Lewis and Clark
Charbonneau was hired by Captains Lewis and Clark primarily because of the skills his wife, Sacagawea, possessed. Sacagawea was only 15 years old at the time and already six months pregnant. Despite these possible limitations for such an arduous journey she knew several Indian languages, and being Shoshone, could help Lewis and Clark make contact with her people and acquire horses that were crucial to the success of the mission.

In fact, Sacagawea did help Lewis and Clark find the Shoshone and trade for the horses they needed. But her contribution far exceeded anything Lewis and Clark had expected. She provided crucial knowledge of the topography of some of the most rugged country of North America and taught the explorers how to find edible roots and plants previously unknown to European-Americans. With her infant son bound to her back, she single-handedly rescued Captain Clark's journals from the Missouri whitewater when their boat capsized. If she had not, much of the record of the first year of the expedition would have been lost to history.

Most crucially, however, Sacagawea and her infant served as a "white flag" of peace for the expedition, which was as much a military expedition as a scientific one. They entered potentially hostile territory well armed but undermanned compared to the Native American tribes they met. Because no war party was ever accompanied by a woman and infant, the response of the Native Americans was curiosity, not aggression. They talked first, and Sacagawea often served as the translator. Not a single member of the party was lost to hostile action.
After the Expedition
It is not surprising that after their trip ended, the adventurers felt a lifelong debt to Sacagawea. In fact, Clark wrote to Charbonneau that Sacagawea deserved a greater reward than what the expedition gave her. His sense of indebtedness to Sacagawea is reflected a few years later when Clark accepted responsibility for educating Sacagawea's son and, after Sacagawea's death at the age of 25, for a daughter as well. Sacagawea's grave is in Lander, WY.
Source: http://www.usmint.gov
Wyoming Law
The law designating the Sacajawea golden dollar coinas the official Wyoming state coin is found in the Wyoming Statutes, Title 8, Chapter 3, Section 8-3-120.
Title 8 General Provisions
Chapter 3 State Seal, Flag, Flower, Bird and Other Symbols

Wyo. Stat. § 8-3-120 (2013)

§ 8-3-120. State coin.

The Sacajawea golden dollar coin is the state coin of Wyoming.

HISTORY: Laws 2004, ch. 23, § 1.

NOTES:
Effective dates. --

Laws 2004, ch. 23, § 2, makes the act effective immediately upon completion of all acts necessary for a bill to become law as provided by art. 4, § 8, Wyo. Const. Approved March 2, 2004
---