Wyoming State Language
English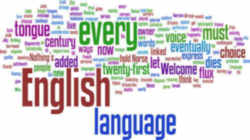 Adopted in 1996
Wyoming designated English as the official state language in 1996.
Some place-names- Oshoto, Shoshoni, Cheyenne, Uinta- reflect early contacts with regional Indians.
Some terms common in Wyoming, like comforter (tied quilt) and angleworm (earthworm), evidence the Northern dialect of early settlers from New York State and New England, but generally Wyoming English is North Midland with some South Midland mixture, especially along the Nebraska border. Geography has changed the meaning of hole, basin, meadow, and park to signify mountain openings.
In 2010, 93.39% (474,343) of Wyomingites over the age of 5 spoke English as their primary language. 6.61% (33,553) spoke a language other than English. 4.47% (22,722) spoke Spanish, 0.35% (1,771) spoke German, and 0.28% (1,434) spoke French. Other common non-English languages included Algonquian (0.18%), Russian (0.10%), Tagalog, and Greek (both 0.09%).

In 2007, the American Community Survey reported that 6.2% (30,419) of Wyoming's population over five years old spoke a language other than English at home. Of those, 68.1% were able to speak English very well, 16.0% spoke English well, 10.9% did not speak English well, and 5.0% did not speak English at all.
Wyoming Law
The law designatingEnglish as the official Wyoming state Language is found in the Wyoming Statutes, Title 8, Chapter 6, Section 8-6-101.
TITLE 8, CHAPTER 6 - OFFICIAL LANGUAGE (1996)

8-6-101. English as official language of Wyoming.
(a) English shall be designated as the official language of Wyoming. Except as otherwise provided by law, no state agency or political subdivision of the state shall be required to provide any documents,information, literature or other written materials in any language other than English.

(b) A state agency or political subdivision or its officers or employees may act in a language other than the English language for any of the following purposes: (i) To provide information orally to individuals in the course of delivering services to the general public;
(ii) To comply with federal law;
(iii) To protect the public health or safety;
(iv) To protect the rights of parties and witnesses in a civil or criminal action in a court or in an administrative proceeding;
(v) To provide instruction in foreign and Native American language courses;
(vi) To provide instruction designed to aid students with limited English proficiency so they can make a timely transition to use of the English language in the public schools;

(vii) To promote international commerce, trade or tourism;
(viii) To use terms of art or phrases from languages other than the English language in documents.
---