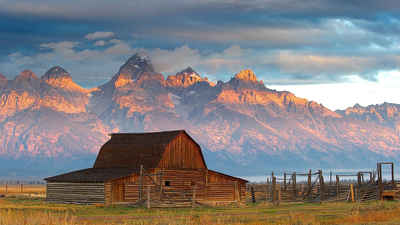 Wyoming Counties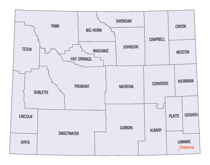 Click Image to Enlarge
Wyoming Counties
There are twenty-three Counties in the state of Wyoming. There were originally five Counties in the Wyoming Territory: Laramie and Carter, established in 1867; Carbon and Albany established in 1868; and Uinta, an annexed portion of Utah and Idaho, extending from Montana (including Yellowstone Park) to the Wyoming-Utah boundary. On July 10, 1890, Wyoming was admitted to the Union with thirteen counties.
Wyoming Counties: History and Information
Find a brief history of Wyoming Counties
Carved from sections of Dakota, Utah, and Idaho territories, Wyoming Territory came into existence by act of Congress on July 25, 1868. The territorial government was formally inaugurated May 19, 1869. The first territorial governor, John A. Campbell, appointed by President Ulysses S. Grant, took his oath of office on April 15, 1869.
At the time of its organization, Wyoming had already been divided into four counties: Laramie, established January 9, 1867; Carter (later Sweetwater), established December 27, 1867; Carbon and Albany, December 16, 1868. These counties extended from the northern to the southern boundaries of the territory. Upon the organization of Wyoming Territory, a portion of Utah and Idaho, extending from Montana (including Yellowstone Park) to the Wyoming-Utah boundary, was annexed and named Uinta County. As the territory and later the state became settled, the following counties were carved from the original five until there are now twenty-three counties in Wyoming.
Created
County
Organized
From the Counties of:
1875
Crook
1885
Laramie and Albany
Johnson
1881
Carbon and Sweetwater
1884
Fremont
1884
Sweetwater
1888
Converse
1888
Albany and Laramie
Natrona
1890
Carbon
Sheridan
1888
Johnson
1890
Big Horn
1897
Sheridan, Johnson, Fremont
Weston
1890
Crook

July 10, 1890 the territory consisting of the thirteen counties was admitted into the Union as a State.

1909
Park
1911
Big Horn
1911
Niobrara
1913
Converse
Campbell
1913
Weston and Crook
Goshen
1913
Laramie
Platte
1913
Laramie
Hot Springs
1913
Fremont, Big Horn, Park
Washakie
1913
Big Horn
Lincoln
1913
Uinta
1921
Teton
1922
Lincoln
Sublette
1923
Fremont and Lincoln
Wyoming is located in the Rocky Mountain section of the western United States. It is bounded on the north by Montana, on the east by South Dakota and Nebraska, on the south by Colorado and Utah, and on the west by Utah, Idaho and Montana. Wyoming is one of three states entirely bounded by straight lines. It is the ninth largest state in the United States containing 97,914 square miles and is made up of 23 counties. From the north border to the south border it is 276 miles; from the east to the west border, 375 miles.
Wyoming's County Have Changed Over the Years
By Carl Hallberg
The map of Wyoming has changed much over the yeas. Geographical and man-made features, such as roads, trails, railroads, minerals, and terrain, have influenced the location and future of settlements but counties.

When the Territory of Wyoming was created in 1868, there were five counties - Laramie, Albany, Carbon, Sweetwater, and Uinta. They were long and rectangular in shape, stretching from the Colorado line to the Montana line. It seemed practical at the time, since the population mainly resided in the southern half. Anyone living in the north regions who had some kind of county business had to plan ahead for a long trip.

At one time or another it became politically expedient to create a new county. Citizens demanded that county government be more accessible and conveniently located. Traveling from Sundance to Cheyenne in the early 1880s was a long drive to be undertaken by only the most determined or those who left their farms, ranches and businesses in capable hands. But individuals were not the only players in the game. Some towns felt jilted by the power and seeming arrogance wielded by the county seats and even smaller towns and rural communities felt that the county seats were not giving due consideration to their needs and were all but ignoring them. County officials themselves felt it was too difficult to manage capably a large, expansive political tract.

As needed, new counties were carved out existing and in some cases, recently created counties. County names reflected some aspect of the natural landscape or prominent individuals in Wyoming or US history. By 1923, the current 23 counties were in place, and the county boundaries have not changed since. Not that there weren't opportunities to do so. Many would-be counties never made it off the drawing board. Although the urgency seemed genuine and plausible, many failed to get the final approval necessary from either the legislature or the governor.

By 1890, thirteen counties existed in Wyoming. The political map seemed to reflect the desires of everyone. Almost everyone. Some residents of southern Carbon County felt it would be better for all it broke away from Carbon County and formed Babbit County. Their efforts were not entirely supported by the legislature, and thus Carbon County remained intact. But the experience would be revisited time and time again elsewhere.

During the early part of the twentieth century, Wyoming's population increased considerably as newcomers took up homesteads or sought work in the mines. With the growth of cities, school districts, roads and other public improvements, political change was in the air for counties as well. Between 1909 and 1911, the legislature created the counties of Park, Niobrara, Campbell, Goshen, Platte, Hot Springs, Washakie and Lincoln. Other counties, however, failed to make it onto the map. Eastern Laramie County was to be separated from Laramie County and become Golden Prairie County. Several attempts were made between 1913 and 1921 to carve out parts of Fremont County to form another county - Shoshone County, Lake County (along with part of Lincoln County), Pilot County, McKinley County, and Arapahoe County. In 1913, the legislature considered creating Elk County of out western Lincoln County and Iron County from northern Platte and northwestern Goshen Counties. The legislature attempted in 1919 and 1921 to partition off eastern Converse County for Carey County.

All these failed to materialize. Not until 1921, did the legislature organize the last two counties in Wyoming - Teton and Sublette. Since then, the state map has remained static, as far as counties are concerned; though there was one more attempt to change the map. In 1927 the legislature considered creating Whitcomb County out of Crook, Campbell and Weston Counties.

Whitcomb County joined a select group of county wannabes. Had any of them succeeded, the map of Wyoming could have been much different.
(Carl V. Hallberg is a reference historian at the Wyoming State Archives. The historical information provided in the Buffalo Bones articles is provided by the Wyoming State Archives and Wyoming State Historical Society.)
County
2000
Population
Square
Miles
County Seat
Created
Albany County
32,014
4,274
Laramie
1868
Big Horn County
11,461
3,137
Basin
1896
Campbell County
33,698
4,797
Gillette
1911
Carbon County
15,639
7,897
Rawlins
1868
Converse County
12,052
4,255
Douglas
1888
Crook County
5,887
2,859
Sundance
1875
Fremont County
35,804
9,183
Lander
1884
Goshen County
12,538
2,226
Torrington
1911
Hot Springs County
4,882
2,004
Thermopolis
1911
Johnson County
7,075
4,166
Buffalo
1875
Laramie County
81,607
2,686
Cheyenne
1867
Lincoln County
14,573
4,069
Kemmerer
1911
Natrona County
66,533
5,340
Casper
1888
Niobrara County
2,407
2,626
Lusk
1911
Park County
25,786
6,943
Cody
1909
Platte County
8,807
2,085
Wheatland
1911
Sheridan County
26,560
2,523
Sheridan
1888
Sublette County
5,920
4,882
Pinedale
1921
Sweetwater County
37,613
10,426
Green River
1867
Teton County
18,251
4,008
Jackson
1921
Uinta County
19,742
2,082
Evanston
1869
Washakie County
8,289
2,240
Worland
1911
Weston County
6,644
2,398
Newcastle
1890
---