Montana State Gemstone
Montana Agate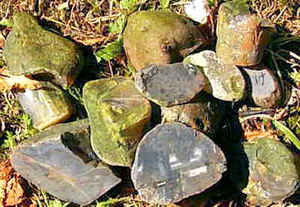 (SiO2 - Silicon Dioxide)
Adopted in 1969.
Montana designated both the sapphire and Montana Agate as the official state gemstones of Montana in 1969. Agates are found in southern and eastern Montana. Agate is polished (not cut) to make gemstones and jewelry. Agates are usually white with swirls of grey and black spots.
Montana sapphires and Montana agates have shared honors as the state's gemstones since 1969. Recognition was a long time in coming. A century earlier the small multi-colored sapphires angered early placer miners by clogging gold sluices in such places as El Dorado Bar east of Helena. "Sapphire Collins" frequented the streets of Helena in the 1860s with a pocket full of pretty stones. Try as he might to convince local merchants and bankers of the stones' value, he was told bluntly that gold was of prime importance and that anything else was of little worth.
---
---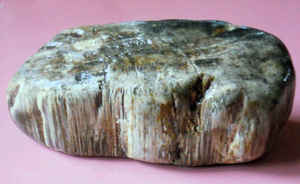 Montana sapphires and Montana agates have shared honors as the state's gemstones since 1969. Recognition was a long time in coming. Montana's Council of Rock and Mineral Clubs supported not only the sapphire for gemstone honors, but advocated equal recognition for the exquisite and ever-varying Montana agate, found in abundance along the Yellowstone River to the east. Agates are found in southern and eastern Montana.
The Montana agate is usually a creamy light yellow to almost clear color with embedded moss structures in varying shades of brownish red to black. Most of these Montana agates are found in gravel deposits from the Pleistocene age (10,000 - 1,6000,000) in the area of the Yellowstone River and its tributaries.
Agate is one of the most varied and desired forms of "chalcedony" which is one of the many varieties of quartz. Scientifically classified as a cryptocystalline or microcrystalline quartz, it has a hardness of between 6.5-8 on the Mohs scale. They take an exceptional polish and are used extensively in jewelry and carvings. They're polished, not cut, to make gemstones and jewelry.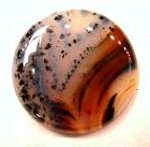 Agates in general come in many different forms and the main conditions necessary for agate formation, are the presence of silica from devitrified volcanic ash, water from rainfall or ground sources, and manganese, iron and other mineral oxides that form the bands and inclusions.
Montana Moss Agate ia a name given to the beautiful chalcedony found, most abundantly, in the alluvial gravels of the Yellowstone River, would probably be better named Yellowstone Agate, because it's genesis was centered in the Yellowstone Park area.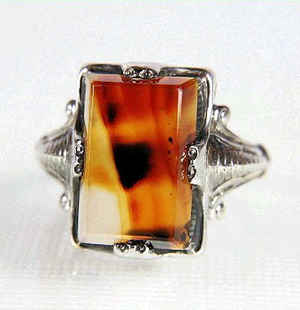 Eastern Montana was mostly a shallow inland ocean, almost a swamp with huge forests lining it's shores and islands of volcanoes spewing forth lava to entomb parts of the forest in lava and ash . The bowels of Yellowstone bulged and roared and flowed mountains of lava that decimated thousands of acres of mighty redwoods and sequoias for hundreds of miles around. This decimation continued for hundreds of years with layer upon layer of forests growing up and then being driven down under the ponderous weight of all the mega-tons of lava and ash. The hot lava devoured most of the wood in it's rush to cover the trees, but some of the shape and ingredients of the limbs remained trapped in the cooling lava. When the time of volcanoes and lava was subdued and the rains came, mineral laden silica-water flowed into the cavities and pockets left by the dying trees and bubbling lava. As flow after flow slowly filled the pockets with liquefied silica, Montana Agate was born.

Between the sapphire and the agate, Montana's east and west, heritage and hobbies, are represented.
Agate is the Mystical birthstone for the month of September and the birth stone for the Zodiac sign of Gemini.

Folklore: Balances emotions, discerns the truth, accepts circumstances, powerful emotional healer.
Montana Law
The law designating the Montana agate as the official Montana state gem stone is found in the Montana Code, Title 1, Chapter 1, Part 5, Section 1-1-505.
Title 1. GENERAL LAWS AND DEFINITIONS
CHAPTER 1. GENERAL PROVISIONS
Part 5. State Symbols - Official Designations
1-1-505. State gem stones.

Universal Citation: MT Code § 1-1-505 (2013)

1-1-505. State gem stones. The sapphire and the Montana agate are the official Montana state gem stones.

History: En. Sec. 1, Ch. 20, L. 1969; R.C.M. 1947, 19-123.

General Quartz Information
Chemical Formula: SiO2
Composition: Molecular Weight = 60.08 gm
Silicon: 46.74 % Si 100.00 % SiO2
Oxygen: 53.26 % O
Total: 100.00 %
Empirical Formula: (SiO2)
Environment: Sedimentary, metamorphic, and igneous rocks.
IMA Status: Approved IMA 1962
Locality: Found world wide
Name Origin: From the German "quarz", of uncertain origin
---
State Rocks,
Minerals, & Gems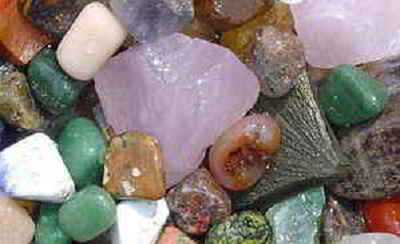 Gemstone, Minerals, Rocks
Colleges & Universities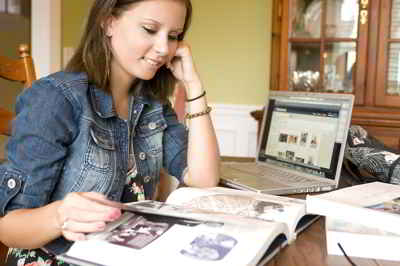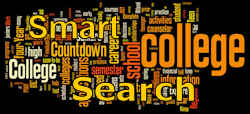 Get Your Degree!
Find schools and get information on the program that's right for you.
Powered by Campus Explorer