Montana State Fish
Blackspotted Cutthroat Trout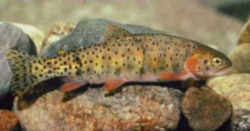 (Salmo clarki)
formerly
(Oncorhynchus clarki)
Adopted on February 10, 1977
The Blackspotted Cutthroat Trout, (Salmo clarki,) was designated the official Montana state fish on February 10, 1977.
While Montana, Idaho and Wyoming simply adopted the "cutthroat trout" as their state fish, Colorado, Utah, Nevada, and New Mexico adopted particular subspecies.
History of the Adoptions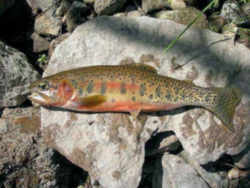 On February 10, 1977, Governor Thomas Judge signed the law designating the blackspotted cutthroat trout (Oncorhynchus clarki) as Montana's official state fish.
The idea for a state fish began when Norma Ashby and her husband, Shirley, of Great Falls were discussing state symbols. Both ardent fly fishermen, they wondered why there was no designated state fish.
With the endorsement of the Montana Fish and Game Department and the support of the Department's District 4 Coordinator, Nels Thoreson in Great Falls, Ashby launched a statewide campaign for a state fish on the "Today in Montana" show, which she produced on the Montana Television Network.
Two candidates for the honor were proposed: the blackspotted cutthroat trout and the Montana grayling, but other nominations were accepted. Both the blackspotted cutthroat trout and the Montana grayling were on the threatened species list. It was felt that through this kind of attention, conditions for these fish could be improved.
Proponents of a state fish set six criteria:
Native to Montana
Not already adopted by another state
Well accepted by people
A game fish
Distinctive in appearance
In more than one area of the state
Speaking in support of the blackspotted cutthroat trout, Dr. Louis W. Hagener, head of the Science Department at Northern Montana College, and his wife, Toni, curator of the H. Earl Clack Museum in Havre, observed that "such a fish would meet all the requirements and add to Montana's image as a fisherman's paradise of clean, clear, sparkling waters."
The Hageners also referred to the cutthroat's historic association with Montana. "It bears Captain William Clark's name from his identification of it at the Great Falls of the Missouri on the Lewis and Clark westward journey in 1805. The explorers noted in their journals: "These trout (caught in the falls) are from 16 to 23 inches in length, precisely resemble our mountain or speckled trout in form and the position of their fins, but the specks on these are of a deep black instead of the red or gold color of those common in the United States."
Common Names
Native Trout, Cut, Red Throat, Mountain Trout, Black-spotted Trout
Characteristics of the Blackspotted Cutthroat Trout
Trout are the favorite fish to catch in Montana. There are many kinds, but the blackspotted cutthroat trout was chosen as state fish to let people know it was in trouble. Changes in the environment and too much fishing had made the blackspotted cutthroat hard to find. The name comes from the black spots that run down its back and a pinkish-red splotch on its jaw. The cutthroat trout is a favorite food for grizzly bears.
Wyoming's rarest cutthroat is the Bonneville cutthroat trout, also known as the Utah or Bear River cutthroat. In Wyoming, it's found in the upper Bear River watershed.
All cutthroat trout have a "cut," a patch of orange or red on the throat and they differ from the rainbow trout because they have basibranchial (hyoid) teeth in their throat between the gill arches, they typically have longer heads and jaws than the rainbow and often times can be distinguished from the rainbow by their larger spots. The cutthroat is known to be more vulnerable to anglers because of a general lack of wariness and can be caught on a wide variety of bait.
Cutthroat trout spawn in the spring, which may be as late as early July in high mountain streams. Cutthroat trout are usually caught on artificial flies, small spoons and small spinners
Species
The cutthroat trout, Salmo clarki, has 15 recognized subspecies. There are 5 subspecies of cutthroat trout in Idaho: westslope, Yellowstone, Bonneville, Bear Lake, Snake River finespotted.
Montana Law
The law designating the blackspotted cutthroat trout as the official Montana state fish is Section 1-1-507 (State fish) of the Montana Code Annotated, Title 1 (GENERAL LAWS AND DEFINITIONS) Chapter 1 (GENERAL PROVISIONS) Part 5 (State Symbols - Official Designations) Section 1-1-507.
TITLE 1. GENERAL LAWS AND DEFINITIONS
CHAPTER 1. GENERAL PROVISIONS
Part 5. State Symbols - Official Designations
Section 1-1-507

1-1-507. State fish. The blackspotted cutthroat trout, Salmo clarki, is the official Montana state fish.

History: En. Sec. 1, Ch. 6, L. 1977; R.C.M. 1947, 19-125.
Taxonomic Hierarchy: Blackspotted Cutthroat Trout
Kingdom: Animalia - animals
Phylum: Chordata
Class: Osteichthyes
Order: Salmoniformes
Family: Salmonidae
Genus: Salmo
Species: Salmo clarki formerly (Oncorhynchus clarki)
---
---
State Fishes

This is a list of official and *unofficial U.S. state fish: The only states lacking a state fish as of 2008 are Arkansas, Indiana, Kansas, and Ohio.
Colleges & Universities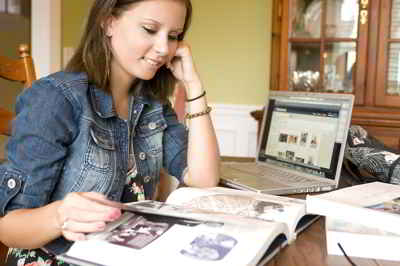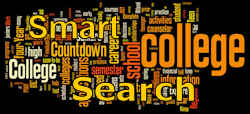 Get Your Degree!
Find schools and get information on the program that's right for you.
Powered by Campus Explorer