Colorado State Pets
Adopted Dogs & Cats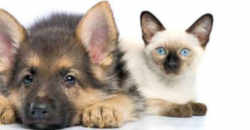 (Canis lupus familiaris)
(Felis catus)
Adopted on May 13, 2013
Dogs (Canis lupus familiaris) and cats (Felis catus) adopted from Colorado animal shelters and rescues were designated the official state pets of Colorado when Governor John Hickenlooper signed Senate Bill No. 33 on May 13, 2013.
This designation originating from middle-school students from Peakview School in Walsenburg, the idea to make adopted shelter and rescue cats and dogs the official pets of Colorado was motivated by a desire to bring attention to the plight of the dogs and cats that land in shelters and with rescue groups across the state and an interest in learning, first hand, about the legislative process. The students found a ready ally in State Senator, and teacher, Andy Kerr.
Senator Kerr crafted the legislation and introduced Senate Bill No. 201 in the Colorado Senate on March 3, 2013. Senator Kerr stated that he wanted to recognize "the excellent work that our rescue groups and our shelter groups do in finding homes for dogs and cats that truly need them."
May 24, 2013
Colorado: The Shelter Pet State
Colorado kids help get a law passed that names shelter dogs and cats Colorado's state pets

By Jennifer Marino Walters | for Scholastic Inc

Rescue dogs and cats in Colorado have a new reason to bark and meow. On May 13, Governor John Hickenlooper signed a bill making all dogs and cats adopted from shelters Colorado's official state pets. With the governor's signature, the bill became a state law. Colorado middle school students first proposed the idea.

"Families from across the state bring these animals into their . . . homes," Governor Hickenlooper said as he signed the bill, his own rescue dog, Skye, by his side. "These pets become a huge part of people's lives."

BECOMING A LAW



Students from Peakview School in Walsenburg, Colorado, came up with the idea as part of a project designed to help them learn about the legislative process. They convinced state lawmakers to write the bill, which is a proposed law. In March, some of the students appeared before a state Senate committee to lobby for the bill. Lobbying means trying to convince lawmakers to vote a certain way. Their testimony was periodically interrupted by barks from the dogs in attendance.

"It's important to honor the voice of the voiceless," said Roger Arellano, 14, who called the bill "a matter of life and death"for the animals.

Many people- including pet store owners, groomers, and breeders- opposed the bill. They said that it could hurt the purebred-animal industry, that some of the shelter dogs and cats might not even be from Colorado, and that the bill unfairly discriminates against other shelter pets, such as reptiles and birds.

But many others supported the bill. They believe that it sends a positive message about caring for animals, and that it might help more shelter dogs and cats find homes. In recent years, 6 million to 8 million animals ended up in shelters across the U.S. About half of them have had to be put to sleep because not enough people are adopting pets. Colorado shelters alone take in about 170,000 pets each year.

To become a law, the bill needed to win a majority of votes in both Colorado's Senate and House of Representatives. After it passed in both houses it went to the governor for his signature.

STATE SYMBOLS

Colorado is the first state to designate shelter dogs and cats as state pets. Eleven states have state dogs, and three have state cats.

Shelter dogs and cats will join several other creatures as Colorado state symbols, including the bighorn sheep as the state animal. The state reptile (the Western painted turtle) and the state insect (the Colorado hairstreak butterfly) were both designated after Colorado fourth-graders lobbied for them- showing that kids in the state are truly making their voices heard!
The Act representing Colorado Senate Bill 13-201
Dogs (Canis lupus familiaris) and cats (Felis catus) adopted from Colorado animal shelters and rescues were designated the official state pets of Colorado when Governor John Hickenlooper signed Senate Bill No. 33 on May 13, 2013.
NOTE: The governor signed this measure on 5/13/2013.

SENATE BILL 13-201

BY SENATOR(S) Kerr, Balmer, Guzman, Tochtrop, Aguilar, Crowder, Giron, Jones, Newell, Schwartz, Todd;
also REPRESENTATIVE(S) Pettersen, Court, Hullinghorst, Kraft-Tharp, Rankin, Tyler, Ginal, Hamner, Rosenthal, Lebsock

CONCERNING THE DESIGNATION OF DOGS AND CATS THAT ARE ADOPTED FROM COLORADO ANIMAL SHELTERS AND RESCUES AS THE STATE PETS.

Be it enacted by the General Assembly of the State of Colorado:

SECTION 1. In Colorado Revised Statutes, add 24-80-910.5 as follows:

24-80-910.5. State pets. DOGS (CANIS LUPUS FAMILIARIS)AND CATS(FELIS CATUS)THAT ARE ADOPTED FROM COLORADO ANIMAL SHELTERS AND RESCUES ARE HEREBY MADE AND DECLARED TO BE THE STATE PETS OF THE STATE OF COLORADO.

SECTION 2. Act subject to petition - effective date. This act takes effect at 12:01 a.m. on the day following the expiration of the ninety-day period after final adjournment of the general assembly (August 7, 2013, if adjournment sine die is on May 8, 2013); except that, if a referendum petition is filed pursuant to section 1 (3) of article V of the state constitution against this act or an item, section, or part of this act within such period, then the act, item, section, or part will not take effect unless approved by the people at the general election to be held in November 2014 and, in such case, will take effect on the date of the official declaration of the vote thereon by the governor.
Taxonomic Hierarchy: Dog
Kingdom: Animalia
Phylum: Chordata
Class: Mammalia
Order: Carnivora
Family: Canidae
Genus: Canis
Species: C. lupus
Subspecies: C. l. familiaris
Taxonomic Hierarchy: Cat
Kingdom: Animalia
Phylum: Chordata
Class: Mammalia
Order: Carnivora
Suborder: Feliformia
Family: Felidae
Subfamily: Felinae
Genus: Felis
Species: F. catus
---