Find the Right School
Online Colleges
Campus Colleges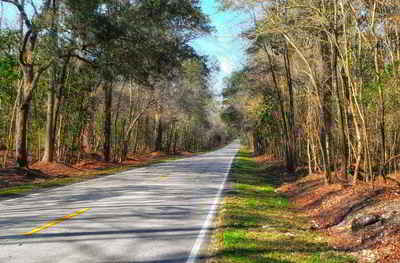 US State Symbols
National & State Symbols

South Carolina State Symbols
South Carolina State Symbols, Emblems, and Mascots

South Carolina is recognized for its beautiful beaches, numerous waterfalls, lakes, and swamps, South Carolina has the charm of a rural, coastal environment. Students in South Carolina can experience southern cuisine (e.g., shrimp and grits, or she-crab soup), a variety of outdoor activities, and many historic attractions.
Settled by the English in 1670, South Carolina was based on a plantation culture with an noble, wealthy society that was dependent on black slave labor. South Carolina weas one of the original 13 colonies, South Carolina was first formed in 1729 when the Carolina colony was divided in two to form North and South Carolina. The attack on Fort Sumter in the Charleston harbor launched the Civil War. After the war, the structure of the state changed. Today South Carolina honors its history and culture while also working to become a global business center. The state bird of the "Palmetto State" is the Carolina wren (Troglodytidae ). The flower is the Carolina jessamine (Gelsemium sempervirens), and the capital is Columbia.
South Carolina State Symbols contains descriptions and pictures of the state symbols, emblems, and mascots of the state, which can be quickly accessed. This resource guide represents many of South Carolina state facts such as South Carolina state symbols, the state flower, the state gemstone, the state insect, the state bird, the state bird, the state animal, the state flag that flies over South Carolina, and the capital, as well as many more symbols, emblems, and mascots. These types of state directories are designed to help children learn, and are often used by children in the public and private education system as well as home schooled children.
State Symbols

Symbol Name - (Species)

Adopted

American Folk Dance
The Square Dance
Apr 20, 1994
Amphibian
Spotted Salamander (Ambystoma maculatum)
Jun 11, 1999
Animal
Whitetail Deer (Odocoileus virginianus)
1972
Beverage
Milk (lac vaccum)
1984
Bird
Carolina Wren (Troglodytidae )
1939
Botanical Garden
Clemson Botanical Garden
Oct 10, 1992
Butterfly
Eastern Tiger Swallowtail (Pterourus Glaucus)
1994
Color
Indigo Blue


SECTION 1-1-710.

Official State color.
The color indigo blue worn on the uniform of Colonel William Moultrie's soldiers and adopted as the background of the South Carolina State flag, is designated as the official color of the State of South Carolina.
HISTORY: 2008 Act No. 200, Section 1, eff April 16, 2008.
2009
Dance
Carolina Shag
1984
Duck
Wood Duck (Aix sponsa)

Jun 3, 2009

Dog
Boykin Spaniel
Mar 26, 1985
Fish
Striped Bass
1972
Flag
State Flag
Jan 28, 1861
Flower
Carolina Jessamine (Gelsemium sempervirens)
Feb 1,
1924
Folk Art and Crafts Center
South Carolina Artisans Center, Walterboro
May 10, 2000
Fruit
Peach
1984
Gemstone
Amethyst
Jun 24, 1969
Grass
Indian Grass (Sorghastrum nutans)
Aug 29, 2001
Hall of Fame
South Carolina Hall of Fame, Myrtle Beach Convention Center
Sep 20, 2001.
Heritage horse
Marsh tacky (Equus caballus)
2010
Heritage work animal
Mule (Equus asinus

x

Equus caballus)
2010
Hospitality Beverage

Tea (Camellia sinensis)
Apr10,
1995
Insect
Carolina Mantid (Stagmomantis Carolina) or Praying Mantis
1988
Language
English
1987
Lowcountry handcraft
Sweet grass basket


SECTION 1-1-676.

Official State lowcountry handcraft.
The sweet grass basket is the official state lowcountry handcraft.
HISTORY: 2006 Act No. 234, Section 1, eff February 21, 2006.
2006
Marine mammal
Bottlenose dolphin (Tursiops truncatus)
2009
Migratory marine mammal
Northern right whale (Eubalaena glacialis)
2009
Miliatry Academy
Camden Military Academy
May 15, 2001
Motto
(1) DUM SPIRO SPERO
NA
Music
"The Spiritual"
Jun 11, 1999
Nicknames
Palmetto State
NA
Opera
Porgy and Bess
Aug 29, 2001
Pledge to State Flag
Pledge
1966
Pecan festival
South Carolina Pecan Festival in Florence County


SECTION 1-1-674.

State Pecan Festival.
The South Carolina Pecan Festival in Florence County is designated as the official State Pecan Festival.
HISTORY: 2011 Act No. 9, Section 1, eff April 12, 2011.
2011
Poet Laureate
Bennie Lee Sinclair
1934
Popular Music
Beach Music
Mar 27, 2001
Quarter
South Carolina State Quarter

May 22, 2000

Railroad Museum
South Carolina Railroad Museum, Fairfield County
Jul 1,
1997
Reptile
Loggerhead Sea Turtle (Caretta Caretta) 1988
1988
Rural Drama Center
Abbeville Opera House
May 29, 2001
Seal
Great Seal
1776
Shell
Lettered Olive (Oliva Sayana)
1984
Snack Food
2006
Song
"Carolina"

Feb 11, 1911
Song
"South Carolina on My Mind"

1984

Spider
Carolina Wolf Spider (Hogna carolinensis)
Jul 21,
2000
Stone
Blue Granite
1969
Tapestry
"From the Mountains to the Sea"
Jun 14,
2000
Tartan
Carolina Tartan
Jun 3,
2002
Tobacco Museum
South Carolina Tobacco Museum, Mullins
2004
Tree
Inodes Palmetto
Mar 17,
1939
Vegetable
Collard greens (Brassica oleracea)


Collard greens were designated as the official State Vegetable by Act Number 38 of 2011, as a result of efforts by Mary Grace Wingard, a third grader from Lexington, South Carolina. South Carolina ranks second in the nation in collard green production and Lexington County ranks first among counties in South Carolina in collard green production.

2011
Waltz
Richardson Waltz
Jul 21,
2000
Wildflower
Goldenrod (Solidago spp.)
May 14, 2003
Wild Game Bird
Wild Turkey (Meleagris Gallopavo)
1976
US State Symbols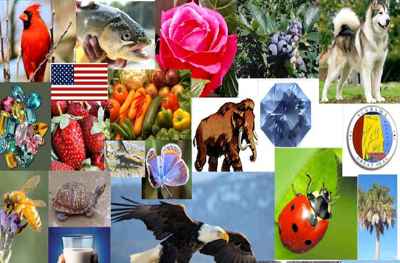 State symbols
represent things that are special to a particular state.