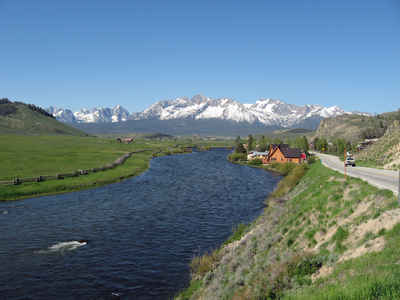 State Economy
The United States is one of the largest and most technologically developed countries in the world. The Gross Domestic Product of the country in terms of purchasing power parity of the country has reached at $12.36 trillion (2005 est.). A central feature of the US economy is a reliance on private decision-making ("economic freedom") in economic decision-making. This is enhanced by relatively low levels of regulation, taxation, and government involvement, as well as a court system that generally protects property rights and enforces contracts.
Idaho Economy
Agriculture and Industry in Idaho
Idaho economy is a set of human and social activities and institutions related to the production, distribution, exchange and consumption of agriculture and industry goods and services. The balance between Idaho various economic sectors differs largely between various regions and other states in the US.
Idaho's real gross state product in 2012 was estimated to be $50,976 which was $136,464 and 73% lower than the national state average, $187,440. Idaho has the 43rd highest GSP out of the 50 states.
Until recently, agriculture was the most important industry in Idaho; recently it has been surpassed by manufacturing. The state is probably best known for its potatoes, and Idaho is the nation's leading producer of spuds. However, Idaho also produces hay, wheat, peas, beans, and sugar beets, and supports cattle and dairy herds.

Manufacturing has become more important to the state's economy. Idaho's major products are electronic and computer equipment, processed foods, lumber, and chemicals. Mining, once a major source of income for the state, is still economically important, with production of phosphates, gold, silver, molybdenum, antimony, lead and zinc leading.

For many, Idaho is best known for its vacation spots. Sun Valley, one of the nation's leading year-round tourist attractions is the state's most important resort. The nation's largest elk herds draw hunters from all over the world, and Idaho's many streams and lakes provide fishing, camping and boating sites.
Idaho Agriculture:
Cattle, potatoes, dairy products, wheat, sugar beets, barley. Idaho is an important agricultural state, producing nearly one third of the potatoes grown in the United States. Other important agricultural products are beans, lentils, sugar beets, cattle, dairy products, wheat, and barley.
Idaho Industry:
Food processing, lumber and wood products, machinery, chemical products, paper products, silver and other mining, tourism.
Important industries in Idaho are food processing, lumber and wood products, machinery, chemical products, paper products, electronics manufacturing, silver and other mining, and tourism. The Idaho National Laboratory (INL), a government lab for nuclear energy research, is also an important part of the eastern Idaho economy.


---