Idaho State Almanac: Facts and Figures
Quick Facts, Figures, and Overview of the State of Idaho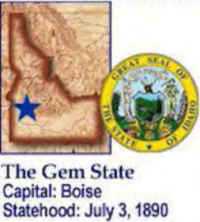 Idaho is one of the Mountain states of the US. It is an entirely landlocked state, sharing its boundaries with Oregon, Washington, Utah, Nevada, Montana, Wyoming, and the state of British Columbia in Canada. The name "Idaho" was used for a steamship which traveled the Columbia River. "Idaho" is a coined or invented word, and is not a derivation of an Indian phrase "E Dah Hoe (How)" supposedly meaning "gem of the mountains."
Idaho is known for its agricultural, forest, and mineral resources. By the 1990s, however, services and manufacturing had supplanted agriculture as the state's leading economic sectors. Tourism is increasingly important to the economy; many visitors are lured to Idaho each year by the unspoiled beauty of the mountain wilderness areas. The 1990s saw a remarkable growth in the high technology industries, concentrated in the metropolitan Boise area.
With the growth of winter sports, tourism now outranks other industries in revenue. Idaho's many streams and lakes provide fishing, camping, and boating sites. The nation's largest elk herds draw hunters from all over the world, and the famed Sun Valley resort attracts thousands of visitors to its swimming, golfing, and skiing facilities.
Official Name
Idaho
Capital
Boise
Nicknames
The Gem State ... and more
Motto
Esto Perpetua (It is perpetual)
Location
Region
43.60665 N, 116.22610 W
Rocky Mountains
Northwestern
Northwest, Pacific
Constitution Ratified
1890
Statehood
July 03, 1890
43rd state
Largest City
(by population)
10 largest cities (2010):Boise, 205,671; Nampa, 81,557; Meridian, 75,092; Idaho Falls, 56,813; Pocatello, 54,255; Caldwell, 46,237; Coeur d'Alene, 44,137; Twin Falls, 44,125; Lewiston, 31,894; Post Falls, 27,574
Population
1.634 million (2014)
15.64 sq. mi.
39th
Bordering States
North: British Columbia
East: Montana and Wyoming (Part of the Eastern boundary of Idaho is formed by the Continental Divide (the crest of the Rocky Mountains)
South: Utah and Nevada
West: Oregon and Washington (The Snake River forms part of the Western boundary of the state)
Major Industry
agriculture (potatos, wheat, sugar beets, barley), lumber, mining
Major Rivers
Snake River, Coeur d'Alene River, St. Joe River, St. Maries River, Kootenai River
Major Lakes
Lake Pend Oreille, American Falls Reservoir, Bear Lake, Coeur d'Alene Lake
Idaho Counties
44 Counties in Idaho
Largest County
(by population)
Ada County
392,365 (2010)
1,055 sq. mi.
Largest County
(by area)
Idaho County
8,485 sq mi.
State forests
881,000 ac.
State parks
30 (43,000+ ac.)
Electoral Votes
4
US Congress
2 Senators; 2 Representatives
Time Zone
Northern:
Southern: Mountain Standard Time
Zip Codes
NANPA
State Quick Facts
Census Bureau Quick Facts
---
Idaho Climate and Weather

Idaho enjoys a four-season climate, but conditions can be unpredictable, especially in the mountains.

Snake River Plain (Valley) summers are generally warm (seldom hot). Evenings are cool, and July and August are considered perfect.

Fall weather is much cooler and winter conditions can be snowy and much colder, with little wind.

Summer high temperatures are near 75 degrees, while winter highs are in the 30s. The average annual rainfall approaches 26 inches.

Mountains in the south, central and north are cooler throughout the year with cold and snowy conditions fall and winter.

Mean summer temperature are near 64 degrees, dropping to around 30 degrees in winter. The average rainfall in the higher elevations of the Rockies (central and north) exceeds 60 inches, and snowfall is usually heavy.
Highest Temperature
118 degrees
July 28, 1934 - Orofino
Lowest Temperature
-60 degrees
January 16, 1943 - Island Park Dam
Avg. Temp:
High - Low
90.6 degrees
15.1 degrees

Idaho Points of Interest

Craters of the Moon National Monument, Hells Canyon on the Idaho-Oregon border, Pend Oreille and Coeur d'Alene lakes, Shoshone Falls, river rafting and winter skiing venues, the Seven Devil's area, beautiful Sun Valley and the State Historical Museum in Boise. Other attractions are the Snake River Birds of Prey National Conservation Area south of Boise and the Sawtooth National Recreation Area in south-central Idaho... to name but a few.


Idaho Highest, Lowest, and Mean Elevations (Feet)

Mean Elevation: 5,000 feet
Highest Point: Borah Peak: 12,662 feet

At an elevation of 12,662 feet Borah Peak is the highest peak in Idaho. Borah Peak lies in the Lost River Range of the Challis National Forest in East-Central Idaho, rising above a fairly arid region.

Lowest Point:
Snake River
710 feet

Idaho Land Area (Square Miles)

Geographic Center
In Custer County, at Custer, SW of Challis
Longitude: 114°57.4'W
Latitude: 44°15.4'N
Total Area
83,570.08 sq. mi.
14th
Land Area
82,747.21 sq. mi.
99.02%
Water Area
822.87 sq. mi.
0.98%
Forested Land Area
41.5%
Dimensions
(Length - Width)
570 miles -300 miles
County Information and County History
Ada, Adams, Bannock, Bear Lake, Benewah, Bingham, Blaine, Boise, Bonner, Bonneville, Boundary, Butte, Camas, Canyon, Caribou, Cassia, Clark, Clearwater, Custer, Elmore, Franklin, Fremont, Gem, Gooding, Idaho, Jefferson, Jerome, Kootenai, Latah, Lemhi, Lewis, Lincoln, Madison, Minidoka, Nez Perce, Oneida, Owyhee, Payette, Power, Shoshone, Teton, Twin Falls, Valley, Washington
Almanac Online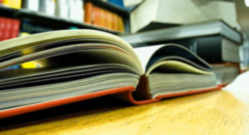 Information on people & places that make US a great place to live, visit, or study.