Idaho Geography: The Land
Geography and Landforms of Idaho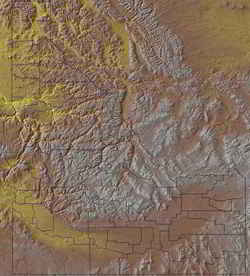 Find an overview of Idaho geography, topography, geographic land regions, land areas, and major rivers.
Access Idaho almanac, furnishing more details on the state geography, geographical and land regions, climate and weather, elevation, land areas, bordering states, and other statistical data.
In the far north, Idaho is bordered by Canada. In the south, the state borders Nevada and Utah. Idaho is bordered by Montana and Wyoming on the east and by Washington and Oregon on the west.
Major rivers in Idaho include the Coeur d'Alene, the Snake, the St. Joe, the St. Maries and the Kootenai Rivers.

Idaho can be divided into three major geographic regions: the Rocky Mountains, the Columbia Plateau and the Basin and Ridge Region.
Idaho Highest, Lowest, & Mean Elevations

Mean Elevation
5,000 ft.
Highest Point
Borah Peak
12,662 ft.
Lowest Point
Snake River
710 ft.

Idaho Land Area (Square Miles)

Geographic Center
In Custer County, at Custer, SW of Challis
Longitude: 114° 57.4'W
Latitude: 44° 15.4'N
Total Area
83,570.08 sq. mi.
14th
Land Area
82,747.21 sq. mi.
99.02%
Water Area
822.87 sq. mi.
0.98%
Forested Land Area
41.5%
Dimensions
(Length - Width)
570 miles - 300 miles
---
Geographically, the state can be divided into three regions:
the Rocky Mountains,
the Columbia Plateau and the
Basin and Ridge Region.
Basin and Range
The Basin and Range is a large physiographic area covering most of Nevada, part of eastern California, western Utah, and southeast Idaho. It lies in the rain shadow of the Sierra Nevada, south of the Columbia Plateau and north of the Mohave Desert, and is a mosaic of xeric basins, scattered mountains, and salt flats. This region lies in southeastern Idaho and is characterized by grassy plateaus and deep valleys. It is hotter and contains more and higher mountains than the Columbia Plateau, with more perennial streams and ponderosa pine forest at the higher elevations. Compared to the Mojave Desert, it is not as hot and is more dominated by shrubland and less by grassland.
As its name suggests, the Wyoming Basin is primarily in Wyoming but also extends into northern Colorado, southern Montana, and very small parts of northeast Utah and southeast Idaho. The area consists of broad intermountain basins interrupted by isolated hills and low mountains that merge to the south into a dissected plateau. It is basically a shrubsteppe, dominated by sagebrush and shadscale, interspersed with areas of shortgrass prairie. Higher elevations are in mountain shrub vegetation, with coniferous forest atop the highest areas.
Central Rocky Mountains
The Rocky Mountains area extends from the Idaho "panhandle" south and along the Wyoming border. The state has 50 mountain peaks that are over 10,000 feet, the highest is Borah Peak at 12,662 feet. Hells Canyon, also in this area, is the deepest gorge in North America.
The Central Rockies is a huge physiographic area, extending from northwest Wyoming over all of western Montana, the northern 2/3 of Idaho, large areas of eastern Oregon and Washington, much of southeast British Columbia and a sliver of west Alberta. It is an area of high mountains, with elevations up to 2,700 m (9,000 ft). Glaciation has left broad flat valleys between mountain ranges. Elevation determines the dominant vegetation. Highest areas are alpine tundra. The subalpine zone is dominated by Engelmann spruce and subalpine fir, with ponderosa pine and Douglas fir in the montane zone below that. Stand-replacement fire can change forests in either of those zones to lodge pole pine or aspen. Grass and sagebrush occur under open pine forests that grade downslope into grasslands, woodlands, or shrub steppe.
Utah Mountains are north-to-south lying mountains are centered in Utah and extend slightly into Wyoming and Idaho. They consist of the Wasatch and Uinta Ranges and separate the Great Basin from the Colorado Plateau. The four primary vegetation types reflect elevation and are similar to those in the Southern Rockies. Alpine tundra tops the highest areas, and a subalpine fir and Englemann spruce zone lies below that. Both the subalpine zone and the next lower zone, a montane area dominated by Douglas fir and ponderosa pine, can be converted by fire into lodgepole pine or aspen stands. Pine in the montane zone is often underlain by sagebrush and grasses. The fourth and lowest zone is a woodland dominated by mountain-mahogany, scrub oak, or pinyon-juniper.
Columbia Plateau
The Columbia Plateau begins in Washington and curves into Idaho at the base of the panhandle and then follows the Snake River. The Snake River plain area consists of lava flows and forms strips of land 20 to 40 feet wide on either side of the Snake River.
This is an arid sagebrush steppe and grassland surrounded on the north, west, and east by moister, predominantly forested, mountainous ecological regions. It is an oddly shaped physiographic area that covers portions of Washington, Oregon, Idaho, Nevada, and a small piece of northeast California. It consists of arid tablelands, intermontane basins, dissected lava plains, and widely scattered low mountains. There is a more subtle transition to the Basin and Range to the south in which hotter lowlands are dissected by isolated mountain ranges.
US Geography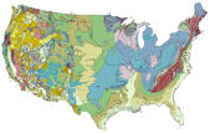 Geography is a field of science dedicated to the study of the lands, the features, the inhabitants, and the phenomena of the Earth.