Florida Famous People
Famous Americans: History and Biographies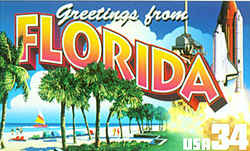 Links to histories and biographies of the famous people of Florida. Many famous people of Florida have made significant contributions to the history of our nation and the state of Florida. These famous Americans, famous entertainers, famous players, famous scientist, famous singers, famous statesmen, famous women, heroes, great explorers, and others Florida famous Americans have all made Florida their home. This list includes Florida historical figures, celebrities and those individuals of Florida who have influenced the lives of others.
---
More Famous Floridians:
Find more more Florida famous people below. You may not even realize many of these famous people were born in Florida or notable associated with Florida, including actors, actresses, explorers, historical figures, inventors, musicians, novelists, professional athletes, important politicians, singers, sport stars and more.
Julian Cannonball Adderley jazz saxophonist, Tampa
Pat Boone singer, Jacksonville
Howie Dorough singer, Orlando
Fay Dunaway actress, Bascom
Stepin Fetchit comedian, Key West
James Weldon Johnson author, educator, Jacksonville
Frances Langford singer, Lakeland
A. J. McLean singer, West Palm Beach
Butterfly McQueen actress, Tampa
Joseph W. Stilwell army general, Palatka
Don Sutton baseball player, Pensacola
Norman E. Thargard astronaut