Florida State Pie
Key Lime Pie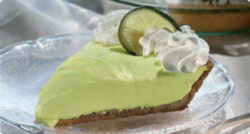 Adopted on July 1, 2006.
In 1994, the State Legislature officially recognized Key lime pie as an important symbol of Florida. The road to becoming the official state pie, was not an easy one. Since the 1980s, North Florida lawmakers have debated that a pie made of pecans, grown in Florida, would better reflect the state's history. House Bill 453 and Senate Bill 676 of the Florida Legislature's Regular 2006 Session made the Key Lime Pie the official Florida state pie as of July 1, 2006.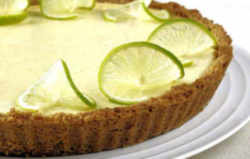 Key limes are the pink flamingos of Florida food, and they are a celebrated part of local color. Key West, Florida, is famous for its fabulous key lime pie, one of America's best-loved regional dishes. Every restaurant in the Florida Keys, and especially in the city of Key West, serves this wonderful pie. There seems to be a key lime pie for every palate, with numerous versions made throughout the region. This pie is considered the official pie of the Florida Keys.
Aficionados of key lime pies argue endlessly about the proper way to make one. Graham-cracker or pastry crust? Meringue on top or whipped cream, or neither? Cooked or uncooked filling? The one thing that they do agrees on is that under no circumstances should you ever add green food coloring. The filling of authentic key lime pie is a light yellow.
As to who made the first key lime pie, no one really knows for sure as it has never been documented. The most likely story is that William Curry (1821-1896), a ship salvager and Florida's first self-made millionaire (commonly referred to as rich Bill), had a cook that was simply know as Aunt Sally. It was Aunt Sally who created the pie in the late 1800s. Some historians think that Aunt Sally didn't create the Key Lime Pie, but probably perfected a delicacy that was the creation of area fishermen. William Curry built a lavish mansion for his family in 1855 that still is being used today as the Curry Mansion Inn.
It was not until the 1930s that the first recipes were written down. Until then everyone just knew how to make the pie. No fresh milk, no refrigeration, and no ice was available in the Keys until the arrival of tank trucks with the opening of the Overseas Highway in 1930. Because of this lack of milk, local cooks had to rely on canned sweetened condensed milk, which was invented in 1856 by Gail Borden. Key lime may be the star ingredient of the key lime pie, but it is the sweetened condensed milk that makes it so smooth and delicious.
The key lime tree, which is native to Malaysia, probably first arrived in the Florida Keys in the 1500s with the Spanish. Key limes look like confused lemons, as they are smaller than a golf ball with yellow-green skin that is sometimes splotched with brown. They are also know as Mexican or West Indian limes. When a hurricane in 1926 wiped out the key lime plantations in South Florida, growers replanted with Persian limes, which are easier to pick and to transport. Today the key lime is almost a phantom and any remaining trees are only found in back yards and their fruit never leave the Florida Keys. Key limes are also grown for commercial use in the Miami area.
In 1965, Florida State Representative Bernie Papy, Jr. introduced legislation calling for a $100 fine to be levied against anyone advertising key lime pie that is not made with key limes. This bill did not pass.
Florida Law
The law designating the Key lime pieas the official Florida state pie is found in the Florida Revised Statutes, Title 2, Chapter 15, Section 15.052
Title IV EXECUTIVE BRANCH
Chapter 15 SECRETARY OF STATE
Section 15.052

15.052 Official state pie.- Key lime pie is designated as the official Florida state pie.
History.- s. 1, ch. 2006-236.
---