Florida State Pageant
Indian River Pageant, a Florida historical pageant presented annually by the citizens of Brevard County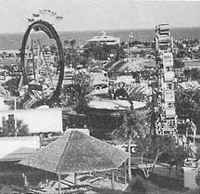 Brevard County
Adopted in 1979
The Indian River Festival is a Brevard County, Florida celebration and tradition dating back to the 1970s. The festival grounds are located on a scenic 20 acres along the beautiful Indian River Lagoon, directly across from Kennedy Space Center at Sandpoint Park.
In North Brevard, the Indian River Festival has been a time honored tradition. A 40-year legacy of weekends of sun and fun at Sandpoint Park brings a smile to the faces of long time residents. In 2013, the Titusville Area Chamber of Commerce took back the coordination of the festival with the idea of returning to its roots and focusing on the unique nature of the community.
It started with a mission statement - a guiding statement about the focus of the festival. The priorities the organizing committee could look to when making decisions about activities.
This festival will promote local economy by celebrating the Indian River and our natural resources, local food and culture, and outdoor recreation and health. It is a vehicle to promote healthy families and a healthy community by providing education and opportunity to enjoy food, fun and fitness.
Florida Law
The law designating the "Indian River," a Florida historical pageant as the official Florida state pageant is found in the Florida Revised Statutes, Title 2, Chapter 15, Section 15.043
Title IV EXECUTIVE BRANCH
Chapter 15 SECRETARY OF STATE
SECTION 15.0434

15.043 Official state pageant.--The pageant "Indian River," a Florida historical pageant presented annually by the citizens of Brevard County, is hereby designated an official state pageant of Florida.
History.--s. 1, ch. 79-196.
---