Florida State Wild Flower
Coreopsis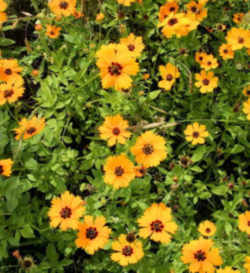 Coreopsis spp. L. (Tickseed)
Adopted in 1991
The flower of the genus Coreopsis was designated as Florida's official wildflower in 1991. The state legislature made this designation after the colorful flowers were used extensively in Florida's roadside plantings and highway beautification programs. The coreopsis is found in a variety of colors, ranging from golden to pink. Coreopsis (common name for the plant is tickseed) is a group of 35 species of flowering plants . Twenty-eight species are native to North America and the others come from Central and South America.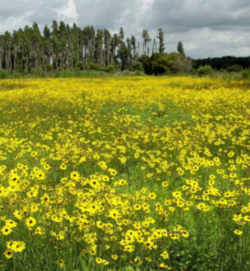 Coreopsis is a genus of flowering plants in the family Asteraceae. Common names include calliopsis and tickseed, a name shared with various other plants.
Lanceleaf coreopsis has grass green foliage, with most of the leaves concentrated at the base of the plant, giving it a clumped appearance. Clumps of the Florida ecotype* (plants that occur here naturally and are adapted to Florida conditions) are about 6-8 inches tall. Foliage and clump size of the common garden variety are about two to three times greater than in the Florida ecotype.
Flowers are yellow and about 1 inch in diameter. The Florida ecotype will flower in late spring if it is directly seeded in the winter or previous autumn. However, flowering of the common garden variety is sporadic at best the first year after it is seeded, although its flowers are two to three times larger than the Florida ecotype. Mature plants of the Florida ecotype or the common garden variety that overwinter may start flowering in April. Best flowering occurs until August but plants will continue to flower well into autumn. Plants rebloom well if faded flowers are removed.
Florida Law
The law designating the coreopsis as the official Florida state wildflower is found in the Florida Statutes, Title 4, Chapter 15, Section 15.0345
TITLE IV - EXECUTIVE BRANCH.
CHAPTER 15. SECRETARY OF STATE.
SECTION 15.0345.

15.0345 Official state wildflower. --The Coreopsis is hereby designated and declared the official Florida state wildflower, as species of this genus are found throughout the state and are used extensively in roadside plantings and highway beautification.

History.--s. 1, ch. 91-10.
Taxonomic Hierarchy: Coreopsis
Kingdom: Plantae - Plants
Subkingdom: Tracheobionta - Vascular plants
Superdivision: Spermatophyta - Seed plants
Division: Magnoliophyta - Flowering plants
Class: Magnoliopsida - Dicotyledons
Subclass: Asteridae
Order: Asterales
Family: Asteraceae - Aster family
Genus: Coreopsis L. - tickseed
---
State Flowers
State Floral Emblems