Hawaii Famous People
Famous Americans: History and Biographies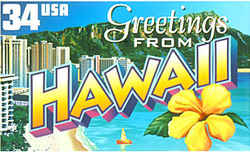 Links to histories and biographies of the famous people of Hawaii. Many famous people of Hawaii have made significant contributions to the history of our nation and the state of Hawaii. These famous Americans, famous entertainers, famous players, famous scientist, famous singers, famous statesmen, famous women, heroes, great explorers, and others Hawaii famous Americans have all made Hawaii their home. This list includes Hawaii historical figures, celebrities and those individuals of Hawaii who have influenced the lives of others.
Tia Carrere (born Althea Rae Janairo; January 2, 1967) is an American actress, model, voice artist, and singer who obtained her first big break as a regular on the daytime soap opera General Hospital. She played Cassandra Wong in the feature films Wayne's World and Wayne's World 2, Nani in Lilo & Stitch, its sequel films and Lilo & Stitch: The Series, Queen Tyr'ahnee in Duck Dodgers, and Sydney Fox in the syndicated television series Relic Hunter. She appeared as a contestant in the second season of Dancing with the Stars and the fifth season of The Celebrity Apprentice. Carrere was born in Honolulu, Hawaii, the daughter of Filipino parents, Audrey Duhinio Janairo, a computer supervisor, and Alexander Janairo, a banker. Carrere is of Hawaiian, Chinese, Spanish, and Filipino descentand was raised in Hawaii.
Sanford B. Dole (1844-1926) Leader that helped to overthrow Queen Liliuokalani and became president of the Republic of Hawaii; born in Honolulu.
Sid Fernandez (1962- ) Pitcher for the New York Mets that won the World Series in 1986; born in Honolulu.
Hiram L. Fong (1907 - ) The first Chinese-American senator, was born in 1907.
Don Ho (1930 - ) Hawaii's most famous entertainer, born in Honolulu.
Senator Daniel K. Inouye (1924 -) First member of the US Congress from Hawaii, and the first Japanese American to serve in either the House of Representatives or the Senate. Born in Honolulu.
Duke Paoa Kahanamoku (1890-1968) Hawaii's first Olympic medallist in swimming; born in Maui.
Kamehameha I (c. 1758 -1819) Ruler that unified the Kingdom of Hawaii; born in Kohala.
George Parsons Lathrop, journalist and poet, was born in Honolulu. Lathrop married Rose Hawthorne, daughter of American author Nathaniel Hawthorne, in 1871. He served as assistant editor of the Atlantic Monthly from 1875-1877 and founded the American Copyright League in 1883.
Liliuokalani The last reigning monarch of the Hawaiian Islands was born in Honolulu. She ascended the throne in 1891 when her brother, King Kalakaua died but was dethroned in 1893 when a provisional government was established. She formally renounced her royal claims to the Islands in 1895.
Bette Midler (1945- ) Actress and singer made famous in Beaches; born in Honolulu.
Harold Sakata (1920 - 1982) Actor, famous in his role as Oddjob in the 007 film Goldfinger.
---
More Famous People from Hawaii:
Find more more Hawaii famous people below. You may not even realize many of these famous people were born in Hawaii or notable associated with Hawaii, including actors, actresses, explorers, historical figures, inventors, musicians, novelists, professional athletes, important politicians, singers, sport stars and more.
George Ariyoshi first Japanese-American elected governor
Salevaa Atisanoe (Konishiki) sumo wrestler
Hiram Bingham missionary, Honolulu
Charles R. Bishop banker, philanthropist
Samuel N. Castle missionary
Amos S. Cooke missionary, educator
Father Damien leper-colony worker
Jean Erdman dancer, choreographer
Hiram L. Fong first Chinese-American senator
Daniel K. Inouye senator
Gerrit P. Judd advisor
Kaahumanu Hawaiian queen
Kamehameha V last of the dynasty
Ellison Onizuka astronaut
Kawaipuna Prejean Hawaiian activist
Chad Rowan Yokozuna sumo wrestler
Harold Sakata actor
James Shigeta actor
Claus Spreckels developer
Don Stroud actor
Merlin Tuttle mammalogist, Honolulu