Hawaii State Fish
Humuhumunukunuku apua`a - Hawaiian Trigger Fish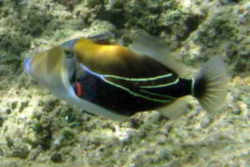 (Rhinecanthus rectangulus)
Adopted on May 2, 2006
In1984/85, the tiny, colorful fish with the long name - Humuhumunukunuku apua`a, - (Rhinecanthus rectangulus,) was selected as the official State Fish of Hawai'i after a popular vote and the approval of the State Legislature. It was selected after a high-profile campaign to educate the public about the kinds of fish that inhabit Hawaiian waters. The State Fish's official term of office lasted five years, and there was no re-election campaign. The reef triggerfish remains the "unofficial" State Fish of Hawai'i. On April 17, 2006, bill HB1982 was presented to the Governor of Hawaii which permanently reinstated the reef triggerfish (humuhumunukunukuapua'a) as the state fish of Hawaii. The bill passed into law on May 2, 2006 and was effective upon its approval. On April 17, 2006, bill HB1982 was presented to the Governor of Hawaii which permanently reinstated the reef triggerfish (humuhumunukunukuapua'a) as the state fish of Hawaii. The bill passed into law on May 2, 2006 and was effective upon its approval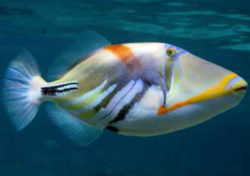 The reef, rectangular, or wedge-tail triggerfish, also known by its Hawaiian name, humuhumunukunukuapua'a, also spelled Humuhumunukunukuapua'a or just humuhumu for short; meaning "triggerfish with a snout like a pig." is one of several species of triggerfish. Classified as Rhinecanthus rectangulus, it is found at reefs in the Indo-Pacific. It is often asserted that the Hawaiian name is one of the longest words in the Hawaiian language and that "the name is longer than the fish.
Characteristics of the Hawaiian Trigger Fish
The Wedge-tailed Triggerfish can be recognized by its coloration. It has a diagonal black band from the eye to the anal fin. There is a black wedge-shaped mark on the caudal peduncle. This is preceded by two yellow v-shaped marks (white in juveniles). There are black bands between the eyes and a blue bar across the upper lip.
It is a sturdily-built fish, reaching up to 10 inches in length, with small powerful jaws and sharp, cutting teeth. The reef trigger shares its long Hawaiian name with a close, but less common relative, the lagoon triggerfish
The reef triggerfish is generally found in shallow outer reef habitats, often on surge-swept basalt reefs. It swims close to the bottom, searching for potential food items. It feeds on algae and reef invertebrates, including small crustaceans, worms, brittle stars, sea urchins, and snails. The reef trigger is not easy to approach closely and tends to keep a distance from observers, but its distinctive behavior and appearance make it easy to watch from a distance.
Hawaii Statute
The law designating the humuhumunukunukuapua'a , also known as the rectangular triggerfish as the official Hawaii state fish is Section ?5-11.5 (State fish) of the Hawaii Revised Statutes Volume 1 Chapter 5 (EMBLEMS AND SYMBOL) Section 5-11.5
Volume 1.
CHAPTER 5. EMBLEMS AND SYMBOLS.
SECTION 5-11.5

[§5-11.5] State fish. The humuhumunukunukuapua'a (Rhinecanthus rectangulus), also known as the rectangular triggerfish, is established and designated as the official fish of the State. [L 2006, c 67, §2]
Taxonomic Hierarchy: Humuhumunukunukuapua'a
Kingdom: Animalia - animals
Phylum: Chordata - chordates
Subphylum: Vertebrata - vertebrates
Class: Osteichthyes
Order: Tetraodontiformes
Family: Balistidae
Genus: Rhinecanthus
Species: Rhinecanthus rectangulus
---