Hawaii State Eternal Flame
The Eternal Flame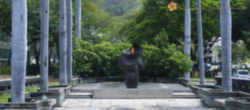 Adopted in
Designed by Kaua'i born American sculptor, Bumpei Akaji and dedicated on October 28, 1972, the eternal flame burns as a tribute to the men and women of Hawai'i who have served in our armed forces in the defense of freedom and liberty.
Burning endlessly in remembrance of the December 7, 1941 attack on Pearl Harbor, the Eternal Flame Memorial stands just across the street from the Hawaii State Capitol Building. A walk through this memorial lends a quiet, contemplative mood to any visitor. Its an escape from the bustle of Downtown Honolulu, and a tribute to the brave men and women who have served in the Armed Forces of the United States.
Built in 1944 exactly three years after the Pearl Harbor attacks which launched the United States into World War II. Abstract bronze-copper sculpted by Akaji Bumpei, dedicated 1972, replacing an earlier monument.
The gas flame has been burning since it was erected in 1972. There's another eternal flame on Oahu, for 9-11 victims of terrorism, near Honolulu City Hall.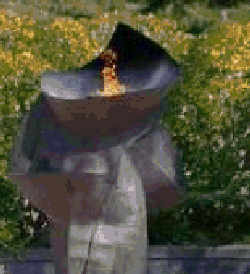 The Eternal Flame was dedicated along the Hawai'i State Capital Mall on Beretania Street, between Punchbowl and Richard Streets, on October 28, 1972. The memorial, dedicated to the men and women of the Hawai'i who served in the United States Armed Forces, was designed by sculptor Bumpei Akaji along with landscape architect Frank Haines. It features an abstract, vertical, free-standing work, with bronze and copper curvilinear planes, topped with a gas-fed burning flame, atop a 40-foot wide circular concrete base embedded and divided into pie-shaped parts, with steps and ramps. Commissioned by the Pacific War Memorial Commission and funded by the State Foundation on Culture and the Arts at an estimated cost of $125,000, The Eternal Flame replaced an earlier memorial, which was moved to Keehi Lagoon.
Hawaii-State-Capitol-Guide
The Eternal Flame
The Eternal Flame burns as a tribute to the men and women of Hawaii who have served in our armed services in the defense of liberty, freedom, and justice.

It burns not only in memory of those who have made the greatest possible sacrifices for their fellow citizens, but as a beacon of courage and hope for all mankind.
---