Illinois Famous People
Famous Americans: History and Biographies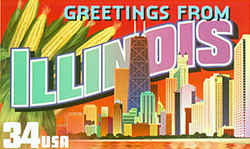 Links to histories and biographies of the famous people of Illinois. Many famous people of Illinois have made significant contributions to the history of our nation and the state of Illinois. These famous Americans, famous entertainers, famous players, famous scientist, famous singers, famous statesmen, famous women, heroes, great explorers, and others Illinois famous Americans have all made Illinois their home. This list includes Illinois historical figures, celebrities and those individuals of Illinois who have influenced the lives of others.
---
More Famous People of Illinois
Find more more Illinois famous people below. You may not even realize many of these famous people were born in Illinois or notable associated with Illinois, including actors, actresses, explorers, historical figures, inventors, musicians, novelists, professional athletes, important politicians, singers, sport stars and more.
Franklin Pierce Adams author, Chicago
Gillian Anderson actress, Chicago
Mary Astor actress, Quincy
Arnold O. Beckman inventor, Cullom
Jack Benny comedian, Chicago
Harry A. Blackmun jurist, Nashville
William E. Borah public official, Fairfield
William Jennings Bryan orator, politician, Salem
Edgar Rice Burroughs author, Chicago
Marvin Camras inventor, Chicago
Gower Champion choreographer, Geneva
John Chancellor TV commentator, Chicago
Raymond Chandler writer, Chicago
Jimmy Connors tennis champion, East St. Louis
James Gould Cozzens author, Chicago
Cindy Crawford model, DeKalb
Richard J. Daley mayor, Chicago
John Dos Passos author, Chicago
James T. Farrell author, Chicago
Betty Friedan feminist, Peoria
Benny Goodman musician, Chicago
John Gunther author, Chicago
George E. Hale astronomer, Chicago
Dorothy Hamill ice skater, Chicago
John M. Harlan jurist, Chicago
Charlton Heston actor, Evanston
Wild Bill Hickok scout, Troy Grove
William Holden actor, O'Fallon
Rock Hudson actor, Winnetka
Burl Ives singer, Hunt City
James Jones author, Robinson
Quincy Jones composer, Chicago
Walter Kerr drama critic, Evanston
Archibald MacLeish poet, Glencoe
David Mamet playwright, Chicago
Homer Z. Martin inventor, Chicago
Stanley Mazor inventor, Chicago
Robert A. Millikan (1868-1953) was born in Morrison, Illinois. As a scientist, Millikan made numerous momentous discoveries, chiefly in the fields of electricity, optics, and molecular physics. He was awarded the Nobel Prize for Physics in 1923 for his work in demonstrating the existence of electrons.
Sherrill Milnes baritone, Downers Grove
John G. Neihardt poet, Sharpsburg
Bob Newhart actor, comedian, Chicago
Frank Norris author, Chicago
William S. Paley broadcasting executive, Chicago
Drew Pearson columnist, Evanston
Richard Pryor comedian, actor, Peoria
Lewis Hastings Sarett inventor, Champaign
Sam Shepard playwright, Fort Sheridan
William L. Shirer author, historian, Chicago
McLean Stevenson actor, Bloomington
Preston Sturges director, Chicago
Clyde W. Tombaugh astronomer, Streator
Gloria Swanson actress, Chicago
Carl Van Doren writer, educator, Hope
Melvin Van Peebles playwright, Chicago
Irving Wallace author, Chicago
Alfred Wallenstein conductor, Chicago
Raquel Welch actress, Chicago
Florenz Ziegfield theatrical producer, Chicago