Illinois State Prairie Grass
Big Bluestem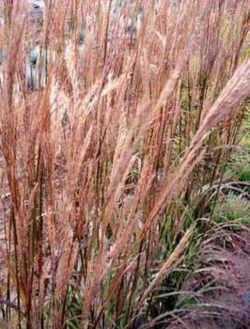 (Andropogon gerardii)
Adopted on August 31, 1989.
The big bluestem is one Illinois' newest state symbol. On August 31, 1989 when Governor Thompson signed into law a bill designating the big bluestem as Illinois Official Prairie Grass. The bill passed the General Assembly after the big bluestem was chosen in a poll of students from more than 50 schools and colleges conducted by the state Department of Conservation.
Big bluestem is a perennial bunch grass that forms large clumps which expand slowly on short, scaly rhizomes. Big bluestem, the "King of Grasses" produces better quality and greater amounts of forage than any other native American prairie grass. The big bluestem is Illinois' tallest prairie grass. It normally grows to heights of around 8 feet. The pioneers said it was as tall as a man on horseback. Its roots can reach depths of 8 to 10 feet. These deep roots help the big bluestem survive in times when there is no rain (drought). Believe it or not, one plant, grown at the University of Kentucky, grew to a height of 21 feet! No wonder the big bluestem is sometimes called the "prince of the prairie."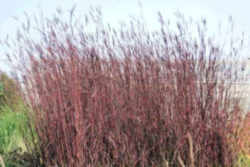 The land that became the State of Illinois was covered by prairie grasses. Big Bluestem may have been the most widespread and abundant grass throughout the true prairie. Big Bluestem grows in such tall and dense stands that it often prevents other grasses from growing around it by shading them out. In the past this resulted in large areas of almost pure big bluestem in the prairies.
The habit is fairly upright, and not as arching as some ornamental grasses. Look for the blue color at the base of the stems. The stems and leaves are blue-green in early summer, developing reddish tinges as they mature. The plants turn a rich copper or orange-brown in autumn and develop an overall reddish or burgundy cast after frost. In late summer, big bluestem produces terminal 3" bronze to purplish seed heads that stand above the foliage. The flowering stalk has three finger-like branches that look to some like a turkey's foot; interesting, but not very showy. The foliage stays attractive through winter, but the seed heads disintegrate. 'Roundtree' is a little smaller than the species and a little earlier blooming. 'The Blues' has more of a blue-gray foliage. 'Pawnee' is more drooping in habit.
Culture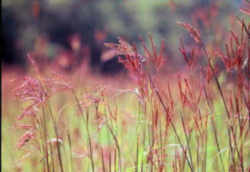 Big Bluestem is adaptable to a wide range of soils; it thrives in light, porous soils as well as heavier, less well drained soils, even clays. It tolerates acidic or alkaline soils. It does well in dry or humid climates and tolerates cool as well as hot summers. The big bluestem grows in moist soils and lowlands and is not very plentiful in uplands. Big bluestem develops a tremendous root system which saturates the top 2 feet of soil and reaches depths of 12 feet. It was the most abundant grass in the prairies that once covered most of Illinois. It is often used for grazing by livestock now. This native plant starts its growth in April and begins to flower in late summer with most growth occurring in August. Its flowering stalk grows in three finger-like branches giving it the nickname of "turkey foot" grass.
Once established, it is very drought-tolerant. However, best growth occurs with regular watering, and plants that get adequate moisture throughout the growing season can get more than 10' tall. Big bluestem can withstand short periods of waterlogged soils in summer, but not in winter.
Illinois Law
The law designating the prairie grass Big Bluestem as the official Illinois state prairie grass is found in the Illinois Compiled Statutes, Government, Chapter 5, State Designations Act, Section 55.
GENERAL PROVISIONS
(5 ILCS 460/) State Designations Act.
(5 ILCS 460/1) (from Ch. 1, par. 2901-1)
Sec. 1. This Act may be cited as the State Designations Act.
(Source: P.A. 87-273.)

(5 ILCS 460/55) (from Ch. 1, par. 2901-55)
Sec. 55. State prairie grass. The prairie grass Big Bluestem is designated the official State prairie grass of the State of Illinois.
(Source: P.A. 87-273.)
Taxonomic Hierarchy: Big Bluestem
Kingdom: Plantae – Plants
Subkingdom: Tracheobionta – Vascular plants
Superdivision: Spermatophyta – Seed plants
Division: Magnoliophyta – Flowering plants
Class: Liliopsida – Monocotyledons
Subclass: Commelinidae
Order: Cyperales
Family: Poaceae ⁄ Gramineae – Grass family
Genus: Andropogon L. – bluestem
Species: Andropogon gerardii Vitman – big bluestem
---