Illinois State Fruit
GoldRush Apple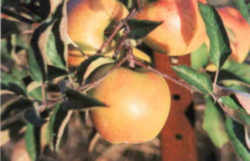 (Malus xdomestica)
Adopted on August 21, 2007
Illinois designated the goldrush apple as official state fruit in 2008. Goldrush apples are a cross of golden delicious and an experimental variety of apple (Co-op 17) developed by the disease-resistant apple breeding program of the University of Illinois, Purdue University and Rutgers University in New Jersey.
Mark Richardson's fourth-grade class of Woodlawn Elementary School initiated this legislation after learning that Illinois was one of the few states that did not recognize a state fruit. After doing research and discovering the part played by the University of Illinois in developing the goldrush apple, they contacted Senator John Jones, who was the primary sponsor of the bill. Illinois also recognizes an official state snack food - popcorn (see food symbols for all states).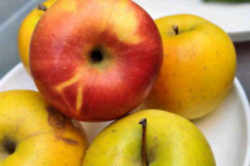 GoldRush is a very fine, high quality disease resistant golden apple with a pretty blush. It is one of the latest harvesting apples, so may not ripen properly in many northern areas. However, letting it hang as long as possible and storing for a while before eating will allow it to mellow. It is very firm, crisp and juicy. Tart at harvest it will develop a very rich, well balanced flavor after a few weeks of storage. It stores very well.
Origin
Species: Malus domestica
Parentage: Seed parent is Golden Delicious
Originates from: Purdue Research Farm, West Lafayette, Indiana, USA, United States
Introduced: 1990s
Developed by: Joint breeding programme of Indiana, Illinois, and New Jersey Agricultural Experiment Stations.
Orange Pippin Cultivar ID: 1557
Using
Uses: Eat fresh
Uses: Cooking
Uses: Juice
Uses: Hard cider
Flavour quality: Very good
Flavour style: Sweeter
Harvest period: Very-Late season
Use / keeping: 3 months or more
Growing
Cropping: Heavy
Flowering period: Mid-Late season
Flowering group: 4
Fertility: Self-sterile
Ploidy: Diploid
Vigour: Slightly small
Bearing regularity: Biennial tendency
Precocity: Precocious
Fruit bearing: Spur-bearer
Disease resistance
Scab - Very resistant
Mildew - Very resistant
Fireblight - Some resistance
Cedar apple rust - Some susceptibility
Relationships to other varieties
Parents and other ancestors of this variety:
Golden Delicious (parent)
Rome Beauty
Illinois Law
The law designating the GoldRush Apple as the official Illinois state fruit is found in the Illinois Compiled Statutes, Government, Chapter 5, Section 460/57
GOVERNMENT
CHAPTER 5 GENERAL PROVISIONS
(5 ILCS 460/) State Designations Act.
(5 ILCS 460/57)

Sec. 57. State fruit. The fruit Malus xdomestica, commonly known as the "GoldRush Apple", is designated the official State fruit of the State of Illinois.

(Source: P.A. 95-328, eff. 8-21-07.
Taxonomic Hierarchy: GoldRush Apple
Kingdom: Plantae - Plants
Subkingdom: Tracheobionta - Vascular plants
Superdivision: Spermatophyta - Seed plants
Division: Magnoliophyta - Flowering plants
Class: Magnoliopsida - Dicotyledons
Subclass: Rosidae
Order: Rosales
Family: Rosaceae - Rose family
Genus: Malus Mill. - apple
Species: Malus xdomestica Borkh
---