Illinois State Theatre
"The Great American People Show"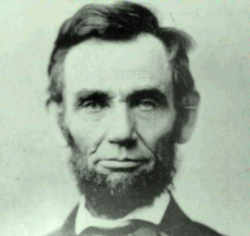 Adopted in 1995.
Illinois designated The Great American People Show as the official "state theatre of Lincoln and the American Experience" in 1995. The Great American People Show is a theatre company that's specifically noted for plays about our 16th president, Abraham Lincoln. If you want to learn more about the theatre company, run a search on google in the box below and check out the resumes of the many actors who have participated with this group over the years. The Great American People Show performs at New Salem State Park near Springfield, Illinois.
Ever heard of the Great American People Show? No, it's not that group of fresh-faced kids who tour the country singing cornball songs. And it's not the revue you see at Six Flags amusement park.

GAPS, as it's sometimes called, does big outdoor dramas about historical figures, most notably Abraham Lincoln. It's been lauded by politicians like Paul Simon and ex-governor Jim Thompson, and by foreign dignitaries from places as distant as Taiwan and Beijing. In 1980, GAPS became the first theater to receive the Governor's Award for the Arts, and this year, for the first time, the Illinois Board of Tourism is supporting the show as the place to go to learn about Lincoln.
The Great American People Show is located at Lincoln's New Salem State Park, a reconstruction of the village where the Great Emancipator served as postmaster and deputy surveyor. It's about 20 miles northwest of Springfield on Route 97.
Origin of Theater
The origin of theater goes back to prehistoric people acting out their hunting experiences and ancients singing and dancing for religious ceremonies. Theater as pure entertainment evolved slowly - the first recorded European theater was in ancient Greece about 600 BC (for a festival honoring the god of wine and fertility). A poet named Thespis won a dramatic play competition at this celebration and is so considered "the first actor" (origin of the term thespian).
Illinois Law
The law designating the Great American People Show as the official Illinois state theatre is found in the Illinois Compiled Statutes, Government, Chapter 5, State Designations Act, Section 70.
Chapter 5 - GENERAL PROVISIONS
5 ILCS 460/ - State Designations Act.

(5 ILCS 460/1) (from Ch. 1, par. 2901-1)
Sec. 1. This Act may be cited as the State Designations Act.
(Source: P.A. 87-273.)

5 ILCS 460/70

(5 ILCS 460/70)
Sec. 70. State theatre. The Great American People Show is designated as Illinois' Official State Theatre of Lincoln and the American Experience.
(Source: P.A. 88-561, eff. 1-1-95.)
---