Indiana Famous People
Famous Americans: History and Biographies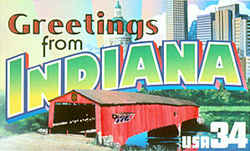 Links to histories and biographies of the famous people of Indiana. Many famous people of Indiana have made significant contributions to the history of our nation and the state of Indiana. These famous Americans, famous entertainers, famous players, famous scientist, famous singers, famous statesmen, famous women, heroes, great explorers, and others Indiana famous Americans have all made Indiana their home. This list includes Indiana historical figures, celebrities and those individuals of Indiana who have influenced the lives of others.
---
More Famous People of Indiana
Find more more Indiana famous people below. You may not even realize many of these famous people were born in Indiana or notable associated with Indiana, including actors, actresses, explorers, historical figures, inventors, musicians, novelists, professional athletes, important politicians, singers, sport stars and more.
George Ade humorist, Kentland
Leon Ames actor, Portland
Hoagy Carmichael songwriter, Bloomington
Eugene V. Debs Socialist leader, Terre Haute
Theodore Dreiser writer, Terre Haute
Bernard F. Gimbel merchant, Vincennes
Virgil Grissom astronaut, Mitchell
Alfred Bertram Guthrie author, Bedford
Phil Harris actor, band leader, Linton
John Milton Hay statesman, Salem
James R. Hoffa labor leader, Brazil
Buck Jones actor, Vincennes
Eli Lilly pharmaceuticals, Indianapolis
Carole Lombard actress, Fort Wayne
Shelley Long actress, Fort Wayne
Marjorie Main actress, Acton
James McCracken tenor, Gary
Joaquin Miller poet, Liberty
Andrew J. Moyer inventor, Star City
Paul Osborn playwright, Evansville
J. Danforth Quayle vice president, Indianapolis
Ned Rorem composer, Richmond
Red Skelton comedian, Vincennes
Rex Stout mystery writer, Noblesville
Twyla Tharp dancer, choreographer, Portland
Forrest Tucker actor, Plainfield
Harold C. Urey physicist, Walkerton
Jessamyn West author, North Vernon
Wendell Willkie lawyer, Elwood
Willis Van Devanter Supreme Court justice, Marion