Indiana State Pie
Sugar Cream Pie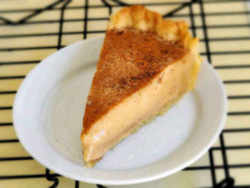 Adopted in 2009.
Also known as Hoosier Pie, sugar cream pie became the official state pie in 2009. This Indiana tradition harkens back to early Amish and Shaker communities. It's quite delicious!
A resolution introduced by Sen. Allen Paul, R-Richmond, and sponsored by the Indiana Foodways Alliance and a group of Ball State University students, seeks recognition for the pie and its most famous maker. The Indiana General Assembly officially elevated the status of this humble dessert in 2009. This Indiana tradition harkens back to early Amish and Shaker communities. It's quite delicious!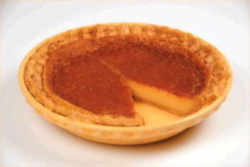 The Hoosier Pie, sugar cream pie is said to have been created in Indiana in the early 1800s by Quakers, according to the Indianapolis Monthly article. It is a simple pie made of sugar, flour, vanilla, milk, shortening and nutmeg. The minimal ingredients combine to create a smooth and creamy concoction that is honored as the State Pie of Indiana.
Hoosier Sugar Cream Pie Recipe
About This Recipe
Yield: serves 8
Active time: 15 minutes
Total time: 1 hour and 15 minutes
Special equipment: 9-inch pie dish
This recipe appears in: Weekend Baking Project: Hoosier Sugar Cream Pie American Classics: Hoosier Sugar Cream Pie
Ingredients
For the Crust
1 recipe Easy Pie Crust
3 tablespoons whole milk

For the Filling
3/4 cup all-purpose flour
1/2 cup sugar
1/2 cup light brown sugar
1/2 cup dark brown sugar
1/2 teaspoon cinnamon (plus more for dusting)
1/4 teaspoon nutmeg
1/4 teaspoon salt
1 1/2 cups heavy cream
1 1/2 cups half and half
2 teaspoons vanilla extract
Procedures
1 - Adjust oven rack to center position and preheat oven to 375°F. Roll out crust. For a 9-inch pan your bottom crust should be around 11 inches in diameter. Place bottom crust in pie pan or dish. Flute edges and brush pie shell with milk. Refrigerate crust while you prepare filling.

2 - In a large bowl mix together flour, sugars, cinnamon, nutmeg and salt. Stir in heavy cream, half and half, and vanilla until well incorporated. Pour into prepared pie shell and bake for 35 to 45 minutes or until crust is golden brown and the center of the pie is set. Dust with additional cinnamon, if desired. Cool for about 15 to 20 minutes before slicing.
Indiana's State Pie: Wick's Sugar Cream

by Erik Deckers on Apr 20, 2014

Indiana may be one of the only states with an official state pie, the Wick's Sugar Cream Pie made in tiny Winchester (Randolph County), just east of Muncie on State Road 32. Wick's Sugar Cream Pie is also one of my favorites, and I always ask for one at Thanksgiving.

Their factory is constantly in production, producing 10,000 pies and 30,000 pie shells in a single 8-hour shift. That's 2 pies for every person in Winchester every single day (Winchester has 4,887 residents). All told, they produce roughly 12 million pies and shells in a single year, in 35 sizes, shapes, and formulations.

A slice of Wick's Sugar Cream Pie
Called Sugar Pie in other parts of the country, sugar cream pie was popularized by the Amish, but is also found in Quebec. Wick's pie is based on a Wickersham family recipe from their family farm in the 1800s. They still use the same ingredients they would have found on the farm back then: milk, sugar, flour, shortening, vanilla, and nutmeg.

Apparently - and I didn't even know this - their other pies include Southern Pecan, Peanut Butter Cream, German Chocolate, Pumpkin, and Pumpkin Chess.

Wick's also has a restaurant located near the factory where you can buy a slice of pie and a tenderloin for $7 (at least, according to a 2012 article on this blog). I need to try it one of these days when I go visit my dad in Muncie.

Wick's may also be one of the largest employers in Winchester, with more than 75 people on staff, handling production, delivery, and - if my resume reaches the right people - an official daily taster.
Indiana Senate Concurrent Resolution No. 5
First Regular Session 116th General Assembly (2009)
SENATE CONCURRENT
RESOLUTION No. 5

A CONCURRENT RESOLUTION urging the adoption of the sugar cream pie as Indiana's official state pie.

Whereas, The Indiana Foodways Alliance, "a statewide nonprofit organization dedicated to the celebration, promotion, and preservation of the authentic food culture of Indiana," would like to see the sugar cream pie adopted as the official state pie of Indiana and to name the pie as the Hoosier Pie;

Whereas, Sugar cream pie is simply a pie shell spread with layers of creamed butter and maple or brown sugar combined with a sprinkling of flour, filled with vanilla-flavored cream and baked;

Whereas, Sugar cream pie was created between 1810 and 1825 by the North Carolina Quakers who settled on farms along the eastern border of Indiana, especially the Richmond, Winchester, Portland, and New Castle areas;

Whereas, Despite being known as "desperation pie," sugar cream pie required a cow in the barn and imported sugar;

Whereas, If the sugar cream pie is Indiana's official pie, then Winchester is the sugar cream pie capital;

Whereas, Wick's Pies, located in Winchester, has helped make the sugar cream pie famous by producing pies from a Wickersham family recipe that dates back to the family's 19th century farm;

Whereas, Beginning more than 60 years ago as a small company, Wick's Pies produces approximately 12 million pies and pie shells in a year, and its sugar cream pie is available in more than 25 states; and

Whereas, Food and culinary practices helped immigrants feel at home in their strange, new surroundings; it is important that we remember these practices and the foods that remain a part of our daily lives still today: Therefore,

Be it resolved by the Senate of the General Assembly

of the State of Indiana, the House of Representatives concurring:

SECTION 1. That the Indiana General Assembly urges the adoption of the sugar cream pie as the official pie of the state of Indiana and its renaming as the Hoosier Pie.
SECTION 2. That copies of this resolution be transmitted by the Secretary of the Senate to the Indiana Foodways Alliance.

---