Indiana State Language
English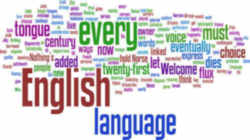 Adopted in 1984.
English was adopted in 1984 as the Indiana State Language. In 2000, 93.5% of all Hoosiers five years old and older spoke only English at home, down from 95.2% in 1990.
Indiana Law
The law designating English as the official Indiana state language is found in the Indiana Code, Title 1, Article 2, Chapter 10, Section 1-2-10-1.
TITLE 1. GENERAL PROVISIONS
ARTICLE 2. STATE EMBLEMS
Chapter 10. State Language

Section 1-2-10-1 - State Language (1984)
The English language is adopted as the official language of the state of Indiana.

As added by P.L.1-1984, SEC.1.

Section 1-2-10-2
Sec. 2. American Sign Language is recognized as a standard, independent language with its own grammar, syntax, vocabulary, and cultural heritage, which is widely used by hearing, deaf, and hard of hearing individuals in Indiana and in the United States.
As added by P.L.7-1995, SEC.1.
---