Kansas State Firefighter's Museum
Kansas Firefighter's Museum

Adopted in 2007.
This is a 1909 restored fire house that contains many vehicles and artifacts depicting the Firefighting history in Kansas. This is the official Kansas State Firefighters Museum so designated in 2007. The Kansas Fallen Firefighters Memorial is next to the museum and is open 24/7 year round.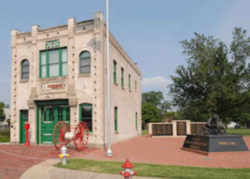 Wichita, Kansas Fire Department's Engine House No. 6 opened in 1909. It was the last horse drawn fire station in Wichita to switch to motor vehicles in 1918, and continued to operate until 1953.
In 1993 the building was restored and became the Kansas Firefighters Museum. Firehouse Number Six was placed on the National and Kansas Registers of Historic Places in 1994.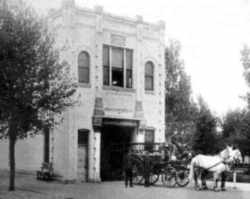 The upstairs of the Kansas Firefighters Museum is filled with displays of fire helmets, uniforms, badges, caps, wooden water mains, hydrants, nozzles, alarms, leather buckets, extinguishers, ladders, toys, fire related photographs, and fire manuals.
The memorial garden south of the Kansas Firefighters Museum was dedicated in June, 2002. The garden includes a wall with the names of Kansas fallen firefighters, a courtyard of engraved bricks donated by family and friends and "Last Call," a life sized statue of a firefighter holding a fallen firefighter.
Kansas Law
The law designating the Kansas firefighters museum located in Wichita, Kansas as the official Kansas state firefighters museum is found in the Kansas General Statutes, Chapter 73, Article 27 Section 73-2701.
Chapter 73.- SOLDIERS, SAILORS AND PATRIOTIC EMBLEMS

Article 27.- KANSAS FIREFIGHTERS MUSEUM
73-2701. Kansas firefighters museum. The Kansas firefighters museum located in Wichita, Kansas is hereby designated the official state Kansas firefighters museum.

History: L. 2007, ch. 61, § 1; July 1.

---