Kansas State Grass
Little Bluestem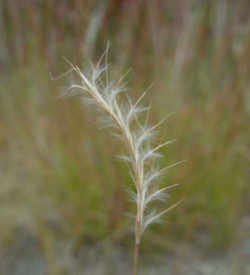 (Schizachyrium scoparium)
Adopted in 2010.
The state grass of Kansas is Little Bluestem (Schizachyrium scoparium). It was named by the Kansas State Legislature as the State Grass of Kansas on July 1, 2010.
The symbols that represent Kansas, such as the State Flower, the Annual Sunflower, and the State Tree, the Cottonwood, teach our children about the place where they live. Kansas is a grassland ecosystem. As a symbol of the prairies of Kansas, a State Grass focuses the attention of Kansans of all ages on the prairie ecosystem. The heritage of the prairies is strong in Kansas, yet many children and adults who live in cities and towns may not be aware of the many ways the grasslands contribute to our quality of life.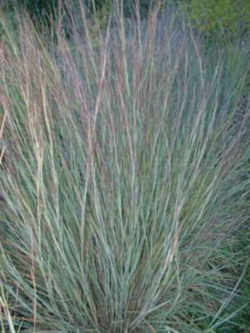 Little bluestem is a medium height grass with coarse stems and basal leaves. As a warm season grass it begins growth in late spring and continues through the hot summer period until the first killing frost. It is easily mistaken for common broomsedge. Little bluestem has very flat bluish basal shoots. Plants are green, but often purplish at base of stem and the entire plant has a reddish cast after frost. Leaves are smooth, but frequently are covered with hair at the base next to the sheath. Leaves tend to fold with maturity. Seed head clusters about three inches long. The cluster stems are hairy. Plant height varies from 18 inches on droughty sites to 3 feet on deep, fertile soils. There are 255,000 seeds per pound.

Broomsedge (Andropogon virginicus) has a straight awn and has two or more stalked seed clusters per branch. Little bluestem has a twisted, bent awn and a single cluster of seeds per branch. Seacoast bluestem (Schizachyrium scoparium var. littorale) occurs only in the coastal plain region. It is very similar to little bluestem but can be distinguished by the bent stems at the base, whereas little bluestem stems are erect.
Common Names
little bluestem, little false bluestem, small feathergrass, broomsedge, prairie beardgrass, and popotillo colorado
Scientific Name
Schizachyrium: from schizo for "to split" in part scoparium: Latin for "broom-like" from Latin scopa for "broom" Pronounced: Schizachyrium (skits-ah-KEER-ee-um) scoparium (skoh-PAIR-ee-um)
Description
Perennial 2'-3' grass, bold clump forming grass with silver and bronze fall color. 1" wide green foliage with a white stripe running down the middle offset by billowy plumes opening pink and turning to silver. Excellent cut flower for dries flower arrangements.
Flower
Distinguished by the fuzzy white flowers that emerge part way up the stalk that blooms Aug.-Oct.
Culture
S. scoparium can be found in dry fields, prairies and woods from Maine to Alberta and Idaho, south to Florida and Arizona. Tolerant of a wide range of soils, but will not grow well in moist, fertile soils. Propagate by seed or division in spring. Self seeds,though not prolifically. Cut to the ground in spring before new growth emerges. Best utilized as a vertical accent in perennial borders or as a screen.
Kansas Law
The law designating the little bluestem as the official Kansas state grass is found in the Kansas General Statutes, Chapter 73, Article 30, Section 73-3001.
CHAPTER 73. SOLDIERS, SAILORS AND PATRIOTIC EMBLEMS.
Article 30. - OFFICIAL STATE GRASS

73-3001. State grass. The grass known as little bluestem (schizachyrium scoparium) is hereby designated as and declared to be the official grass of the state of Kansas.

History: L. 2010, ch. 77, § 1; July 1
Taxonomic Hierarchy: Little Bluestem
Kingdom: Plantae - Plants
Subkingdom: Tracheobionta - Vascular plants
Superdivision: Spermatophyta - Seed plants
Division: Magnoliophyta - Flowering plants
Class: Liliopsida - Monocotyledons
Subclass: Commelinidae -
Order: Cyperales -
Family: Poaceae - Grass family
Genus: Schizachyrium L. - bluestem
Species: Schizachyrium scoparium (Michx.) Nash - little bluestem
---