Ohio Famous People
Famous Americans: History and Biographies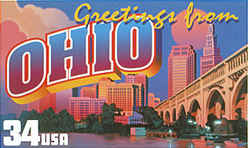 Links to histories and biographies of the famous people of Ohio. Many famous people of Ohio have made significant contributions to the history of our nation and the state of Ohio. These famous Americans, famous entertainers, famous players, famous scientist, famous singers, famous statesmen, famous women, heroes, great explorers, and others Ohio famous Americans have all made Ohio their home. This list includes Ohio historical figures, celebrities and those individuals of Ohio who have influenced the lives of others.
Neil Armstrong (Wapakoneta, Ohio, born August 5, 1930) is a former American astronaut, test pilot, university professor, and United States Naval Aviator. He is the first person to set foot on the Moon. His first spaceflight was aboard Gemini 8 in 1966, for which he was the command pilot. On this mission, he performed the first manned docking of two spacecraft together with pilot David Scott. Armstrong's second and last spaceflight was as mission commander of the Apollo 11 moon landing mission on July 20, 1969. On this mission, Armstrong and Buzz Aldrin descended to the lunar surface and spent 2½ hours exploring while Michael Collins remained in orbit in the Command Module. Armstrong is a recipient of the Congressional Space Medal of Honor.
Daniel Beard (1850 - 1941) Founded the Boy Scouts of America; born in Cincinnati.
Halle Berry (1966 - ) Famous Actress; born in Cleveland.
Drew Carey - (1958 - ) Actor, Writer, Comedian; born in Cleveland.
Thomas Edison (1847 - 1931) Born in Milan, Ohio, Thomas Edison is the only American inventor with more than 1,000 patents. Some of his most famous inventions include the light bulb, the phonograph and the stock ticker.
Clark Gable (1901-1960) Actor known for his role in Gone with the Wind; from Cadiz.
James A. Garfield (1831 - 1881) The 20th President of the United States; born in Cuyahoga County.
John Glenn (1921 - ) The first American to orbit the Earth; born in Cambridge
Ulysses S. Grant (1822 - 1885) The 18th President of the United States; born in Point Pleasant.
Zane Grey (1872 - 1939) Western novel author; born in Zanesville.
Arsenio Hall (1958- ) Actor and former late-night talk show host; born in Cleveland
Warren G. Harding (1865 - 1923) The 29th President of the United States; born near Marion.
Benjamin Harrison (1833 - 1901) The 23rd President of the United States; born near Cincinnati.
Rutherford B. Hayes (1822 - 1893) The 19th President of the United States; born in Delaware, Ohio.
Bob Hope (1903 - 2003) Actor/Dancer/Singer/Comedian/Entertainer; Grew up in Cleveland.
Fannie Hurst (October 19, 1885 – February 23, 1968) was an American novelist and short-story writer whose works were highly popular during the post-World War I era. Her work combined sentimental, romantic themes with social issues of the day, such as women's rights and race relations.
William McKinley (1843 - 1901) The 25th President of the United States; born in Niles.
Annie Oakley (August 13, 1860 - November 3, 1926), born Phoebe Ann Moses in "a cabin less than 2 miles northwest of Woodland, now Willowdell, in Darke County, Ohio", a rural western border county of Ohio. Her birthplace log cabin site is about five miles east of North Star. There is a stone-mounted plaque in the vicinity of the cabin site, which was placed by the Annie Oakley Committee in 1981, 121 years after her birth. Oakley was an American sharpshooter and exhibition shooter. Oakley's "amazing talent" and timely rise to fame led to a starring role in Buffalo Bill's Wild West show, which propelled her to become the first American female superstar. Perhaps Oakley's most famous trick was her ability to repeatedly split a playing card, edge-on, and put several more holes in it before it could touch the ground, while using a .22 caliber rifle, at 90 feet (27 m)
Jesse Owens (1913 - 1980) Winner of four gold medals in the 1936 Summer Olympic Games; lived in Cleveland.
Judith Resnik (1949 - 1986) Astronaut. She was the second American woman to go into space; born in Akron.
Pete Rose (1941 - ) Baseball player for the Cincinnati Reds that broke the all-time hitting record in 1985; born in Cincinnati.
William Sherman (1820 - 1891) General of the Civil War that led "Sherman's March" through Georgia destroying Southern hope; born in Lancaster.
Steven Spielberg (1947 - ) Director of E.T., Schindler's List, Raiders of the Lost Ark, and many other famous movies; born in Cincinnati.
R.L. Stine (1943 - ) Author of the popular Goosebumps series; native of Bexley.
William Howard Taft (1857 - 1930) The 27th President of the United States; born in Cincinnati.
Wilbur Wright (1867 - 1912) & Orville Wright (1871-1948) Brothers who invented the first airplane; born in Indiana and Dayton respectively.
---
More Famous People of Ohio
Find more more Ohio famous people below. You may not even realize many of these famous people were born in Ohio or notable associated with Ohio, including actors, actresses, explorers, historical figures, inventors, musicians, novelists, professional athletes, important politicians, singers, sport stars and more.
George Bellows painter, lithographer, Columbus
Willard H. Bennett inventor, Findlay
Ambrose Bierce journalist, Meigs County
Albert J. Beveridge political leader, Highland
Erma Bombeck columnist, humorist, Dayton
Bill Boyd / Hopalong Cassidy actor, Cambridge
William Jennings Bryan US presidential candidate, Salem
William Meriam Burton inventor, Cleveland
Milton Caniff cartoonist, Hillsboro
Nancy Cartwright voice of Bart Simpson, Kettering
John R. Commons economist, Hollansburg
Hart Crane poet, Garrettsville
George Armstrong Custer army officer, New Rumley
Dorothy Dandridge actress, Cleveland
Doris Day singer, actress, Cincinnati
Clarence Seward Darrow lawyer, Kingsman
Ruby Dee actress, Cleveland
Hugh Downs TV broadcaster, Akron
Thomas Alva Edison inventor, Milan
John Evans physician, educator, Waynesville
Clark Gable actor, Cadiz
James Abram Garfield US president, Cuyahoga County
Cass Gilbert architect, Zanesville
Lillian Gish actress, Springfield
Zane Grey author, Zanesville
Warren Gamaliel Harding US president, Morrow County
Charles Martin Hall inventor, Thompson
Rutherford Hayes US president, Delaware
Benjamin Harrison US president, North Bend
Robert Henri painter, Cincinnati
William Dean Howells author, critic, Martins Ferry
Charles F. Kettering inventor, Loudonville
Kenisaw Mountain Landis first baseball commissioner, Millville
Maya Lin artist, sculptor, Athens
Dean Martin singer, actor, Steubenville
William McKinley US president, Niles
Toni Morrison author, Lorain
George W. Norris US Senator, Sandusky
Paul Newman actor, Cleveland
Jack Nicklaus golfer, Columbus
Annie Oakley markswoman, Darke County
Norman Vincent Peale clergyman, Bowersville
Roy J. Plunkett chemist, New Carlisle
Tyrone Power actor, Cincinnati
Eddie Rickenbacker aviator, Columbus
Arthur M. Schlesinger, Jr. historian, Columbus
William Tecumseh Sherman army general, Lancaster
Gloria Steinem feminist, Toledo
Donalee L. Tabern inventor, Bowling Green
Joyce Kimberly Tatro educator, Toledo
Tecumseh Shawnee Indian chief, Oldtown
Ted Turner broadcasting, Cincinnati
Lowell Thomas commentator, author, Woodington
James Thurber author, cartoonist, Columbus
Ernest H. Volwiler inventor, Hamilton
Raymond Elwin Weber webmaster, Toledo
Cy Young baseball player, Gilmore