Ohio State Wild Flower
Large White Trillium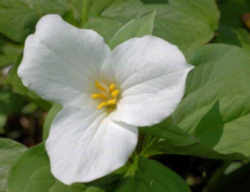 (Trillium grandiflorum)
Adopted on March 5, 1987.
Trillium is also a much-loved native wildflower in the U.S. In 1986, the large white trillium, (T. grandiflorum) took its place alongside the Ohio state flower, red carnation, as the state's official wildflower.
Ohio's state wildflower, (trillium grandiflorum,) is commonly known as the large white trillium. The beautiful plant is found in all 88 counties in Ohio, and was adopted as Ohio's state wildflower in 1987.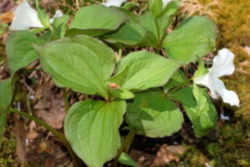 The name "trillium"derives from the plant's repetitions of three. Each plant produces a whorl of three broad leaves with a three-petal blossom on a single stem. As its scientific name suggests, T. grandiflorum is the showiest of all the trilliums, with flowers measuring up to 3 inches long. The waxy white blooms are long-lasting and tend to turn pinkish as they age. Plants can reach as high as 18 inches. T. grandiflorum is probably the most well-known trillium.
Characteristics of the Large White Trillium
Common Name: Showy Trillium, Grand Trillium, Large Flowered Trillium, Wood Lily, Great Flowered Trillium.
Flower: The stalked flower is held above a rosette of three medium green leaves on a hefty stem. This species is always white at first, though it tends to turn a pinkish tint just before the flower dies each year. T. grandiflorum blooms in March or April.
Leaves: The leaves are whorled. The three whorled leaves are entire.
Seeds: The seeds bear fleshy structures, known as "arils," that encourage insects to transport them to new locations.
Habitat: Rich woods that have never been cleared
Hardiness. Zones 4 to 7 Native to eastern North America and completely winter hardy, pedicellate trilliums are among the most desirable subjects for the woodland garden.
Ohio Law
The law designating the large white trillium as the official Ohio state wildflower is found in the Ohio Revised Code, General Provisions, Chapter 5, Section 5.021.
GENERAL PROVISIONS.
CHAPTER 5. STATE INSIGNIA; SEALS; HOLIDAYS.
SECTION 5.021.

§ 5.021. White trillium as state wild flower.

The plant trillium grandiflorum, commonly known as the large white trillium, found in every Ohio county, is hereby adopted as the state wild flower.

HISTORY: 141 v H 763. Eff 3-5-87.
Taxonomic Hierarchy: Large White Trillium
Kingdom: Plantae - Plants
Subkingdom: Tracheobionta - Vascular plants
Superdivision: Spermatophyta - Seed plants
Division: Magnoliophyta - Flowering plants
Class: Liliopsida - Monocotyledons
Subclass: Liliidae -
Order: Liliales -
Family: Liliaceae - Lily family
Genus: Trillium L. - trillium
Species: Trillium grandiflorum (Michx.) Salisb. - snow trillium
---
State Flowers
State Floral Emblems