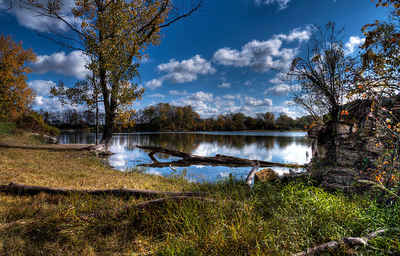 Ohio Counties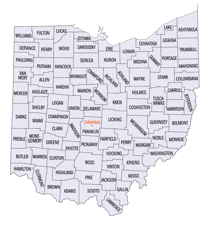 Click Image to Enlarge
Ohio Counties
There is eighty-eight counties in the state of Ohio. Washington County the oldest in the state established on July 27, 1788. Noble County was formed on March 11, 1851 from portions of Guernsey, Morgan, Monroe and Washington counties. It was the last county to be formed in Ohio and, therefore, represents the youngest county in the state.
Ohio Counties: History and Information
Find a brief history of Ohio Counties
This is a list of the eighty-eight (88) counties in the state of Ohio. The Ohio Constitution allows counties to set up a charter government as many cities and villages do, but only Summit County has done so.
Ohio is a Midwestern state of the United States. Part of the Great Lakes region, Ohio has long been a cultural and geographical crossroads in North America. At the time of European contact and in the years that followed, Native Americans in today's Ohio included the Shawnee, Iroquois, Miamis, and Wyandots. Beginning in the 1700s, the area was settled by people from New England, the Mid-Atlantic States, Appalachia, and the Upper South.
Ohio was the first state admitted to the Union under the Northwest Ordinance. Its US postal abbreviation is OH; its old-style abbreviation was O. Natives of Ohio are known as Ohioans or Buckeyes, after the buckeye tree.
County
2000
Population
Square
Miles
County Seat
Created
Adams County
27,330
584
West Union
1797
Allen County
108,473
404
Lima
1820
Ashland County
52,523
424
Ashland
1846
Ashtabula County
102,728
703
Jefferson
1807
Athens County
62,223
507
Athens
1805
Auglaize County
46,611
401
Wapakoneta
1848
Belmont County
70,226
537
Saint Clairsville
1801
Brown County
42,285
492
Georgetown
1817
Butler County
332,807
467
Hamilton
1803
Carroll County
28,836
395
Carrollton
1832
Champaign County
38,890
429
Urbana
1805
Clark County
144,742
400
Springfield
1817
Clermont County
177,977
452
Batavia
1800
Clinton County
40,543
411
Wilmington
1810
Columbiana County
112,075
532
Lisbon
1803
Coshocton County
36,655
564
Coshocton
1811
Crawford County
46,966
402
Bucyrus
1820
Cuyahoga County
1,393,978
458
Cleveland
1808
Darke County
53,309
600
Greenville
1809
Defiance County
39,500
411
Defiance
1845
Delaware County
109,989
442
Delaware
1808
Erie County
79,551
254
Sandusky
1838
Fairfield County
122,759
506
Lancaster
1800
Fayette County
28,433
407
Washington Court House
1810
Franklin County
1,068,978
540
Columbus
1803
Fulton County
42,084
407
Wauseon
1850
Gallia County
31,069
469
Gallipolis
1803
Geauga County
90,895
404
Chardon
1805
Greene County
147,886
415
Xenia
1803
Guernsey County
40,792
522
Cambridge
1810
Hamilton County
845,303
407
Cincinnati
1790
Hancock County
71,295
531
Findlay
1820
Hardin County
31,945
470
Kenton
1820
Harrison County
15,856
404
Cadiz
1813
Henry County
29,210
416
Napoleon
1820
Highland County
40,875
553
Hillsboro
1805
Hocking County
28,241
423
Logan
Holmes County
38,943
423
Millersburg
1824
Huron County
59,487
493
Norwalk
1815
Jackson County
32,641
420
Jackson
1816
Jefferson County
73,894
410
Steubenville
1797
Knox County
54,500
527
Mount Vernon
1808
Lake County
227,511
228
Painesville
1840
Lawrence County
62,319
455
Ironton
1815
Licking County
145,491
686
Newark
1808
Logan County
46,005
458
Bellefontaine
1817
Lorain County
284,664
493
Elyria
1822
Lucas County
455,054
340
Toledo
1835
Madison County
40,213
465
London
1810
Mahoning County
257,555
415
Youngstown
1846
Marion County
66,217
404
Marion
1820
Medina County
151,095
422
Medina
1812
Meigs County
23,072
430
Pomeroy
1819
Mercer County
40,924
463
Celina
1820
Miami County
98,868
407
Troy
1807
Monroe County
15,180
456
Woodsfield
1813
Montgomery County
559,062
462
Dayton
1803
Morgan County
14,897
418
McConnelsville
1817
Morrow County
31,628
406
Mount Gilead
1848
Muskingum County
84,585
665
Zanesville
1804
Noble County
14,058
399
Caldwell
1851
Ottawa County
40,985
255
Port Clinton
1840
Paulding County
20,293
416
Paulding
1820
Perry County
34,078
410
New Lexington
1817
Pickaway County
52,727
502
Circleville
1810
Pike County
27,695
442
Waverly
1815
Portage County
152,061
492
Ravenna
1807
Preble County
42,337
425
Eaton
1808
Putnam County
34,726
484
Ottawa
1820
Richland County
128,852
497
Mansfield
1813
Ross County
73,345
688
Chillicothe
1798
Sandusky County
61,792
409
Fremont
1820
Scioto County
79,195
612
Portsmouth
1803
Seneca County
58,683
551
Tiffin
1820
Shelby County
47,910
409
Sidney
1819
Stark County
378,098
576
Canton
1808
Summit County
542,899
413
Akron
1840
Trumbull County
225,116
616
Warren
1800
Tuscarawas County
90,914
568
New Philadelphia
1808
Union County
40,909
437
Marysville
1820
Van Wert County
29,659
410
Van Wert
1820
Vinton County
12,806
414
McArthur
1850
Warren County
158,383
400
Lebanon
1803
Washington County
63,251
635
Marietta
1788
Wayne County
111,564
555
Wooster
1786
Williams County
39,188
422
Bryan
1820
Wood County
121,065
617
Bowling Green
1820
Wyandot County
22,908
406
Upper Sandusky
1845
---