Maine State Heritage Fish
Arctic Charr aka Blueback Charr
(Salvelinus alpinus oquassa)
Adopted in 2007.
The Arctic Charr, (Salvelinus alpinus oquassa,) adopted as Maine's official heritage fish in 2007.
;A coldwater fish known as the Arctic charr is joining Maine's short list of Heritage Fish.

A bill signed into law by Gov. John Baldacci extends that special classification to the charr, also known as the blueback trout. The law extends protections for the species in Maine, the only state in the lower 48 with native populations of Arctic charr. The bill adding the Arctic charr was proposed by the Dud Dean Angling Society, which was formed to preserve coldwater species in Maine. The group's Kevin O'Brien of Brunswick says the new law provides recognition to the fish, and prevents stocking of other species and use of live bait in waters where they are found. Representative Thom Watson of Bath sponsored the bill. Watson says Maine has an obligation to itself and to the country to protect native species like the Arctic charr and brook trout, species that without special recognition and treatment are threatened with extinction.

The only other Maine Heritage Fish is the native brook trout.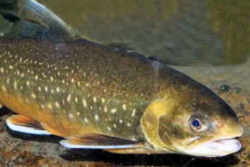 Arctic char or Arctic charr, Salvelinus alpinus, is a cold-water fish in the family Salmonidae, native to Arctic, sub-Arctic and alpine lakes and coastal waters. It breeds in fresh water, and populations can be either landlocked or anadromous, migrating to the sea.
The Arctic char is closely related to both salmon and lake trout, and has many characteristics of both. The fish is highly variable in colour, depending on the time of year and the environmental conditions of the lake it lives in.
Characteristics of the Arctic Charr aka Blueback Charr
Arctic char are one of the five species of char within the salmon family. They are related to the brook, lake and Dolly Varden (or bull) trout. They are long, slender fish that vary greatly in color depending on the time of year and the environment in which they live. In fact, color varies so widely that many are thought to be a separate species or subspecies, creating a debate among experts.

Arctic char may be brown, olive, yellow, gold, orange, red, deep green, blue or silvery, though most shade to silver on the sides and white on the belly. An identifying feature of arctic char is colored, usually violet or pink, round spots distributed along the sides of their bodies.

Arctic char have a small pointed head. They have teeth only in middle front part of their mouths. The tail is slightly forked.

Arctic char can be very difficult to distinguish from their relatives, especially when compared to the Dolly Varden trout. However, there are some features that separate the arctic char. Their head is usually shorter, the tail slightly more forked and the base of the tail narrower. Also, the leading edges of the lower fins are white.
Other Names
Charr, Blueback Trout, Silver Trout, Sunapee Trout, White Trout
Adult Size: Charr in Maine can live up to 15 years and attain a size of about 20 inches and 3 pounds. More often charr are much smaller; in some lakes the average size is closer to 6 inches and a few ounces in weight. A fish larger than 2 pounds is of significant size.
Identification: The charr is a slender member of the salmon and trout family. Usually dark on the back, lighter on the belly, and having light spots on the sides. Paired fins are orange to red with a bright white leading edge. Tail is moderately forked. During breeding season, both sexes become highly colored. Coloration can then range from pink to orange bellies, blue to brown backs, and creamy to orange spots. Fin colors can also become very intense during spawning.
Maine Revised Statutes
The law designating the arctic charr as the official Maine state heritage fish. is Section §212-A (State heritage fish) of the Maine Revised Statutes, Title 1 (GENERAL PROVISIONS) Chapter 9 (SEAL, MOTTO, EMBLEMS AND FLAGS) Section 212-A.
Title 1: GENERAL PROVISIONS
Chapter 9: SEAL, MOTTO, EMBLEMS AND FLAGS
Subchapter 1: GENERAL PROVISIONS
?212-A. State heritage fish
1. Eastern Brook Trout. The eastern brook trout, Salvelinus fontinalis, is a state heritage fish.
[ 2007, c. 21, ?1 (NEW) .]

2. Arctic Charr. The subspecies of the arctic charr, Salvelinus alpinus oquassa, also known as blueback charr, is a state heritage fish.
[ 2007, c. 21, ?1 (NEW) .]

SECTION HISTORY
2005, c. 180, ?1 (NEW). 2007, c. 21, ?1 (RPR).

Taxonomic Hierarchy: Arctic Charr aka Blueback Charr
Kingdom: Animalia - animals
Phylum: Chordata - chordates
Subphylum: Vertebrata
Superclass: Osteichthyes - bony fishes
Class: Actinopterygii - ray-finned and spiny rayed fishes
Order: Salmoniformes - salmon and trout|
Family: Salmonidae - salmon and trout
Genus: Salvelinus --
Species: Salvelinus alpinus oquassa
---