Louisiana State Gemstone
Cabochon Cut Gemstone from Eastern Oyster (Crassostrea virginica mollusk) Shell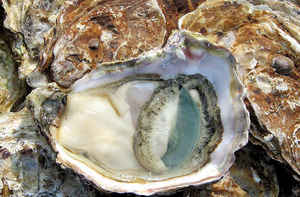 (Crassostrea virginica)
Adopted in 2011
In 1976, Louisiana adopted petrified palmwood as the official state fossil, and agate, as found in Louisiana gravel, became the state gemstone. However in 2011, Cabochon Cut Gemstone from Eastern Oyster (Crassostrea virginica mollusk shell)(previously agate 1976-2011) was designated as Louisiana State Gemstone and agate became Louisiana State Mineral. LaPearlite is derived from the organic shell of the Crassostrea virginica (American Oyster) becoming the Official Louisiana State Gemstone signed into law by Governor Bobby Jindal on August 15, 2011.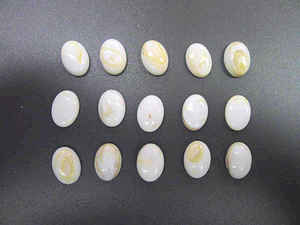 The eastern oyster (Crassostrea virginica) - also called Atlantic oyster or Virginia oyster - is a species of true oyster native to the eastern seaboard and Gulf of Mexico coast of North America. It is also farmed in Puget Sound, Washington, where it is known as the Totten Inlet Virginica. Eastern oysters are and have been very popular commercially. Today, less than 1% of the original 17th-century population (when the original colonists arrived) is thought to remain in the Chesapeake Bay and its tributaries, although population estimates from any era are uncertain. The eastern oyster is the state shellfish of Connecticut, its shell is the state shell of Virginia and Mississippi, and its shell in cabochon form is the state gem of Louisiana.
Like all oysters, Crassostrea virginica is a bivalve mollusk with a hard calcium-carbonaceous shell. Its shell provides protection from predation.
This particular type of oyster has an important environmental value. Like all oysters, C. virginica is a filter feeder. They suck in water and filter out the plankton and detritus to swallow, then spit the water back out, thus cleaning the water around them. One oyster can filter more than 50 gallons of water in 24 hours. Eastern oysters also provide a key structural element within their ecosystem, making them a foundation species in many environments, and they serve as ecosystem engineers in western Atlantic estuaries. Similar to coral reefs, oyster beds provide key habitat for a variety of different species by creating hard substrate for attachment and habitation. Oyster beds have an estimated 50 times the surface area of an equally sized flat bottom. The beds also attract a high concentration of larger predators looking for food.
The eastern oyster, like all members of the family Ostreidae, can make small pearls to surround particles that enter the shell. These pearls, however, are insignificant in size and of no value; the pearl oyster, from which commercial pearls are harvested, is of a different family.
LaPearlite Cabochon-cut Stones


State representative Scott Simon of Abita Springs, La., says the new gemstone would bring favorable attention to Louisiana's oyster industry that is struggling to rebound after the April 2010 oil spill in the Gulf of Mexico.

LaPearlite was discovered by Louisiana jeweler and gemologist Anne Dale who saw how the unique facets and beauty of the inside of oyster shells glistened in sunlight.

Working with her husband, Michael, a skilled jewelry craftsman, they cut and polished and discovered a new technique for making cabochon-cut stones from oyster shells. In other words, they discovered a new gemstone material derived from the organic shell of the Crassostrea virginica (American Oyster), the most important consumer mollusk in the United States. The species is predominantly found in the waters of coastal Louisiana.

While a few skeptics have criticized LaPearlite as being too commercial, Anne Dale points out that she is sharing the expertise they have learned with leading gemology associations, and the raw materials are abundant along coastal Louisiana.

At her jewelry design shop in Mandeville, La. - near New Orleans - Dale says LaPearlite is "the most beautiful pearlescent gemstone I've ever seen,"and its textured quality reflects the uniqueness and diversity of the Gulf coast.
The Times-Picayune
Senate goes along with making special cut oyster shell state gemstone

Ed Anderson, The Times-Picayune By Ed Anderson,
updated June 20, 2011 at 8:33 PM

BATON ROUGE - The Senate on Monday sent Gov. Bobby Jindal legislation to designate a specially cut oyster shell found in Louisiana waters as the state's official gemstone.
Rep. Scott Simon.jpgFile photoRep. Scott Simon

On a 29-7 vote, senators approved House Bill 246 by Rep. Scott Simon, R-Abita Springs, dislodging the agate as the state's gemstone. Simon's bill names the agate as the state's official mineral.

Simon's bill names the "cabochon-cut gemstone derived from the Crassostrea virginica mollusk" as the state gemstone.

The oyster has a shell that can be polished and shaped make it shine for jewelry, said Sen. Jack Donahue, R-Covington, who handled Simon's bill on the Senate floor.

"It is great they are produced right here," he said.

However, Sen. Robert Adley, R-Benton, questioned the legitimacy of the designation.

"When did an oyster shell become a gemstone?" he asked Donahue. "It is an oyster shell."

Donahue said it is an oyster shell but one that can be shaped, rounded and smoothed to become a gemstone.

He told Adley that the shell has been accepted as a gemstone by gemologists and the Smithsonian Institute.

When Jindal gets the bill, he can sign it into law, veto it or let it become law without taking action on it.
LaPearlite is derived from the organic shell of the Crassostrea virginica (American Oyster) becoming the Official Louisiana State Gemstone signed into law by Governor Bobby Jindal on August 15, 2011.
Healing properties
From the purist of whites to a gentle flow of golden veils in its final splendor LaPearlite captures the passion of America's Gulf Coast. A prized new gem, LaPearlite is a symbol of inner beauty, promotes healing, and is believed to arouse passion.
Louisiana Laws
The law designating the Crassostrea virginica mollusk as the official Louisiana state gemstone is found in the Louisiana Revised Statutes, Title 49, Section 49:163.
TITLE 49 - State administration
RS 49:163 - State gemstone

Universal Citation: LA Rev Stat § 49:163

§163. State gemstone

There shall be an official state gemstone. The official state gemstone shall be the cabochon cut gemstone, derived from the Crassostrea virginica mollusk predominantly found in the waters of coastal Louisiana. Its use on official documents of the state and with the insignia of the state is hereby authorized.

Added by Acts 1976, No. 362, §1; Acts 2011, No. 232, §1.
---
State Rocks,
Minerals, & Gems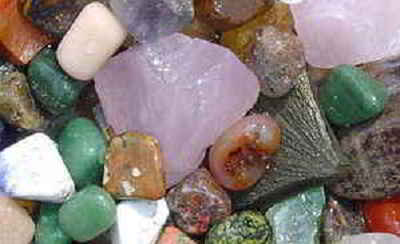 Gemstone, Minerals, Rocks