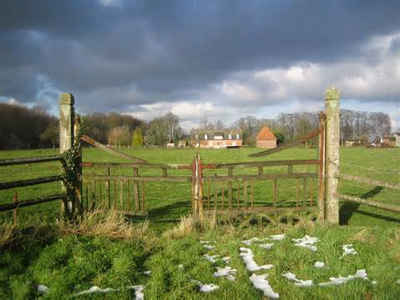 Louisiana Parishes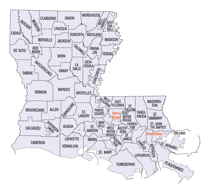 Click Image to Enlarge
Louisiana Parishes
Louisiana is divided into sixty-four parishes. On March 31, 1807, the territorial legislature divided the state into 19 parishes, without getting rid of the old counties (which continued to exist until 1845). In 1811, a constitutional convention organized the state into seven judicial districts, each consisting of groups of parishes. In 1816, the first official map of the state used the term, as did the 1845 constitution. Since then, the official term has been parishes.
Louisiana Parishes: History and Information
Find a brief history of Louisiana Parishes
Louisiana, state in the southern United States, on the Gulf of Mexico and the Mississippi River. The French were the original European colonizers of Louisiana, beginning in the early 18th century. After a period of Spanish control it reverted to France. During this colonial period other European and African cultures were introduced into the area. Most of Louisiana was bought by the United States in 1803 as part of the Louisiana Purchase; the rest came as a result of the West Florida Rebellion of 1810. Louisiana entered the Union on April 30, 1812, as the 18th state. Louisiana (New France) was named after Louis XIV, one of France's greatest and most powerful kings. When Rene-Robert Cavelier, Sieur de La Salle claimed the territory drained by the Mississippi River for France, he named it La Louisiane, meaning "Land of Louis". Baton Rouge is the capital of Louisiana. The state's three principal cities are New Orleans, Baton Rouge, and Shreveport.
Louisiana's government is like that of no other state in the United States of America. Louisiana has "parishes" instead of "counties" and each of those parishes, for the most part, are governed by "police juries." Police jurors are elected officials and function in the same way as county commissioners in other states' counties.
At one time, Louisiana had counties. When the Louisiana Territory was purchased by the United States, twelve counties were established, but those large areas proved too hard to govern effectively. In 1807 the state was divided into 19 parishes, and the parish became the local government district.
Each parish was governed by a 12-member jury serving with the parish judges and the justices of the peace. Each jury was charged with the responsibility of "execution of whatever concerns the interior and local police and administration of the parish." In 1811 an act made the members of these assemblies elective, and they were officially designated as the "police jury."
Parish
2000
Population
Square
Miles
Parish Seat
Created
Acadia Parish
58,861
655
Crowley
1886
Allen Parish
25,440
765
Oberlin
1910
Ascension Parish
76,627
292
Donaldsonville
1807
Assumption Parish
23,388
339
Napoleonville
1807
Avoyelles Parish
41,481
832
Marksville
1807
Beauregard Parish
32,986
1,160
DeRidder
1912
Bienville Parish
15,752
811
Arcadia
1848
Bossier Parish
98,310
838
Benton
1843
Caddo Parish
252,161
882
Shreveport
1838
Calcasieu Parish
183,577
1,071
Lake Charles
1840
Caldwell Parish
10,560
530
Columbia
1838
Cameron Parish
9,991
1,313
Cameron
1832
Catahoula Parish
10,920
704
Harrisonburg
1808
Claiborne Parish
16,851
755
Homer
1828
Concordia Parish
20,247
696
Vidalia
1807
DeSoto Parish
25,494
877
Mansfield
1843
East Baton Rouge Parish
412,852
456
Baton Rouge
1810
East Carroll Parish
9,421
422
Lake Providence
1877
East Feliciana Parish
21,360
453
Clinton
1824
Evangeline Parish
35,434
664
Ville Platte
1908
Franklin Parish
21,263
623
Winnsboro
1843
Grant Parish
18,698
645
Colfax
1869
Iberia Parish
73,266
575
New Iberia
1868
Iberville Parish
33,320
619
Plaquemine
1807
Jackson Parish
15,397
570
Jonesboro
1845
Jefferson Davis Parish
31,435
652
Jennings
1912
Jefferson Parish
455,466
306
Gretna
1825
Lafayette Parish
190,503
270
Lafayette
1823
Lafourche Parish
89,974
1,085
Thibodaux
1807
LaSalle Parish
14,282
624
Jena
1908
Lincoln Parish
42,509
471
Ruston
1873
Livingston Parish
91,814
648
Livingston
1832
Madison Parish
13,728
624
Tallulah
1838
Morehouse Parish
31,021
794
Bastrop
1844
Natchitoches Parish
39,080
1,256
Natchitoches
1807
Orleans Parish
484,674
181
New Orleans
1807
Ouachita Parish
147,250
611
Monroe
1807
Plaquemines Parish
26,757
845
Pointe A La Hache
1807
Pointe Coupee Parish
22,763
557
New Roads
1807
Rapides Parish
126,337
1,323
Alexandria
1807
Red River Parish
9,622
389
Coushatta
1871
Richland Parish
20,981
558
Rayville
1852
Sabine Parish
23,459
865
Many
1843
St. Bernard Parish
67,229
465
Chalmette
1807
St. Charles Parish
48,072
284
Hahnville
1807
St. Helena Parish
10,525
408
Greensburg
1810
St. James Parish
21,216
246
Convent
1807
St. John The Baptist Parish
43,044
219
LaPlace
1807
St. Landry Parish
87,700
929
Opelousas
1807
St. Martin Parish
48,583
740
Saint Martinville
1815
St. Mary Parish
53,500
613
Franklin
1811
St. Tammany Parish
191,268
854
Covington
1810
Tangipahoa Parish
100,588
790
Amite
1843
Tensas Parish
6,618
602
Saint Joseph
1843
Terrebonne Parish
104,503
1,255
Houma
1822
Union Parish
22,803
878
Farmerville
1839
Vermilion Parish
53,807
1,174
Abbeville
1844
Vernon Parish
52,531
1,328
Leesville
1871
Washington Parish
43,926
670
Franklinton
1819
Webster Parish
41,831
596
Minden
1871
West Baton Rouge Parish
21,601
191
Port Allen
1807
West Carroll Parish
12,314
359
Oak Grove
1877
West Feliciana Parish
15,111
406
Saint Francisville
1824
Winn Parish
16,894
951
Winnfield
1852
---